Lauraine Jacobs shares delicious discoveries and gentle adventures from her new book, which explores this rich-in-rewards region.
Less than an hour's drive from Auckland, Matakana is the ideal region to escape to for a weekend where the focus is on well-being to recharge body and mind. Outdoor activities include beach walks, along with swimming and surfing, plus there are art trails, a boutique cinema, the ever-popular farmers' market and, importantly, oodles of opportunities to indulge in fine food and wine.
Rest awhile
If you're escaping with a crowd of mates, Plume Villas or Riverside offer a slice of life's little luxuries in self-contained serviced villas set in tranquil surrounds. Plume also has a restaurant and cellar door on the property for lunch and dinner. Just the two of you for a dreamy escape? Check in to Beauregard Cottages – three quaint, private, self-contained cottages in gorgeous gardens – or book unique accommodation at The Stables Cottage in the beautiful Bali Garden near Point Wells.
There's a host of other accommodation, in every price range, from camping grounds and motels to private B & Bs. If all else fails or you're keen on being close to the beach, see Omaha Holiday Houses for a selection of residences and baches curated by Nicola Hooper.
An edible wonderland
Cafés, restaurants and coffee spots abound. Don't miss The Farmers Daughter for healthy breakfasts and lunches, with dinner at the weekend. Enjoy views across the Omaha Estuary while tasting the sea with fresh fish from nearby Leigh Fisheries, and abundant veges and herbs straight from the garden. Or grab something at the adjacent outdoor shack for quick bites and takeout coffee. Smoko Room at Sawmill Brewery on Leigh Road has an excellent menu influenced by local and foraged native ingredients. Match a craft beer with their smoked-fish pâté or famous spiced hummus, labneh and braised goat with cumin flatbread – plus there's plenty of room for kids to roam. For a sophisticated meal, book in at Rothko at Sculptureum on the Omaha Flats Road where there's a world-class wine list, fresh pasta and juicy grilled meats. Another must is The Glass House at Brick Bay, for consistently top-class food for brunch, lunch and snacks throughout the day. Here you can eat lamb and vegetables from the farm and some fine locally sourced fare, taste the latest vintage of chardonnay and the popular rosé, and walk the Brick Bay Sculpture Trail to view contemporary outdoor New Zealand sculpture.
For coffee to go, there's ample choice. Head to The Roastery at Matakana Coffee on the upper level of the village carpark (grab a bacon butty next door at Matakana Bacon Company), or try the Omaha Beach Café & Eatery, Ravish coffee cart or Ringawera Baker in the main street. For good measure, award-winning gelato can be found at Charlies Gelato in Sharp Road.
Three exemplary spots offer the freshest of fish from the renowned Leigh Fishery: Batter & Salt as you arrive in Matakana Village on the main road, Point Wells General Store, or drive further afield as you head to Te Hāwere-a-Maki/Goat Island for a snorkel and stop at the very cool Leigh Eats.
Village vibe
Architecturally designed Matakana village, with its three-theatre cinema, is the beating heart of the tiny town. It has a carefully curated shopping centre that includes a fine independent bookshop, art-supply store, stylish clothing and shoe boutiques, florist, Honest Chocolat, the fine Ringawera Baker and a very smart surf shop. The Matakana Village Pub is a great traditional pub with good food and music, and there's also good eating at Matakana Market Kitchen.
No trip to the region would be complete without visiting the farmers' market, on from 8am to 1pm Saturdays, with so many food discoveries to be made. Be sure to take a large shopping bag.
Toast the region
There are several wineries to head to for local tastings. Vineyards in the area offering interesting varietals include Brick Bay, Omaha Bay Vineyard, Matakana Estate, Heron's Flight, Matavino, Runner Duck Estate and Sculptureum. Or while away the time at The Vintry in the village, where all the wines of the region are on offer in the same spot. And don't miss the flight of selected beer tastes at Sawmill Brewery.
Well-being walks
Get outdoors for a spot of nature bathing in the regional parks, to swim at pristine beaches and walk well-maintained trails. Top choice is Tāwharanui Regional Park, with its sweeping sandy beaches, camping, extensive native plantings and a commendable open bird sanctuary.
Lesser known are the walk from Ti Point wharf around the rocks to Ti Point, and the simple but amazing boardwalk at Omaha Beach, which starts at the Surf Living Saving Club and passes to the south alongside the beach. Here a series of five impressive carved pouwhenua are maintained by members of the local iwi, Ngāti Manuhiri.
Active participation
Golf, surfing lessons, kite surfing and paddleboarding are all centred at Omaha Beach, and Omaha Beach Golf Club is rated in the top 25 courses in NZ.
Cycling trails are sparse but there's a short, easy ride from Point Wells to Omaha Beach, with an extension along Jones Road and over a more challenging hill climb that leads to Matakana.
Oyster Farm Tours, run in conjunction with Matakana River Tours, offer a bracing trip on the Oyster Shuckleferry based at Scott's Landing wharf on the Mahurangi Harbour. Oyster lovers will be in heaven, as everyone gets to shuck and devour their own.
Rejuvenating retreats
Live your best life with fitness classes, yoga, two gyms and health and beauty treatments – all found in the area.
The tranquil Bali Garden is an excellent environment for a range of yoga classes, and check out The Matakana Naturopath for consultations and owner Kim Campbell's one-day experience at Kana Retreats (see Crispy Bits).
Kate Arbuthnot's Totem Retreat also offers a variety of workshops and days out.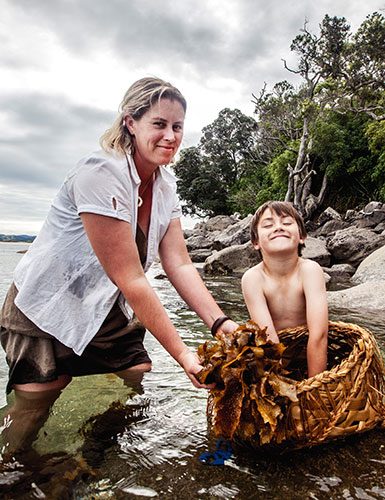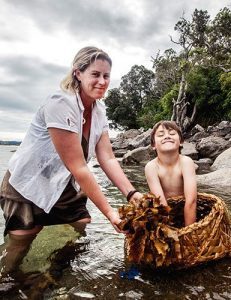 Love our local heroes
Matakana is a haven that attracts entrepreneurs with good ideas who wish to be self-employed. It remains very much a rural community where farmers, horticulturalists, growers, artisan food producers, fishers and lifestylers value the richness of the soil, the almost subtropical climate, and the coastline and harbours. It's a region rich in diversity, opportunity, sustainability and, above all, friendship and respect.
Seek out some of the book's 'local heroes' – good sorts who are creating businesses centred on health and wellness foods and services. Most started at the world-famous-in-New Zealand farmers' market and continue to operate there.
Rob and Shannon Auton of oob organics have built an organic farm into a multi-streamed business that sources and packages organic fruit and vegetables, as well as making organic ice cream for supply to supermarkets throughout New Zealand and to export to international markets.
Amber Rose of Wild Delicious Fermentary, has developed a range of water kefirs, flavoured shrubs and other delicious gut-friendly drinks.
Josie Jackson of Wild RimuRimu produces premium nut butters and has created a seaweed brand with kelp salts, kelp powders, dried wakame and added healthy foraged ingredients.
Mandy and Craig Purvis's Organic Herbs & Seedlings and Organic Blooms carry van loads of organic-raised seedlings and potted plants, grown on their property near Warkworth, to the market each week.
Danvers Devereux (Matakana Botanicals) uses locally sourced plants and honey to make his range of fragrant bath and beauty products. The full range is carried at Studio Matakana in the Matakana village shops.
Last but not least, Delwyn Ward and Brad Gwynne of Daily Organics brew excellent kombucha and apple cider vinegar in a small plant in the village, which they are now selling through supermarkets.

Take me home
Shop around for healthy products to take home as a taste of the region or as delicious gifts from your weekend away.
From the Matakana Farmers' Market
Daily Organics kombucha and apple cider vinegar
Wild Delicious kefir
Ringawera Baker organic rye and sourdough breads
Matakana Co-op extra virgin olive oil
Matakana Smokehouse salmon gravlax and smoked fish
Cobara Authentic Foods salad sprinkles seed and nut mix
Matakana Nut Butters sweet and spicy almond butter
Wild RimuRimu bush pepper, wakame and hemp seed mix
Orata fresh oysters
From the village
Studio Matakana for Matakana Botanicals range of bath and beauty products
Tea & Tonic herbal teas and Frolic ceramics
Honest Chocolat water- ganache chocolates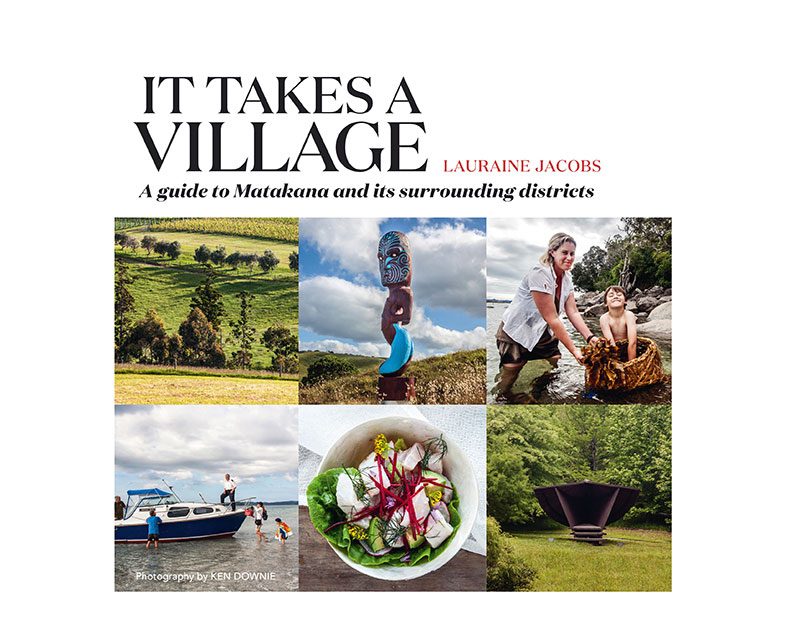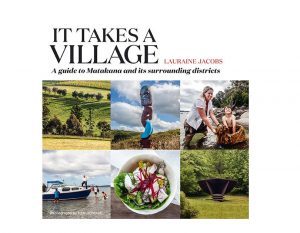 It Takes A Village – A guide to Matakana
and its surrounding districts by Lauraine
Jacobs is packed with everything
you need to know about the region,
stories of local heroes and 12 of
Lauraine's deliciously simple recipes.
Massey University Press, S/B, $45.