ALL'S WELL THAT STARTS WELL
At Sherwood restaurant in Queenstown, garden-to-table eating is at the heart of well-being.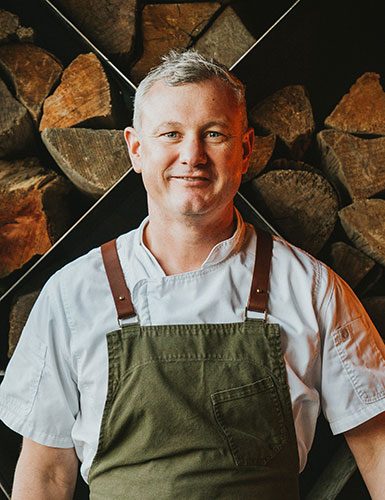 In terms of growth opportunities, Chris Scott has the kind of gig most chefs can only dream about. With a 700-square-metre organic kitchen garden at his disposal (plus a full-time horticulturalist to tend it), the Queenstown chef is in clover. Or something close to that.
"Having access to the garden and the chance to influence what we grow in it is amazing," he says. "The versatility it offers is huge in a creative sense."
Chris has been executive chef at hip Queenstown eco hotel, Sherwood, for a little more than a year and the novelty of its famed garden still hasn't worn off. Being able to use what they grow "in a big way" excites him greatly, especially at this time of year. "The kitchen garden lights up in spring," he says. "All the herbs and flowers come back and it's all about asparagus, new-season garlic, baby leeks and spring strawberries."
His style and ethos have always been connected to plants. "At Sherwood, our menu is hyper-seasonal and it's based around sustainability. Our biggest marketing tool is being able to use what we grow and bring the seasons to the plate."
Previously a mock-Tudor motor inn, Sherwood has won a following among Queenstown residents and visitors for its low-key luxury. Here, guests are encouraged to tune in to the local vibe and turn on to complete relaxation. As well as exploring the great outdoors the region is known for, they can unwind with plenty of opportunities indoors. If you're not the adrenalin-seeking type, there's yoga, massage and live music to help you work up an appetite. "There's a focus on well-being at Sherwood and eating is a significant part of that," Chris says. "We showcase vegetables as a huge part of our menu and people want to know where things are grown. There's also a real demand for more plant-based dishes; we've noticed a definite shift."
The enterprise is determinedly sustainable – it's one of the few hotels in the southern hemisphere to use solar power, the curtains are made from recycled Italian army blankets and all the kitchen food waste is recycled back into the garden. "It's not the sort of hotel where you get into your room, lock the door and think, 'what now?'" Chris says. "It's a unique space with a chilled-out feel. Sherwood has a soul."
Queenstown has become home for Chris, who grew up in the Waikato and did his chef training there before scoring a scholarship to work in UK hotels. He went through the Michelin system and eventually came home to roost via Australia. He and wife Hayley (now general manager of marketing and operations at Sherwood) ran their own place, Zinc Bar & Eatery, in Hamilton for six years before he became executive chef at Josh Emett's Rata in Queenstown. "It's not a very remarkable story," he says modestly. "I've just always enjoyed cooking and been fascinated with it."
The same could be said of Sherwood's garden. While it's already impressively large, Chris says increased interest in plant-based eating and a desire to be as self-sufficient as possible means there's an ambitious plan to develop it to five times its current size. The goal is for 80 per cent of what's on the menu to be produced in the garden. "Things do grow well down here but there's a bit of trial and error, and we need the garden to be really productive. In Queenstown there are four definite seasons, so there's less overlap with produce than in other parts of the country."
Meanwhile, he chooses produce suppliers wisely. "We want to align with companies that share our values." LUCY CORRY