Bar stools are in – and our search is on for the perfect perch, some serious snacks and something stirred or shaken. The team from Bar Magda creates some very good reasons for you to explore the unusual.
Subterranean cool (it's housed in an ex-swinger's club, no less) and polished concrete floors are balanced with warm lighting, expressive art and comfy wood-crafted seating at Bar Magda, which opened midway through 2021, pooling the talents of hospo stalwarts Carlo Buenaventura, Matt Venables and Craig Thompson.
Carlo, who heads up the kitchen, will be familiar to anyone who has been fed or watered, or both, in the Karangahape and Ponsonby Road precincts over the past several years. He's worked the kitchen and front of house at numerous establishments, as well as running successful pop ups, including his SuTuKil series which nodded to the Southern Filipino charcoal-grilled flavours he grew up with. At Bar Magda, Carlo pulls from a catalogue of ingredients, flavours and techniques from his upbringing in the city of Davao in the Philippines, and the coastal province of Davao Oriental, where his family spent holidays and where, he explains, "I was exposed to a more pre-colonial, indigenous approach to cooking." Alongside this he cleverly weaves ingredients that make sense for Aotearoa and the way customers want to eat out these days.
While the tasting menu is the best way to journey the Bar Magda path, Carlo covers all bases. "We also recognise that some people come in for just a few dishes and drinks, so I make sure every dish is balanced." There are whimsical touches, too, as Cheez Whiz – a processed cheese spread with nostalgic status in Filipino culture – is reimagined in a parmesan custard served with fantastically springy bread, and a play on the 'meadow' theme has succulent lamb ribs buried in a stack of delicate fresh herbs. But this cleverness doesn't feel forced as it's so often wont to do: that parmesan custard will stay on your mind for days; the herbs that blanket the lamb are well chosen so that no one flavour dominates, a green sambal edging in to add piquancy to the quaint meadow.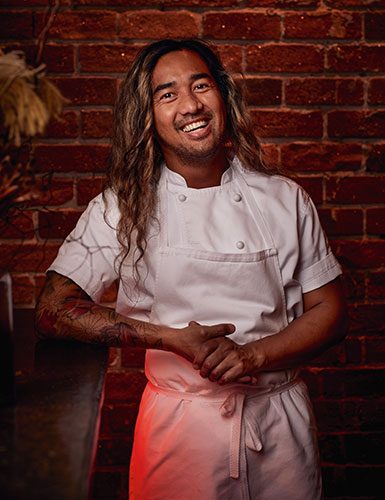 Tropical fruits play an important role in Filipino cuisine and Carlo has obvious fun calling on Kiwi substitutes for the often sweet-sour profiles of fruit such as batuwan. Our feijoa, tamarillo, citrus, rhubarb, amarillo chillies and peaches give chef plenty to work with, and they play nicely, too, at the bar.
Matthew Venables drew inspiration from hole-in-the-wall bars in big cities such as Berlin, New York and Tokyo when designing the liquid offering. While the wine and beer list is excellent, you shouldn't shy away from a cocktail or two from the list that spans old world classics to the more contemporary. In fact, the best way to start a Bar Magda visit is with a cocktail that piques your interest; your waitperson can use that to inform recommendations from the food menu to suit your palate.
Bar Magda builds on Carlo's work to get Filipino cuisine included in the dialogue beyond ethnic, Southeast Asian and fusion. "I'm hoping soon we'll be included more in the conversation around contemporary, modern, new wave and progressive. Like me, there are many in the culinary world who came from the Philippines and are sharing a personal narrative beyond what is deemed to be 'traditional'. We can still be authentic, in our own right." ANNA KING SHAHAB