ADDRESS:   854 Dominion Rd, Mt Eden
CHECK WEBSITE FOR OPENING HOURS
MAINS:   $32 – $38
WEBSITE:    cazador.co.nz
CONTACT:   09 620 8730
SCORE:   18 / 20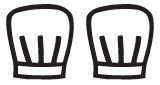 Way back before the business of hunting and gathering became de rigueur, Tony Lolaiy was just getting out and doing it. Patrons at his modest suburban spot secretly cherished his skills at Cazador. Three decades on, this second-generation restaurant has really become the best at its, er, game. Son and daughter-in- law Dariush Lolaiy and Rebecca Smidt now take great pride in sourcing wild, premium-quality meat and game. Chargrilled venison, kurobuta braised pork and braised duck tagliatelle all get the top treatment. But fear not carnophobes, for you get due consideration too with come-hither fish and vegetable options to sate. The drinks list kicks off with a good selection of sherries while cocktails and wines (by-the-glass and bottled) venture away from the mainstream to bolster that list. Cazador – Spanish for 'hunter' – is a masterclass in the art of gathering great food.
IN BRIEF: Meaty, beaty, big and bouncy
---