A wedge of good times comes to the Wynyard Quarter.
After 34 years in the cheese business, Whitestone's Simon Berry knows a thing or two about culture. Which is why he jumped at the chance to open a cheese-and-wine bar in Auckland's Wynyard Quarter. The local industry has come a long way since the 1970s and at this intimate establishment, the studded pineapples will be ditched in favour of cheeseboards to share and the 'chateau box' replaced with regional wines and craft beers. "It's a great way to put some boots on the ground in Auckland," says Simon. "We're bringing a bit of North Otago to the viaduct."
Which includes the famous-in-our- lifetimes cheese roll, based on his mother's recipe. "She fine-tuned that one for morning tea when catering for the shearers," he explains. "It needs to be tried to be believed." While he admits to updating the classic using Aged Airedale or Totara Tasty Cheddar, Maggi onion soup mix and plenty of butter remain crucial to the recipe, but there's another secret ingredient he's keeping close to his chest. A man's got to retain some mystery.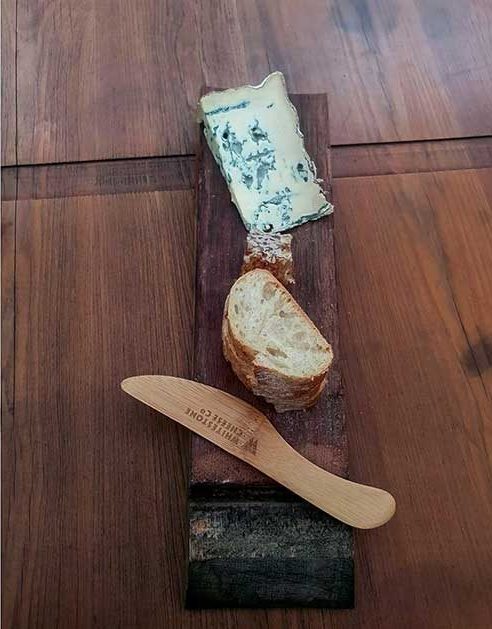 The rise of Whitestone Cheese, from an artisan producer launched as a spinoff business when farming took a downturn, has been well documented. Since Simon's mum and dad (Sue and Bob Berry) set up in 1987, the operation has expanded to multiple sites with a national distribution chain and 75 staff. "As the puzzle grows larger, it's so much more than just cheesemaking," says Simon. "Every day something new pops up that we need to handle."
Much has changed over the decades, including milking technology, which fosters more analysis of the raw ingredient and better farming practices. "As more local North Otago farmers come on stream, they are working hard to improve soil and pastures, which gives the milk a more consistent quality."
The proof is in the peer-reviewed pudding. Their first cheese, Whitestone Farmhouse, continues to win awards (bronze at the World Championship Cheese Contest 2020) and their latest offering, Oamaru Blue – a soft, buttery cow's milk cheese with a corrugated rind – was named best new cheese at the 2021 New Zealand Cheese Awards. Simon is upbeat about the accolades the fourth- generation family business continues to achieve. And, of course, he's fizzing with customary passion about this latest venture.
He says The Whitestone Cheese Bar, a collaboration with Lion Breweries, is more than just a place to eat and buy cheese – it's an experience. "In our market research, we discovered that people wanted some 'cheese leadership'," says Simon. To him this meant not only somewhere to explore new and exciting cheese-and-wine combinations, but a place to be playful.
That comes naturally to the Whitestone team. In the rustic space, along with cheese chillers and a bar, there's a walk-in cheese maturation room. It's where the fun really begins. Cheeses are shipped in 'green' from Oamaru to be finished in experimental ways. "We are doing things with cheese here that can't do down south because of the need to keep yeasts out of the factory," says Simon. Drunken Windsor Blue, soaked in a honeyed Irish whiskey liqueur, will be first new offering to roll out on the 'Blue Board' teamed with others of its ilk and served in generous South Island hunks alongside fresh honeycomb and toasted fruit and nut bread.
If that doesn't key into your cultural cravings, perhaps one of the plates? Haloumi chips with buffalo sauce anyone? Or the grilled cheese sammies with truffle- roasted mushrooms and bread and butter pickles, all ooze and unctuousness, might be the go, served alongside a spritely sav or a smooth pinot to cut the fat.
"The sky's the limit with what we can do," says Simon. "We're even imagining high tea-style platters stacked with cheese." Cheese, wine and watching the world go by. It doesn't get much better than that.
CLAIRE McCALL
Whitestone Cheese Bar
17 Jellicoe St, Wynyard Quarter, Auckland
whitestonecheese.com