CUISINE CHEESE WATCH / Massimo's Italian Cheeses, Dairy Flat, Auckland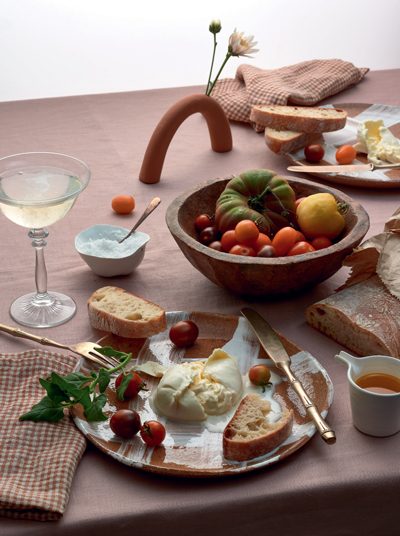 While Parmigiano Reggiano is the king of cheeses, Massimo's burrata is the undisputed queen – the Marilyn Monroe of mozzarella. Massimo Lubisco loves burrata. One would expect that he would, coming originally from Puglia, the spiritual home of burrata. On holiday in New Zealand, a burrata epiphany struck Massimo and he promptly returned to Italy to take up a threeyear apprenticeship in cheesemaking. Massimo and his wife Marina returned to New Zealand and settled in Dairy Flat with a small team to produce fresh New Zealand-made Italian cheeses. I am now Massimo's sidekick – Burrata Boy. To the uninitiated, Massimo's burrata might look like any other mozzarella. What makes this cheese so food porny and decadent is its creamy inside that oozes like a custard-filled doughnut – a simple yet unctuous extravagance that causes food envy. Massimo's burrata is a fresh Italian cheese made from cow's milk; a pouch of hot mozzarella is filled with a soft stracciatella filling of curds and cream and then sealed with cold water, creating the signature creamy centre. Incredibly soft and luscious with a light tang and a sweet sourness, it melts in the mouth and coats the tongue – lick the plate clean. All hail the Queen.
CALUM HODGSON – THE CURD NERD
Calum Hodgson is cheesemonger at Massimo's
instagram.com/nz_curd_nerd.