TRACY WHITMEY meets one of New Zealand's first artisan cheesemakers.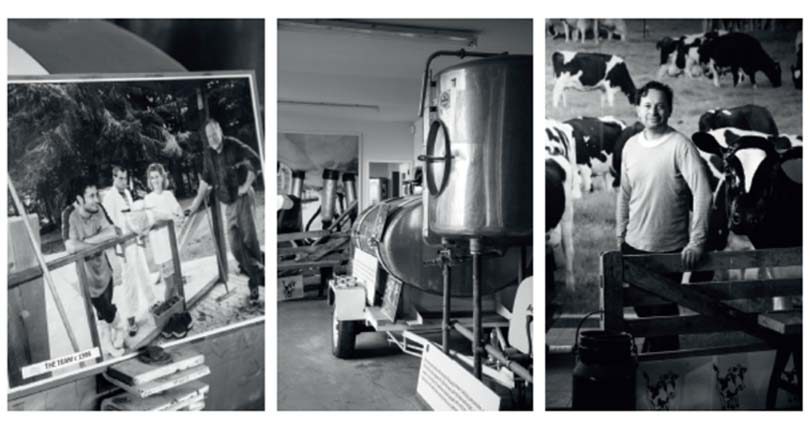 "Nobody ever goes to Hawksbury Village," says Colleen Dennison, founder of Evansdale Cheese. But increasing numbers of visitors are doing just that, turning off State Highway 1 between Dunedin and Waikouaiti, to visit the cheesemakers, taste some of the 20-30 cheeses that are made on-site, and perhaps buy a wedge of brie or blue for the journey (or a whole wheel to gorge on when they get home).
On the site still known to many in the district as Cherry Farm, after the psychiatric unit that closed in 1992, the cheese factory is housed in the kitchen of the former hospital, having relocated from nearby Evansdale.
In the early days in the 1970s, the 'factory' was a tin shed at the bottom of the garden on the Dennison family's 10-acre property, and was the first small cheesemaking factory in New Zealand. "The first cheese was bloody awful," says Colleen, "It was rock hard. But we learned by trial and error and by getting books out from the library."
She persevered, making cheese as well as maintaining a full-time career as a geography teacher. It wasn't unusual for Colleen to be up at 5am collecting milk – milk tankers couldn't get up the narrow driveway, so the milk had to be carried down to the factory – and starting the cheese before dashing off to the classroom at 8am. Artisan cheesemaking was so rare then that she recalls Evansdale Cheese featuring in six TV shows in one year. Writing in Te Ara – the Encyclopedia of New Zealand, David Burton attributes this increased interest in cheese in the 1980s largely to the efforts of independent craft cheesemakers, including pioneers such as Evansdale Cheese as well as Kapiti, Karikaas, Meyer Gouda Cheese and Mahoe Farmhouse Cheese.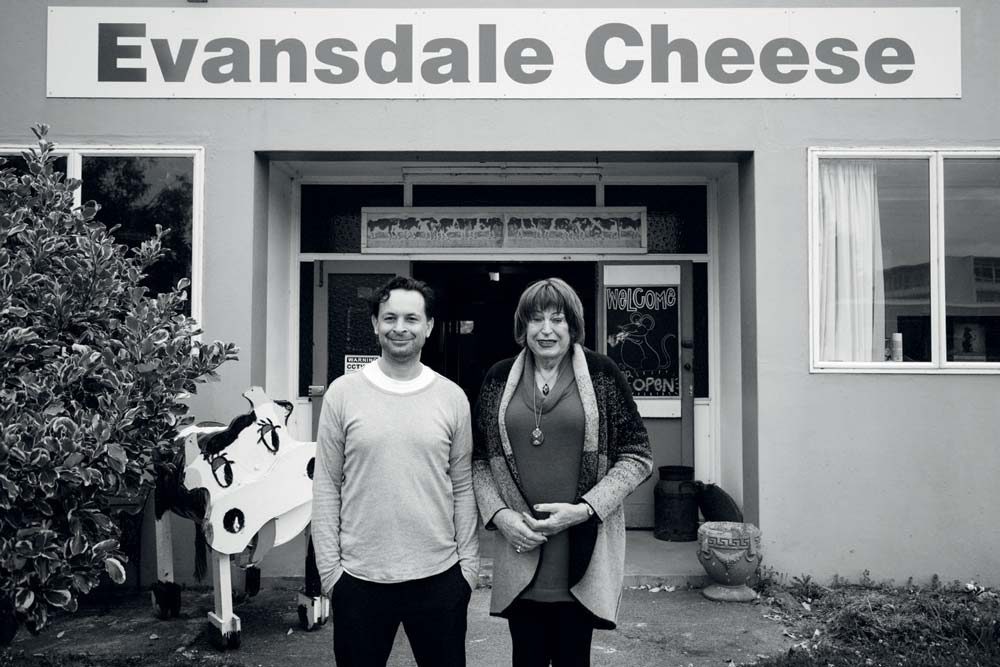 Today, visitors dropping in to the factory shop, or the Evansdale Cheese stall at the Otago Farmers Market, will discover that much has changed since that first bloody awful Monterey Jack cheese. Aiming to demonstrate the charm and appeal of handmade cheese, the cheesemakers at Evansdale do as little as possible to interfere with the milk, focussing on preserving the flavour to produce characterful cheeses. Ever-popular soft cheeses include their farmhouse brie, from which sprang variations such as Laurel and Tania smoked brie, described by Sabato cheesemonger Calum Hodgson as a 'totally underrated, legendary classic NZ cheese'. Blues range from the soft creamy Marilyn's Blue to a Roquefort-style Bay Blue.
Now, at 80 years old, Colleen says she's the oldest artisan cheesemaker in New Zealand, with more than 40 years' experience. Though still involved in the business, she's stepping back to allow sons Pablo and Matthew to forge on – not that they're newbies to the family firm, having already been involved for 30 years and 20 years respectively. Matthew is about to become head cheesemaker following the retirement of Les Ballentine, who has been making cheese at Evansdale for over a decade.
"Our story is a precious one," says Colleen. "And it's the story that people love – a family business, still going today after a long time, and employing our children. That's the dream."
Not a dream shared by all however. Colleen's mother Ruby – for whom the Ruby Bay cheese is named – hated the cheese factory. "She wanted me to be a professional – a teacher, even a headmaster. She would be absolutely horrified to know that she has a cheese named after her!"
Colleen readily concedes that working alongside family day-in, day-out isn't always easy, admitting that over the years she's kicked them all out of the factory at one stage or another. "It's not always a pleasant thing. I have difficulty letting go… When Matthew comes in as cheesemaker there will be no changes, he will do exactly what I tell him." Over a crackling phone line I hear the chuckle in her voice – I think.
Next time you're down that way, take a turn off SH1 to visit New Zealand's littlest cheese company – it may be small but it holds an important place in the history of this country's artisan food.
CUISINE CHEESE WATCH / Tania Smoked – Evansdale Cheese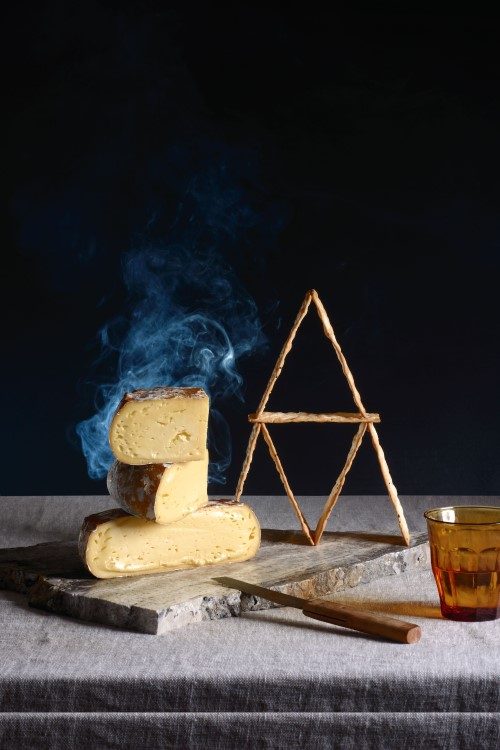 New Zealanders love the taster of smoked products and we're always on the lookout for the good stuff to smoke ourselves up (no surprise to many that NZ has the most Bob Marley albums sold per capita than anywhere else in the world). The art of smoking cheese, however, was likely created by a jolly wood-burning fireplace mistake moons ago. Cheeses were often hung from the ceiling to mature, and the smoke from the fire tainted them with a meaty, toasty, earthy flavour. This accident quickly became intentional and provided an additional means of preservation and food adventure.
These days, however, some of the cheeses offered as smoked are actually a way to mask flavour faults in the cheese with 'smoke'. I say 'smoke' as they are often flavoured with liquid smoke – a natural product made from condensing the smoke from burning wood. Liquid smoke often is bluntly smoky, making most things it touches taste the same: overwhelming, bitter and with little in the way of nuance. Smoking is a process, liquid smoke is an ingredient addition. What's problematic for smoked cheese fans is interpreting the truth of the product label.
Tania Smoked brie from from Evansdale Cheese in Dunedin is, however, as good as it gets. A totally underrated, legendary New Zealand cheese hot-smoked in mānuka, it's my go-to for a grilled cheese, with the ratio of heaps of cheese to bugger-all bread. Evansdale Cheese uses an open fire and foraged mānuka chips to smoke Tania. The cheeses are brined and smoked at three to six weeks of age. And Tania is hot-smoked not coldsmoked, which produces very characterful cheeses which are cooked, charred and have mānuka wood chips in their rinds – telltale signs for the punter that this is a legit smoked treasure. I love Tania as it habitually derails food snobbery and provides much to chew on in what is real and adulterated gastronomy. One love, one heart, let's get together and feel alright. Thank you Tania, you're a legend.
CALUM HODGSON Calum Hodgson is cheesemonger at Sabato
Photo credit:
Guy Frederick, B&W
Still Life Tony Nyberg