NIKKI BIRRELL visits a spruced-up beach caravan that is still serving up the classics.
What's better than a day at a wild beach west of Auckland? How about one that also features a fluffy handmade doughnut bursting with fresh cream and sweet strawberry jam served from a 1950s caravan and enjoyed under the shade of a pōhutukawa? If that sounds too dreamy to be real, sometimes The Bethells Café co-owner Anna Wheeler has pinch-me moments herself. "Last summer was just this bomb of pōhutukawa and in the middle of that is the caravan. It has taken ten years, but that planting has definitely come to its peak," she says.
Anna's referring to work completed by the Bethells Beach community; they landscaped the carpark near where the mobile café sits with natives and focused on dune regeneration.
While Anna and her husband Jim actually took the business on 20 years ago, and now own it with their children Johnny (22) and Miriama (17), it's in the past decade that they've really found their rhythm. "It was quite hard at the beginning because nobody knew the caravan was here," says Anna. While that seems to have changed, with a steady stream of new and returning customers, aside from the landscaping, little else has – which is part of the appeal. "It's a beautiful rugged beach," says Anna. "And it feels remote. It has the surf club, the toilets and us. That's it." All this, just 35 minutes from Auckland's CBD.
The other huge attraction, of course, is the handmade goodies made fresh on site every day. A full catering kitchen where their baker and cook operate is now a component of the mobile unit. Every Friday to Sunday, from Labour Weekend to Queen's Birthday, the café and kitchen is relocated from the couple's home to its picturesque locale, surrounded by dunes and minutes from the beach. "It's like watching a travelling circus set up; people love that part of it," says Anna.
Soon dog walkers and surfers in their wetsuits rock up for a barista-made Allpress coffee or a smoothie. In peak summer, beachgoers and enchanted tourists descend on the retro caravan for the small but quality offering of counter food plus an in-season menu of four or five items: free-range egg and (local butcher) 'Calverts' bacon pies; pork and sage sausage rolls; vegetarian pasties; Mediterranean lamb baps, and ham and Swiss cheese focaccia have all made appearances.
One item that's been around for the entire 20 years, and will remain, is the West Coast Burger. "People love it so we've never been able to get rid of it," Anna says. While they do a regular trade in smoothies and salad bowls, the sweets have found a dedicated following. "I thought people were over baking, with the health stuff, but they're not. They want a treat – but a really nice one." 'Really nice' seems restrained when contemplating the array of baked goods – enter those fat, decadent doughnuts…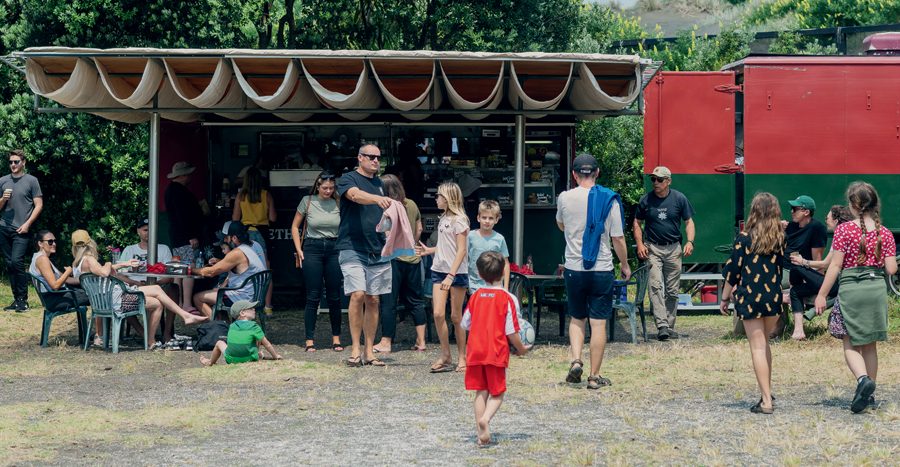 On Fridays, the food isn't the only drawcard to the area: from 5-10pm there's live music to be enjoyed with a bite to eat. "People come out with a blanket, buy food and sit and listen. We get amazing musicians – we only have about 35 slots over the season but triple the amount of people wanting to come and play," says Anna. There's no 'door' charge, it's entry by koha. "It's been such a positive thing for up-and-coming musicians and it's really, really fun."
It means a busy summer season for the family who also own and operate Wainamu Luxury Tents. Even so, you'll usually meet a family member at the caravan whether it's Anna, who is also a midwife or, more often than not, Jim, who comes from a long line of food lovers (his mother, Elizabeth, co-owned the first restaurant in West Auckland). The Wheeler children, too, can sometimes be found doing a shift. For Anna that's one of the most valued parts of the business. "It's the best thing, working with our kids," she says.
She imagines The Bethells Cafe will be something this new generation want to continue. Hopefully this little slice of paradise will be around for at least another 20 years and, all going well, not much-changed.
facebook.com/BethellsCafe/