IN MEMORIAM – KARRYN BISH
We farewell Karryn Bish, a valued member of our wine and food community.
On 6 December 2018 the light in the wine community dimmed when wine broker, cheesemaker, forager, oak lover, woman-in-wine and beloved wife and mother Karryn Bish tragically passed away. Karryn passed suddenly in Hawke's Bay as a result of a series of heart attacks. Karryn is survived by, mourned for and forever loved, by adoring husband Tony Bish and their four children – Oscar, Samuel, Madeleine and Genevieve. While Karryn was a proud, doting mother and wife, she was so much more than a mother and Mrs Bish.
Karryn met future husband, Tony, in 1991 at the legendary French Farm Winery in Akaroa, Banks Peninsula. Both quickly recognised that, for them, there was no other and they married in 1992, with their first child, Oscar, arriving July 1993. Oscar was the only one of their four children to be born in Akaroa, as the young family returned to Hawke's Bay in 1994, with Tony becoming senior winemaker at Sacred Hill Wine.
In 1995, clearly not busy enough with new surroundings and a toddler, Karryn started her own endeavor, KTB Brokerage. KTB's vision was to source and match suppliers with buyers of bulk and bottled wine, grapes, juice and viticulture equipment, and it was the first brokerage of its kind in New Zealand. The business built quickly with Karryn at the helm and was extremely successful thanks to her reputation for integrity, business transparency and honesty. KTB Brokerage was only one of Karryn's many business accomplishments; in 2006 she turned one of her passions, cheesemaking, into the Te Mata Cheese Company. Under Karryn's leadership the business flourished, but despite the success of this enterprise, Karryn wanted to focus her priorities on KTB Brokerage and the thing she adored the most, her family. As a result Karryn sold her stakeholding in Te Mata to Kaimai Cheese in 2009.
Karryn and Tony decided to launch a passion project together, so in 2013 Tony Bish Wines was born. This new wine brand was the realisation of the couple's dream to provide the highest-quality Hawke's Bay chardonnay, for which Tony was already renowned at Sacred Hill. Tony made the wine and Karryn provided essential assistance with all aspects of the brand from administration to harvesting and everything in between.
Karryn's business savvy was recognised both locally and internationally in 2014 when Taransaud – a French cooperage company renowned for supplying quality oak barrels globally – appointed KTB Brokerage the sole agent of their products in New Zealand.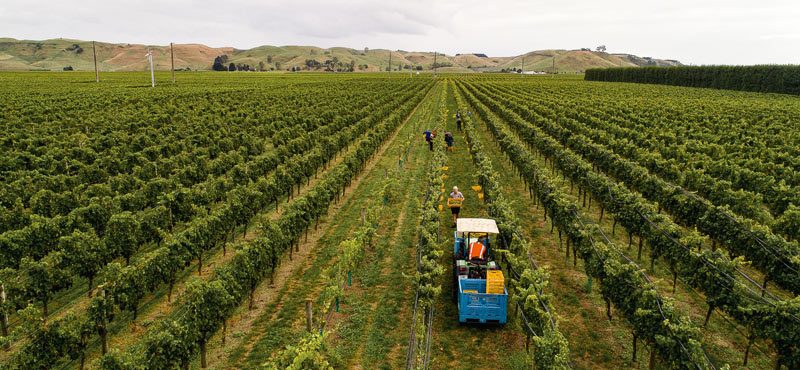 In 2016 Karryn made the difficult choice to sell her beloved KTB Brokerage. This time, her focus was on quality time with family, continuing her work building the Taransaud oak barrel business and, of course, Tony Bish Wines. A key part of the vision for Tony Bish Wines was to find a spiritual home for those incredible chardonnays, as well as other fantastic Hawke's Bay wines. The dream was finally realised in 2017 when Karryn and Tony opened The Urban Winery in Ahuriri, Napier, a remarkable micro winery, cellar door and venue located in the refurbished National Tobacco Factory; a home for Tony Bish Wines… and friends.
Although it sounds like an idyllic life of love, family, business success after success and the quintessential happily ever after, life is rarely that kind. Karryn and Tony's lives were turned upside down in 1996, when the young mother was diagnosed with aggressive non-Hodgkin's lymphoma. With sons Oscar and Samuel only three years and six months old respectively, she began her fight. Karryn endured six months of gruelling chemotherapy and radiotherapy and finally triumphed over her cancer. Life returned to normal, or as normal as it gets with four small children, as two more children joined the Bish family; Madeleine born in 1998 and finally Genevieve in 2000.
As if she didn't have enough to do, Karryn also became a regional coordinator for Kids With Arthritis in Hawke's Bay, a responsibility she maintained up until her recent passing. It's an example of how this remarkable woman took the opportunity to help others in the community she loved so much.
In husband Tony's words Karryn had a "strong sense of community" and was an "epic forager, doting mother and wife" and for him, she was "the complete woman". These sentiments were echoed by the 550 people who attended to pay their respects when Karryn was laid to rest in Hawke's Bay on 10 December 2018. In a fitting tribute to a remarkable woman, the only request from the family was for attendees to provide flowers but, as Karryn would have wanted, only if they had been foraged.