From the first pioneers to the latest innovators, the New Zealand spirits industry has been shaped by resourceful, forward-looking women, says Tash McGill.
The earliest records of distillation technology and methods are ancient Egyptian etchings of a woman using what's now known as an alembic still. It's likely she was using the still to create medicinal elixirs as humankind has been doing for centuries. Leaping forward through time and across oceans, you'll discover Scotch whisky – that icon of masculine dominance – was often distilled by women in farm buildings close to the house where they could keep a watchful eye on the horizon for the exciseman while trading their spirit out the kitchen window. In fact, scattered throughout the folklore and history of the spirits industry is story after story of compelling, clever, industrious and inspiring women.
FROM OUTLAWS TO FOLK HEROES
When people emigrate, so do their skills and experience. So it should come as no surprise that spirits distillation has been happening in New Zealand since the first sailors arrived to summon whales from the deep, their rum and moonshine found in illicit stills scattered along the coastlines and occasionally hidden deep in the river deltas of the fiords. However, when the McRaes arrived from Scotland, the matriarch of the family brought her farm distillery knowledge with her, thus bringing the skills that would give birth to New Zealand's first cottage industry of spirits making.
Making whisky is a natural extension of farming for those who grow grain, which has been a mainstay of Southland farming since the 1800s. While at that time most whisky was imported from Scotland – often diluted beyond recognition before being sold – there were distilling licences available in New Zealand though they came alongside a pretty tax bill. For the McRaes, who settled under the cover of the Hokonui Hills and valleys, distilling was second nature. Mary McRae had learned the art of farm distillation and how to manage a small operation and on arriving in New Zealand with her sons she began to pass the knowledge on. Soon the product of the illicit Hokonui Hills moonshine operation run by her son Murdoch was reputed to be as good as Scotch whisky. While at the time the McRaes ran a close line to the law and kept a watchful eye for the constabulary, now they are recognised as folk heroes of the Southland pioneers.
GROWING LEGACIES
The Auld family farm is just southwest of those famous Hokonui Hills, nestled in Scotts Gap. While they are a third- generation farming family, Toni and her husband Rob have been pursuing future-focussed farming strategies to build a legacy for their three sons and the future of the farm. Just as the Scots of old, making spirits from your homegrown grain is a natural extension of the farming process and one that allows for sustainable technology, closed-energy cycles and a legacy business. For Toni, the focus is on the people and culture surrounding their growing business. Since they began the process of building Auld Distillery five years ago, the shape and vision of the business has continued to grow.
"When we first started it was about building a legacy for our kids, so they could have options and choices about where they wanted to go in life. But now it's become so much bigger – I want to create jobs for people where they love coming to work and it's bigger than just my family," says Toni. "We wanted to add value to our farming and we knew we needed to be able to control the end product. With distilling we can do that. It's our grain, grown from seed to sip. But we also control making a premium product. There aren't many farmers who get to see the end product of what their labour makes." Rob and Toni run the distillery and farm alongside Linda Jones, an additional distiller they brought on to help manage production. Linda spent seven years distilling for Cardrona Distillery before moving further south and you'll likely encounter her on a distillery tour or at many of the events and festivals the team travels to.
While the distillation techniques are traditional, the spirits are extremely modern as Auld makes spirit not just from its barley but also experiments with alternative grains, each producing unique characteristics. While they are laying down whisky barrels for the future, they are also making gin from their grain spirit, capturing the essence of the Southland environment from coast to summit. If people and culture are the driving force of Toni's dreams for the distillery, the product itself is the expression of that. Each bottle and package leaving the distillery currently does so under her watchful eye. While Auld Distillery started as a small farm team and Toni has done almost all of the jobs involved, she's looking forward to growth and the expansion of the team.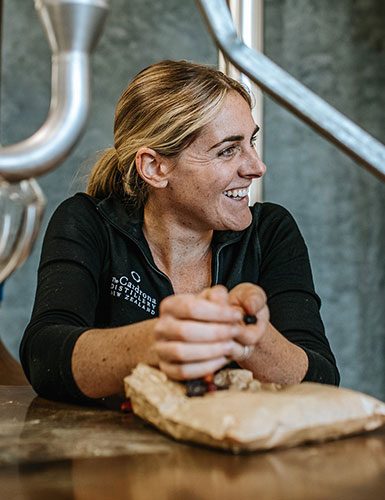 MAKING NEW NORMS
Sarah Elsom, Master Distiller at Cardrona Distillery, leads an all-female distilling team under the leadership of CEO Desiree Reid. "It's just our norm," she says with a shrug of the shoulders, in a nonchalant manner that is classic Sarah. If you're lucky enough to tour the distillery while Sarah is on the floor, you'll experience her depth of knowledge delivered in an exquisite relaxed fashion, something that will take people by surprise only if they're caught in a different time and place. Not only is the distilling team at Cardrona full of youth, energy and a sense of exuberance, but they take their work very seriously, building careers that will likely be lifelong. Sarah, like an increasing number of distillers, came from the wine industry where the knowledge and understanding of fermentation and yeast interactions have plenty of crossover into the brewing methods that are essential to distillation.
For the Cardrona team, perhaps one of the more pesky obstacles to overcome has simply been explaining that the all-women team isn't intentional nor a statement, simply a case of the best people for the job at the right time. Globally, it's a talking point in more traditional markets but here in New Zealand it's just normal.
The New Zealand spirits industry over-indexes for women's involvement and leadership in the spirits industry. Among the New Zealand whisky sector alone, more than 70% of whisky brands are either founded or co-founded by women. While there hasn't been a formal study, an anecdotal review of the Distilled Spirits Association membership demonstrates the relative equality of the industry, particularly in the distillation practices of more commercial businesses and brands. And it doesn't stop there.
For the industry to thrive it requires more than just great passion products. Business leadership, sales and marketing strategy, consumer education and retail growth are all essential parts of the industry, each as vital as the other.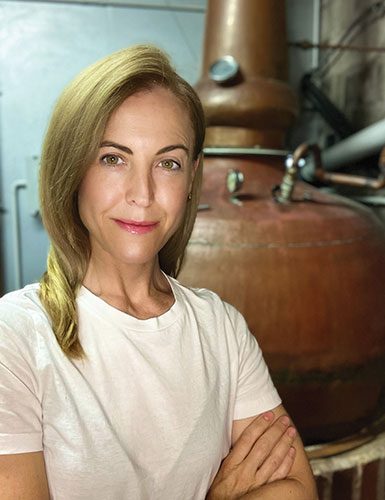 THE BUSINESS OF PASSION
One of New Zealand's first and most prominent craft brands, Thomson Whisky, started as an independent bottling project, which laid the foundations for the Thomsons to distill and bottle their own spirits.
Co-founder Rachael Thomson brought her considerable skills and experience in advertising and marketing to build a strong brand, supported by equally strong partnerships and collaboration across the industry. Rachael has always been a strong proponent for connecting and supporting women in the spirits industry and recognising that while the expectation may be that distillation is where the romantic artistry happens, actually the business is often built in the back office. Managing a strong creative brand, marketing activity, suppliers, distribution and retail relationships are all part of her domain as managing director, including having a sales team dispersed around the country. Rachael's leadership of a small, family-owned business that holds tight to its values has seen Thomson thrive even during challenging seasons, securing its iconic place as one of New Zealand's first premium craft spirits to see consistent local and international success.
The spirits industry is full of remarkable business leaders who have brought their skills to the sector. Ro Parker has built and led marketing technology firms, as well as other directorships and projects, but a personal passion brought her and husband Mark together with friends to make whisky. Although tucked away on Waiheke Island in the Hauraki Gulf, the launch of Waiheke Whisky's first releases was highly anticipated among the spirits community and represents a significant journey. For nearly a decade the team has been making whisky, taking the rare step to wait until the spirit was matured and ready before launching at all. The journey to take a spirit from idea to reality includes securing and managing a supply chain of bottles, closures, packaging, licensing, bottling and distribution – all of which are complex enough without the backdrop of a global pandemic creating delays and challenges. Without business leaders such as Ro and Rachael, who demonstrate tenacity, flexibility and a relentless focus on creating something world class, our spirits industry wouldn't perform on the world stage as it does.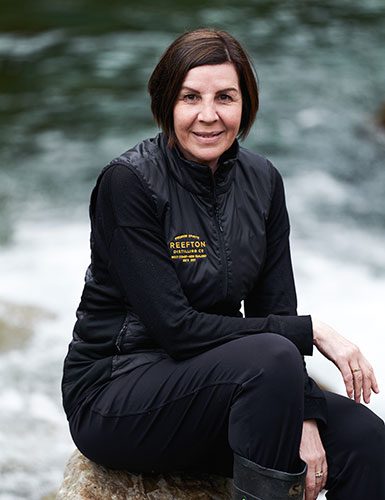 MORE THAN A SPIRIT
Our spirits industry is more than just how and what we drink in Aotearoa, it's also key to creating jobs, economic opportunity and community advancement. Patsy Bass' passion for her hometown of Reefton and the renaissance of the West Coast led her to kickstart a project designed to do just that. Now, her leadership of Reefton Distillery has created jobs, energy and tourism opportunities as well as bringing together a community of people committed to seeing success in a brand that tells a unique West Coast story internationally as well as at home.
Jo James, co-founder of Begin Distilling in New Plymouth along with her husband Dave, has been at the forefront of research into establishing new botanical crops including juniper as a greenfields horticultural opportunity in Taranaki for dairy farms wanting to add to or change the value proposition of their holdings. This is in addition to her work crafting award-winning Juno Gin and her renowned tasting palate. Juniper berries are in increasing demand globally as they are a previously geographically limited crop that is facing significant impact from climate change. An initial project researching wild juniper varieties already growing in New Zealand led to additional feasibility studies and research identifying these opportunities to develop supporting industries of spirits production.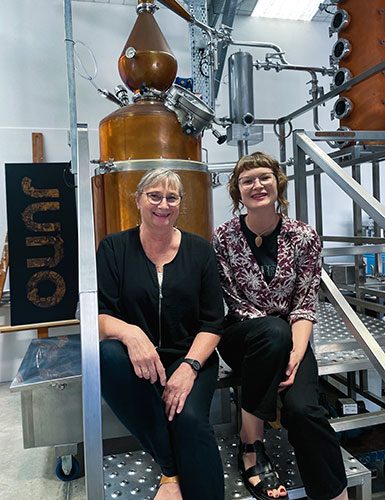 TRADEWINDS
Aroha Jakicevich comes from wine and spirits industry royalty; her family has run Glengarry Wines for nearly 100 years, ever since Joseph Jakicevich held the first retail liquor licence in the country. But her own passion for fine wine and spirits has established her as an up-and-coming ambassador for spirits, including judging at the New Zealand Spirits Awards and supporting consumer education at Glengarry.
For Aroha, who is of Māori and Croatian descent, it's important to represent Māori within the alcohol industry in a positive light as well as sharing the meaningful stories behind many of the spirits on the shelf.
"The stories of families producing spirits is something to be upheld and especially when carried down through generations. For me, my dream is to carry on the legacy of Glengarry Wines and to always be learning, meeting fascinating people, and sharing a passion of wine and spirits. To represent myself, my whānau and Aotearoa to the world."
She recalls growing up with lots of music on the wooden porch, looking out to a mountain of native bush with a glass of something delicious in reach and how that has influenced her choice to study and learn how to assess and communicate flavours, stories and experience of the what's in the glass.
"This was my upbringing with my father – a keen whisky advocate, storyteller and mentor. My journey with the spirits industry in New Zealand has shown some of the characteristics that I value in life: rich history, service to people, respect in craft and having a good time. We may be new in the scene in terms of distillation, but we sure know how to produce world-class spirits. That's something to be proud of."
THE STORYTELLERS
Beyond the retail store, even a casual conversation in passing at the bar is an opportunity to advocate for premium spirits growing as an industry, supporting jobs and communities and raising consumer awareness of quality and flavour.
To mention every female bartender, ambassador, sales rep, marketing specialist or retailer would exhaust printer's ink. But that's perhaps the fabric of the spirits industry here in New Zealand. Women are no decoration, they are the integral thread that weaves it together.