What makes a restaurant a long-stayer in Wellington's enviable hospitality scene? Alexia Santamaria finds out.
Oh how the dining public love a 'new opening' – pawing over the pages of our favourite magazines and voraciously consuming website articles that deliciously describe the newest kids on the block with their gram-worthy cocktails, moody vibes and food that looks like art. We not only want to rush to eat there but we want to feel like those people in the pictures: laughing with friends, pretty drinks in our hands; eating clever creative food at the newest hotspot in town; and feeling a little bit smug because we are in the know. But what happens after that rush, when the crowds have all checked out of the 'latest and greatest" and that restaurant is superseded in the public eye by an even newer, shinier one? What is it that makes a New Zealand eatery draw crowds long after that star of novelty has faded?
Many restaurants around the country know exactly what it is and have been solidly doing it for decades. The Cuisine team showcases the importance of recognising these long-term players with a category – in partnership with PEAD PR – at the prestigious Cuisine Good Food Awards. The award recognises the institutions that are still popular years after opening, reliably turning out beautifully executed dishes using the freshest produce with skill refined over long periods. These are the places still filling their dining rooms with happy customers, 10, 20 or even 30-plus years after they first flung open their doors. It's an incredible achievement to retain a crowd of loyal regulars when you're competing with new openings, post-COVID challenges and staff shortages like everyone else in the industry. We talked to five of these Wellington icons – all still well-known and very well-loved by locals and visitors alike – and asked them what they think makes their place endure when others have not.
LOGAN BROWN
EXECUTIVE CHEF SHAUN CLOUSTON,
HEAD CHEF AN LAI
When Al Brown and Steve Logan saw the inside of the old bank building on Cuba Street in 1996 they knew they'd found exactly the spot to make their dining dream a reality. "It was beautiful, perfect for what we wanted – a bigger-scale Kiwi restaurant – because back then most of the best restaurants were very small and formal," says Steve (who now owns the restaurant with Shaun Clouston and Debbie Jones).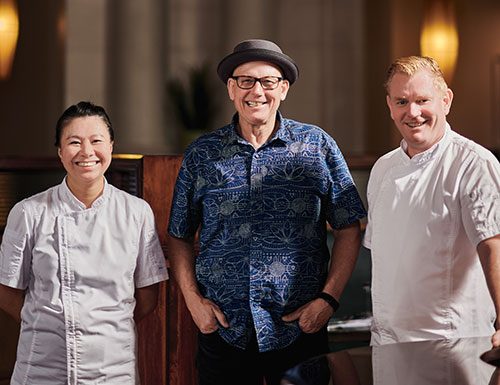 "We reckoned we could still do premium food and beverage in a beautiful space but with real Kiwi informality and talent. We didn't want waiters who all looked the same: we wanted queer, straight, brown, white, fat, skinny, every race, every type, as long as they understood true hospitality and how to make people genuinely feel welcome." Turns out that's worked quite well as 27 years later they're still a firm Wellington favourite. "It's all about consistency of experience and real hospitality. We think we are good buggers and we love working with other good buggers whether they are our team or suppliers, and our guests experience that both in the way they are looked after and on their plate."
After so many years, a restaurant such as Logan Brown almost has its own ecosystem. "It's so much more than just a dining room. We are connected with so many parts of the community – hundreds of producers and service suppliers. We sponsor all sorts of organisations from the NZSO and Tennis Central through to charities and school fundraisers, too." The restaurant has also become a kind of 'hospitality university' to the next generation of chefs and front-of-house staff, and often has school or tertiary students coming through. "It's that sense of community and the true spirit of hospitality that keeps us in this game. It's also down to great business partners: everytime we get hit by another challenge we swear like crazy, have a laugh and then get stuck into a solution." loganbrown.co.nz
CAPITOL
HEAD CHEF TOM HUTCHISON
Kate and Tom Hutchison opened Capitol in 2002 and it's still going strong, still regularly being awarded for its fresh, unfussy, modern European fare. The team especially prides itself on using ethical produce and the best New Zealand seafood. The restaurant was born out of a 'coming home' to Wellington, as the couple had been in Melbourne, France and London, where Tom worked with well-known Kiwi chef Peter Gordon at The Sugar Club. "We were inspired by the food of the world and had worked with the best and wanted to share a bit of that with Wellington," says Kate.
But what makes a space like this popular two decades later? "We think it's probably about authenticity and honesty," says Kate. "We prepare the food we love, we serve the wines we love. People love Tom's food. There are very few restaurants in New Zealand where the same chef has cooked in the same kitchen for 20 years." And, of course, in that time they've seen a few restaurants close their doors. "We have observed that many of the superstars that come and go may be more about being the next new thing, or about status or attention-grabbing, and that can sometimes lack generosity." Kate and Tom both believe genuine open-heartedness has to be at the heart of any good operation. "People who work in hospo for decades are extremely generous people who are prepared to give to their communities in a way that often impacts negatively on their own opportunities to have work-life balance or to be remunerated in a way that is equal to their skill set. I think finding meaning in the service we provide for Wellington gives us the energy to get up and do it again, day after day, year after year. And that's probably the same for anyone who has lasted the distance here." capitolrestaurant.co.nz
CHARLEY NOBLE
EXECUTIVE CHEF DARREN SHEAD,
HEAD CHEF PATRICK HADDOW
Charley Noble is coming up for a decade on the Wellington scene and that's no mean feat with so many great places to eat. It's still owned by the men who founded it, Paul Hoather and Pengyu Du, but Melissa Lind is the general manager who deals with all day-to-day operations. "There are so many reasons a restaurant lasts, so many layers to the equation," she says. "It's about consistency, for sure, but somehow you need to provide what people expect and still be able to surprise them at the same time." This is something the Charley Noble team does very well. It starts with the food, which is cooked using an open wood fire and organic, fresh produce. But people definitely come here for the vibe as much as the kai – it's not a quiet space, but always lively, often with a waitlist for a table. But waiting is made fun when it's in a bar section with great cocktails. "Because it's always a bit crazy, it's actually a different experience every time you come here, but customers trust that whatever that looks like, they'll have a great time. This is because the vision and ethos have been very clear from the start and all the key players over time have embodied that as a philosophy and passed it on."
Many restaurants say their regulars become like family and Charley Noble is no exception: the team often finds itself printing special menus for people's birthdays, stocking a new beer because a regular likes it, and knowing someone's preferred table. "We have some people who eat here almost every day and they actually have their own button on the till," laughs Melissa. "We also understand that the customer–staff relationship is actually a two-way thing. Over nine-and-a-half years we've seen people go through cancer, seen them pregnant and then watch their kids grow up but we also were on the receiving end of some love when COVID struck and we felt that support and care come right back to us." charleynoble.co.nz
BOULCOTT STREET BISTRO,
HEAD CHEF JOHN ALLRED
One of the ultimate OGs of the Wellington dining scene has to be Boulcott Street Bistro, which has been serving delighted locals and visitors since 1991. Located in historic Plimmer House – a gorgeous inner-city Victorian cottage – it's as popular for high-stakes business lunches as it is for family celebrations. The menu walks a clever line between tried-and-true (there are dishes, such as the aged fillet of beef, whose removal would cause a revolt) and modern with international influences, hence its wide appeal.
But John Lawrence who has owned BSB since the start says it's not just about good food. "Good food is important but in the end it really is nothing without the right people. Our staff are everything. Doesn't matter how cool your menu is, or how great your wine list is, or how designer-ey your dining room is, it's nothing without people who make diners feel comfortable." John says one of his greatest joys is watching new customers come in looking a little intimidated or nervous and seeing staff treat them in such a way that you can actually see their body language change and relax.
You have to wonder if this is because staff seem pretty happy to be working there, too. Several front-of-house staff have stayed on for five, even 10, years. John says the thing some new restaurants possibly get wrong is being too focussed on one central person – usually the chef. "I know it's a cliché, but our staff really do feel like family and it's a team effort and maybe that's part of why we're still here." boulcottstreetbistro.co.nz
ORTEGA FISH SHACK
HEAD CHEF TERESA PERT
Still wildly popular 14 years after opening, Ortega Fish Shack has always managed to deliver a first- rate high-end dining experience in the most casual manner possible. Weatherboard shutters, nautical paraphernalia and the word 'shack' in the name totally belie the level of quality and care that's taken with everything that comes out of the kitchen. Co-owner Davey McDonald sums it up well when he says, "We don't take ourselves too seriously, but we take what we do pretty seriously." This means always serving the freshest sustainably-caught New Zealand kaimoana, having an incredible wine list and a wide range of other interesting drinks behind the bar, but still making sure that fun is a huge part of the equation. "Our philosophy is pretty simple: we love good food, good company and nice things to drink and we figured other people do, too, so that's what we based Ortega Fish Shack on. Basically, we want customers to have fun and we want to have fun with them."
The menu is always short and simple and it's reprinted every day because it changes depending on what fish is looking best at the time. But it's obvious that the appeal – and a big part of Ortega's longevity – is beyond culinary, lying in their ability to make people feel welcome. "We all talk about consistency and we're definitely consistent with the quality of our meals, but service has to really come down to who walks in the door; your 90-year-old grandma and her friend from book club obviously need a totally different experience to a group of lads out for a meal before a stag do." Davey also credits weathering the tough times to being in a city where restaurants are really supportive of each other.
"While we've been around a while, we're just really excited about people going out in our town, so we're always happy to recommend newer places, and we love that we share so many customers with some of the guys who've been around longer than us, too. It's a great city to operate in and we think it's just magic that people love the same idea of a good time as we do." ortega.co.nz ■