New Wellington wine bar Graze offers delicious wines with thoughtful and ethically focussed bites in a relaxed local setting.
I've been talking to Max Gordy for less than an hour, but in that time eight people have popped their head round the open door, keen to find out what's going on at the old butchery in the Wellington suburb of Kelburn. That interest is gold as 'local' and 'neighbourhood' are at the heart of what Max and his wife Stina Persen are creating with their new venture, Graze Wine Bar. "Kelburn is small but bustling and quite charming," says Max, who used to live in the area. "We want to create something special in our little neighbourhood. Somewhere fun and fresh is much needed in the area, somewhere with a bar-ish atmosphere but an upscale, relaxed place to have a wine and dinner, where people can pop in and have some fun."
Max and Stina are familiar faces in Wellington's hospitality scene, having most recently been at Thorndon's Hillside as head chef and front of house, respectively. As at Hillside, Graze has sustainability at its core, and Max and Stina aim to make Graze as low impact as possible, with minimal waste. It's an operating ethos that pervades the entire business, from the menu to the fit-out to how they treat their staff.
Max promises honest and thoughtful food, and that means working with carefully selected suppliers whose values align with their own, to offer a fish- and plant-based menu focussing on ethically sourced produce exclusively from Aotearoa. He's been working on dishes such as ocean-speared butterfish cured in bull kelp salt to make butterfish bacon, and smoked eggplant served with pinenut milk and fig-leaf oil. Keeping it super-local, the fig leaves for this oil are collected from just around the corner.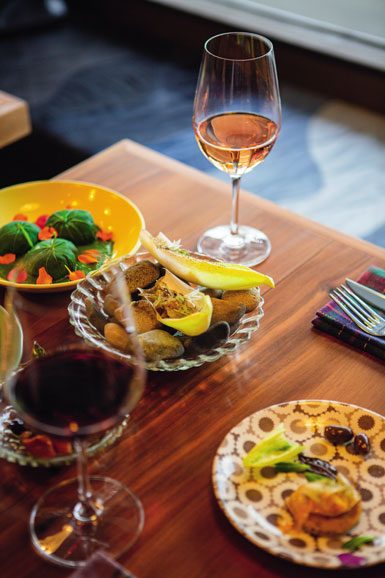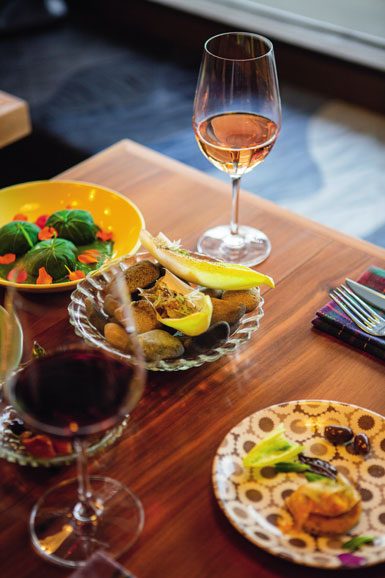 In fact, Max's dishes often feature ingredients that he has foraged himself on his walk to work; at the right time of year local reserves will yield chickweed, elderflower, kawakawa, fig leaves and even porcini, if you're lucky. "I forage because it offers a unique sense of locality. And that's what makes us special."
Built in 1957, Graze's new home operated as a butcher's shop right up until last year, when Max and Stina set about a hands-on remodelling project that has transformed the space into a tiny wine bar seating just 25 guests. "It was a great space, but we didn't realise it would take so much time and effort," says Max. "Maybe I was just a young, naive guy but it's felt hard with lots of road bumps to go over. I've learned so much that, as a chef, I never thought I'd need to know."
Worth all the work, Graze has an industrial aesthetic, with exposed concrete, iron shelves, tabletops fashioned by a friend from old floorboards, and upcycled denim covering the banquettes. The pair used the COVID-19 downtime to sift through op shops, building recyclers, auctions and garage sales, sourcing glassware, tiles, light fittings and colourful glazed Crown Lynn crockery that Stina upcycled to give the place a touch of quirk. Not only does that go to the core of their no-waste mantra, but, as Max tells it, "We're colourful, funky people, and we didn't want it to just be like every other wine bar." TRACY WHITMEY