ADDRESS:   479 New North Rd, Kingsland
CHECK WEBSITE FOR OPENING HOURS
MAINS:   $58 – $60
WEBSITE:    philskitchen.co.nz
CONTACT:   09 849 7741
SCORE:   17 / 20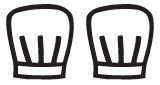 Since opening his eponymous spot some six years ago, Phil Clark has established a loyal following. No wonder. Here in the heart of the eclectic Kingsland dining precinct is a shrine to French-inspired food and classic cooking. The menu reflects Clark's dedication to taking ingredients his diners know and love before turning them into something extraordinary. We got ourselves quacking with delight over an inspired combo of duck breast with foie gras, cured plums and chocolate. Here on this uncluttered plate – another PK speciality – the richness of the duck was beautifully balanced with the intenseness of the jus. Even the tiniest garnishes are given the same careful treatment as the main player, with every last component well honed. That's partly due to Clark's devotion to the intricacies of his art and his penchant for formal dining.
IN BRIEF: Cerebral, tasty and beautifully classic food
---