KELLI BRETT DISCOVERS A THRIVING FOOD COMMUNITY IN BUSTLING LITTLE ARROWTOWN.
Some people eat to live, some people live to eat and I eat for a living, so it's fair to say I view the world through a highly focussed food lens because food spills into every aspect of my life. When I travel I am always looking for a series of tastes of a place, in order to get a true sense of that place. I'm looking for towns with hospitality communities that are united by the excitement of telling their local food story, and people who understand the value that a quality food and drink offering can contribute to the lifeblood of a region. I'm usually in and out in a couple of days, so I have neither the time nor the patience for mediocre, and I am definitely not only looking for high-end experiences. In my world, it's always the people behind the menu who make the magic: the welcome from confident and happy staff; the quality of the ingredients showcased on that menu; and the love and respect for the local food community that exudes from the kitchen. And so I'm a little ashamed to admit that when visiting Queenstown I have never (until now) ventured any further down Lake Hayes Road than Amisfield Winery. Amisfield is the crowning glory, one of the absolute must-do spots for food and wine lovers in search of a spectacular New Zealand dining experience. But keep going down that road towards the delightful gold-rush village of Arrowtown and you will find a cast of talented (and for the most part, a little eccentric) characters that will deliver tastes and flavours far beyond the traditional meat and three veg, and will rival the unforgettably charming and quirky setting.
ARROWTOWN LODGE
This is the place to stay to set yourself up with a glorious breakfast each morning (mine included juicy grilled portabellos loaded with fresh herbs and served alongside the fluffiest bright yellow scramble I'd seen in a long time) and a conversation with the man that has his finger on the pulse of Arrowtown. Owner Paul Stevenson is a superb host and can give you a serious heads up on the local flavour. His very cute collection of cottages look out towards Sawpit Gully and Macetown and offer indoor and outdoor living areas and an outdoor fire, in an adorable cottage garden setting. Head down some steps and out through the little back gate and you will find the main town just down a gentle hill. The walk back up will justify the calories consumed while you are down there.
7 Anglesea Street, Arrowtown arrowtownlodge.co.nz
AOSTA
To be honest, the reason I wanted to explore Arrowtown was because I'd heard that award-winning New Zealand chef Ben Bayly's cooking at Aosta is so straight-from-the-heart that you can taste the love. Chef Steven Sepsy heads up the kitchen and a skilled team is smashing it behind the pass and on the floor. While bringing the flavours of northern Italy to this locale, the menu is almost exclusively local. The wine list has now become more diverse, stretching beyond the best of Italian and Central Otago, and the food is indicative of a master chef who has found his happy place. There is so much to love on the Aosta menu. Standouts for me are the flame-grilled sardine, the blue cod cannoli, the cappelletti with seafood ricotta (showcasing pasta lovingly made by Andrea Cattalini) and the fish of the day – wild-caught ikijime perfection sourced from Gravity Fishing and served with pickled blue-lipped mussels (in  my opinion much tastier than green- lipped), summer flowers and preserved  lemon. Manager Briar Russell runs a very slick operation and Canadian Jessica Patterson is a knockout on the floor. 18 Buckingham Street, Arrowtown aosta.nz
FAN-TAN
Fan-Tan is a story of East meets West, a nod to the game long played in China with beans or pebbles and the memories of Arrowtown's Chinese miners during the goldrush. It's owned and operated by the group which also owns Aosta. Head chef Ben Davies runs the pass, while partner Isabelle Rubie and the team light up the floor and the bar (Izzy also takes a wicked photograph in her other life). A small but more than sufficient drinks list hits all the right notes with a 'Vietnamese Smash' – pulling together the refreshing flavours of lemongrass and lime, Havana rum, St Germain and honey – being the perfect start to the fresh tastes that follow. Think dumplings, bao and a terrific raw bar leading up to the main event which might be anything from fragrant chicken curry to crispy citrusy whole fish. My faves were the cured salmon, elder syrup, fennel and pink grapefruit sprinkled with crunchy little tempura elderflowers and the lip-smackingly good grilled corn cob with black garlic butter. 18 Buckingham St, Arrowtown fantan.co.nz
LA RUMBLA
Inspired by the famous Las Ramblas restaurant precinct in Barcelona, former Queenstown hospitality professionals Penelope 'PJ' Johnson and Sam Gruar were told they were crazy to even consider opening a restaurant in Arrowtown eight years ago. Well, how lucky the town is that they did. It's a must-do but don't go for lunch – they do late not lunch – and they do it very well. Chef Jay Sherwood has a pretty cool pedigree having worked at Villa Crespi in Orta San Giulio with celebrated chef Antonino Cannavacciuolo, and Malisse in Los Angeles (both of these restaurants have been Michelin two-star institutions). Watching PJ and her brilliant team work a floor that held more locals than tourists during peak tourist season is an indication of a winning formula. Expect food that extends way beyond typical Spanish, and cocktails that show a delicious inclination toward very good tequilas. The grilled chicken with ancho chilli and a smoky cashew mole, Palermo capsicum tamale and corn salsa is a definite winner, winner chicken dinner. 54 Buckingham Street, Arrowtown larumbla.co.nz
GOOD DAY & SLOW CUTS
Also owned by dynamic hospo duo 'PJ' Johnson and Sam Gruar and with executive chef Jay Sherwood across the menus here, these two establishments sit side by side and offer everything you  might want across the day for dine-in or takeaway. Good Day takes you through breakfast and lunch with some sizzlingly hot breakfast sandwiches filled with the goods, such as house bacon or chilli and sage breakfast sausage and fried eggs, and they do a good cup of coffee. For the serious brunch set there are more substantial sweet and savoury options. My 'shrimp & gritz', served with smoked andouille sausage, peperonata and a soft oozy egg, truly justified the act of eating prawns, which are for me a special occasion ingredient only. Next door at Slow Cuts, as suggested, the menu features long and slow cooking over lunch and dinner. Condiments are made in-house and the beef – from South Island dry- aged Hereford Prime Steer – is ground daily. You won't have to look hard to find the exceptionally slick Wiremu on the floor. He tells me the buttermilk fried free-range chicken burger with chipotle aioli and mango salsa built the business… and it is the business. You'll also meet fabulous operations manager Kate Tothill at either one of these restaurants or at La Rumbla (I don't know when the woman sleeps). Good Day, 8/50 Buckingham Street, Arrowtown. Slow Cuts 46-50 Buckingham Street, Arrowtown
TERRA MIA
Here, traditional home-style Southern Italian cooking meets Central Otago for breakfast and lunch seven days, and dinner Thursday to Saturday. Owners Alberto Calabrese, originally from Naples, and Brazilian-born Lucia Macedo run this family-owned restaurant and it's a little gem. It's not flash, but it's bustling and cosy with shelves bulging with Italian products and pizzas constantly on the go. No half and half flavours or ingredient swapping here. Alberto stretches the dough by hand and cooks his Neapolitan babies at 450-485°C for no longer than 90 seconds. Homemade pasta, risotto and gnocchi are on the menu but if you are looking for a great spot for a quick lunch on your own or for two, see if you can bag the window table, order the house wine and the housemade panini, and watch the mesmerizing foot traffic on the main drag. I loved the Tuscan-style roast pork with potatoes and baby kale. 28 Buckingham Street, Arrowtown terramiaarrowtown.co.nz 
THE CHOP SHOP FOOD MERCHANTS
Down Arrow Lane and up some rickety stairs I found the best Turkish eggs I've had in New Zealand. Kei and Sawa Sakashita took over The Chop Shop in 2017, inheriting the decor – described as 'vintage industrial with a bit of River Cottage' – inspired by previous owner Chris Whiting and his love of cars and anything industrial (the fact that he 'chopped' for a living gave rise to the name).  These days you can sit at the pressed- tin bar and watch as head chef Ceri  Aldiss and the team furiously cook and plate up almost non-stop, or you can sit at a table and take in the cool wallpaper and quirky chandeliers. If the sun prevails, the deck is the most popular hot spot in more ways than one. The menu changes often but I reckon they'd be mad to take off those eggs. Barista Lisa Forde makes a mean coffee, the daily specials board looks like it will always be worth considering, and the house-made pork dumplings seem to fly off that pass. Vanilla hotcakes with poached tamarillo, toasted pecans, mascarpone, tamarillo syrup and mint sounded very tempting, but I had eaten too many of those damn fine Turkish eggs. 7 Arrow Lane, Arrowtown
BLUE DOOR BAR
Legend has it that Arrowtown locals boycotted a recent attempt to replace the blue door with a much more modern white one, but it seems all has now been forgiven as the ubiquitous blue painted door is now firmly back in place. If there ever was a true hidden gem this is it, and if the Wednesday night crowd is anything to judge by, everyone loves an open mic night. I was a bit nervous as that iconic blue door creaked open and I squeezed into the heaving, dark, almost speakeasy-style space. I could hear a cover version of Pink Floyd's 'The Wall' reverberating from the inner sanctum. The lyrics didn't seem to be quite the same as the ones I remember, which made it all the more intriguing. The dancers in front of the designated performance space (stage would be too fancy a word) were practicing their toned down and tweaked moves for dancing in crowded places, and looked like they had started off intending to dance with a friend and ended up dancing with a stranger – but no one seemed perturbed. Manager and head barman Ross Mander is obviously serious about his drinks with a cocktail menu that deserves great exploration, and a grunty selection of beer and spirits on show. The Whisky Sours are legendary; the conversations at the bar priceless. Way too much fun into the wee hours. 18 Buckingham Street, Arrowtown
AKARUA WINES & KITCHEN BY ARTISAN
This historic cottage, lovingly restored and set within a beautiful garden, has become a popular destination winery restaurant, and it's not just all about the excellent wine. The original vineyard was planted in 1996 and has been owned and operated by the Skeggs family ever since. Akarua has a portfolio of six vineyards in various parts of Central Otago, the wines from which are all served here. The cottage restaurant is the result of a partnership with John and Debbie Pickens who arrived in Queenstown in 2010 to set up Artisan Catering. Whitebait was in season during my visit and I decided to see how they treated it. It was lightly battered and fried, and served with wakame, miso mayo (I would have loved a bit more of that) a spectacular grain crostini, karengo and soft herbs. I followed this with green-lipped mussel fritters and then Cloudy Bay clams which were, fittingly, nestled within a delicious Akarua white wine broth with garlic, lemon and herbs. A gorgeous spot for coffee and breakfast, but for me it's a leisurely long lunch over good wine every time. 265 Arrowtown-Lake Hayes Road, Arrowtown akaruaandartisan.co.nz
MILLBROOK
Just a short drive from the centre of Arrowtown, the Millbrook golf and lifestyle resort surprised me. Online it looks huge with its expansive 650 acres of lush green fairways and diverse tiers of accommodation that can cater for up to 350 guests. However, the first stroll from my deluxe studio across to the magical spa and health and fitness centre took me past gentle streams, under the spectacular Remarkables mountain range, and was simply breathtaking. It quickly became clear that this is a spot for some serious relaxation, but it is the food that I am curious about. With dining options including the Hole In One Café, The Clubhouse, Smithy's Smoke House, Kobe Cuisine and the Millhouse restaurant, I'm excited to learn that the resort has its own kitchen garden, aptly managed by biodynamic gardener Jen Lyons. But it is ultimately the Millhouse restaurant that captures my attention, where chef Fabrizio Ferla and his team have (alongside their à la carte menu) prepared a collection of tasting dishes to showcase the best of the kitchen garden. The crayfish tart, with its butter-poached crayfish, preserved apricot, lavender, sour cream, crayfish and sourdough cracker and crayfish mayo was exceptional and almost too pretty to eat. The wild hare lasagna with braised hare leg, black garlic pasta, buffalo ricotta, mint, and compressed celery and apple was also delicious and clever. I often hear people dismiss hotel and resort restaurants as just 'hotel' food. There is nothing wrong with hotel food; it is the creativity of the chef and the team that determine the experience. 1124 Malaghans Road, Arrowtown millbrook.co.nz
AMISFIELD BISTRO
Whether you stop on your way in to Arrowtown or on your way out, Amisfield is home to our Cuisine Good Food Award-winning Best Chef, Vaughan Mabee, so it stands to reason that this superb winery restaurant should be on your radar as one not to miss. Mabee works closely with a dedicated forager and an experienced charcutier to hunt, gather and curate ingredients that tell the story of the Central Otago landscape, connecting you to season and place in a spectacular three to seven-course gastronomic feast. The wine list has recently been expanded to include a premium offering from around the globe as well as the exceptional wines produced from their single estate vineyard. Vaughan's most recent creation on the tasting menu is the Kawakawa Pounamu, a dessert ice made from kawakawa in the shape of a 'toki', which represents strength and power. Sweetened with Lake Hayes honey, the necklace is plaited kūmara cooked in its own extracted sugar. The menu changes frequently but expect to be enthralled by a stunning representation of the New Zealand food culture, delivered using flawless technique, showcasing ingredients at their very best, alongside intriguing local artisan products. 10 Lake Hayes Road, Queenstown amisfield.co.nz/bistro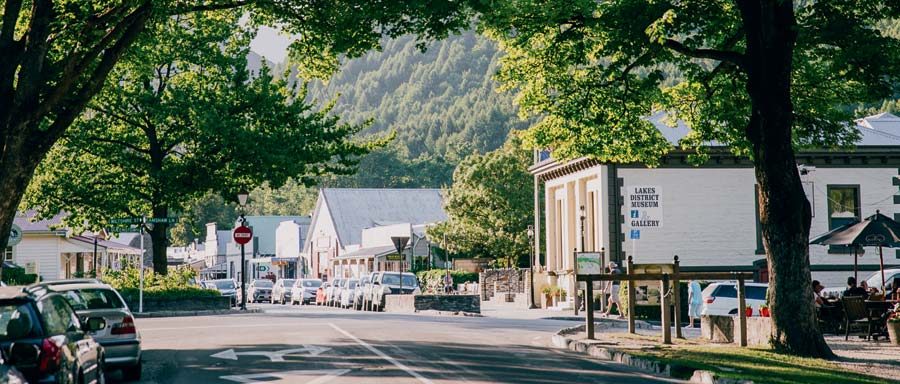 Kelli travelled to Arrowtown courtesy of Destination Queenstown and Arrowtown Promotion and Business Association. queenstownnz.co.nz arrowtown.com

MUST DOS…..
It goes without saying that the heritage town centre, the Lakes District Museum, the Arrow river walk (short) and the Historic Chinese Settlement are mustdo experiences. But here are a few more just in case you are hungry…
PROVISIONS CAFÉ & ARTISAN BAKERY A beautiful historic miner's cottage in a garden setting with obscenely good sticky buns. Grab a ham roll if you are on the run. 65 Buckingham Street, Arrowtown
ARROWTOWN BAKERY Home of the famous Arrowtown Gourmet Pies. Do the pies… 14 Buckingham Street, Arrowtown
REMARKABLE SWEET SHOP An iconic spot with a huge range of sweets, chocolates and nougat, but go for their fabulous fudge and a chat. 27 Buckingham Street, Arrowtown
PATAGONIA CHOCOLATES The shop on Ramshaw Lane is where it all began and now delivers coffee, breakfasts, ice cream and desserts as well as their signature chocolates. 31 Ramshaw Lane, Arrowtown
HILLS GOLF COURSE This is a private golf club, but it does have some opportunities for visitors to experience the course, clubhouse and the spectacular sculpture park. Sir Michael Hill believes art stimulates thought and creativity and his contemporary sculpture collection is stunning. thehills.co.nz
ALPINE WINE TOURS If you can't stay in Arrowtown you can still get a glimpse, along with a magical taste of some wineries, microbreweries and restaurants by night on the region's first progressive dinner tour. With pickup and drop off in the Queenstown area they explore Shotover River, Gibbston and Arrowtown. If you are lucky you might end up at the Blue Door for a nightcap. alpinewinetours.co.nz