BROTH WITH ANGEL HAIR PASTA, WATERCRESS & PORCINI (BRODO CON CAPELLINI, CRESCIONE E PORCINI)
Ginny Grant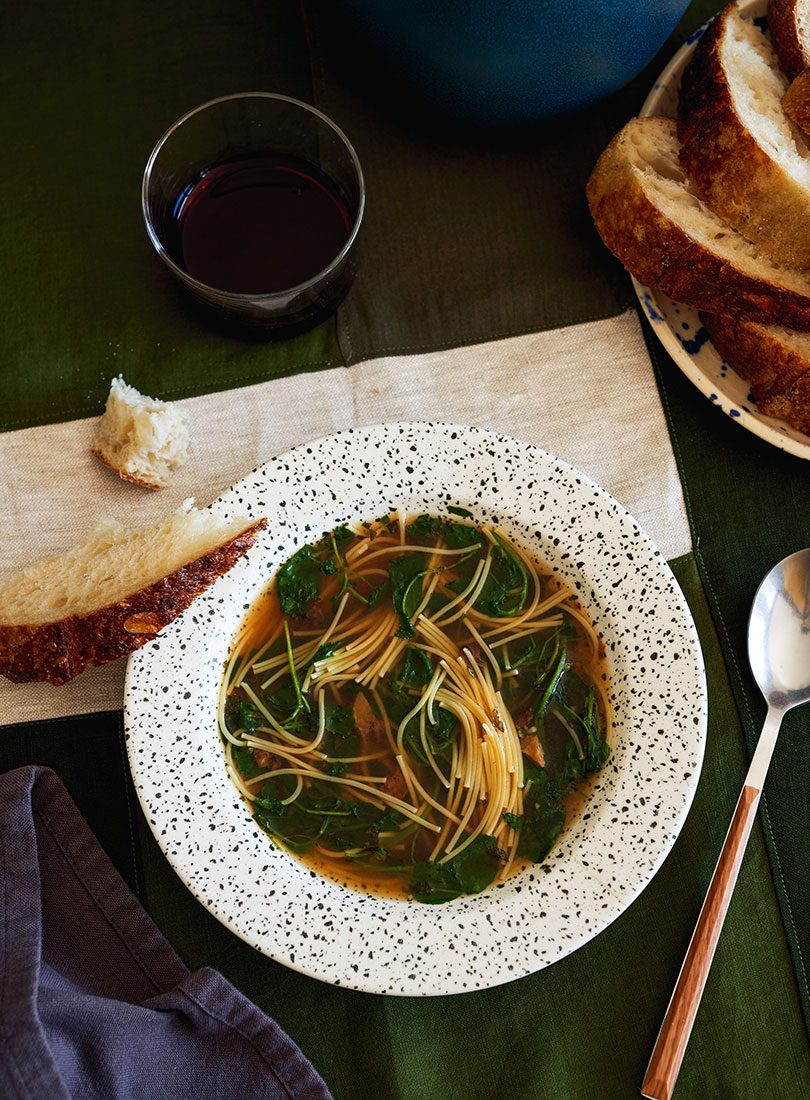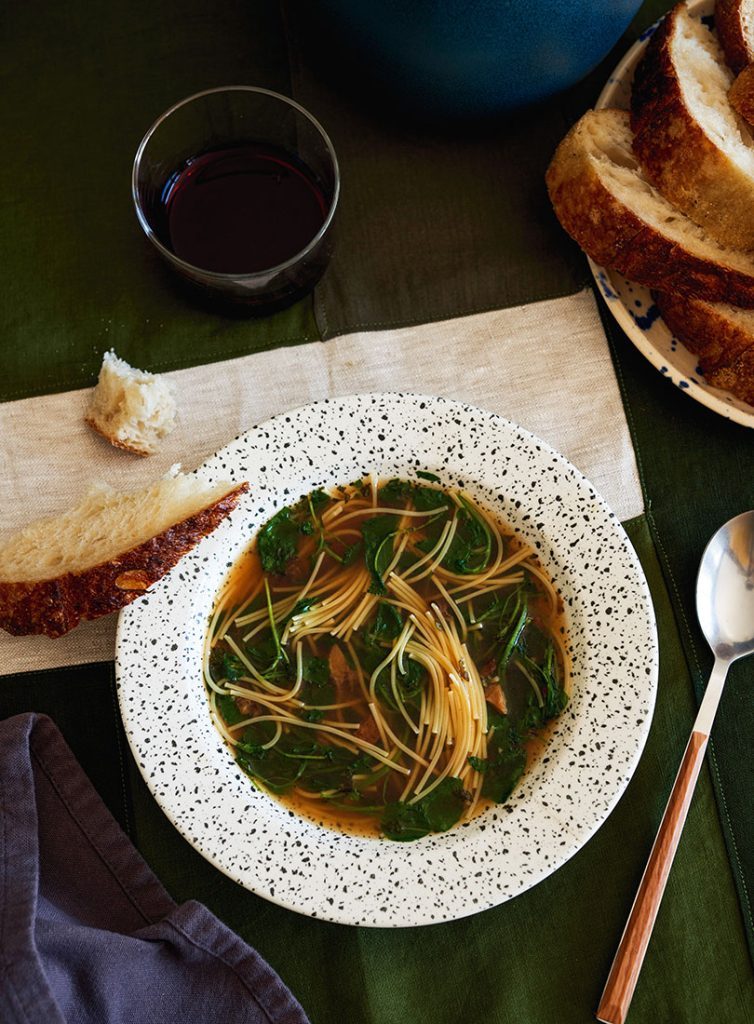 Ingredients
| | |
| --- | --- |
| | 10g dried porcini |
| | 1 tablespoon olive oil |
| | 2 cloves garlic, finely chopped |
| | 2 teaspoons finely chopped oregano or marjoram |
| | 1½ litres beef bone broth (I used Restore) |
| | 120g watercress |
| | 150g angel hair pasta |
Normally I'm all for using a homemade broth for soups, especially if it is chicken based. However most Italian broths or brodo feature beef or veal bones often with some chicken added. These aren't the classic French-style browned stock, rather a lighter and cleaner style. Most of us aren't going to spend hours making such a stock. Fortunately we've seen an explosion of bone broths come to the market which are made from organic or grass-fed beef and these are excellent to use here. I recommend Restore and Best Bones as great brands to look out for (and if you are wanting a rich, classic beef stock for another use then my go to is Foundation Foods).
I used angel hair pasta (capellini) here but you could use any other small pasta shape, ideally one that cooks quickly so that not too much excess starch is released into the broth. And what to do with those thick stems of watercress that you have discarded? I often blitz them with a little garlic, some lemon and whatever nuts I have to hand for a quick pesto for another meal.
Should you be lucky enough to get some fresh porcini, you might want to top the brodo with some fried slices.
View the recipe collection here
Instructions
| | |
| --- | --- |
| 1. | Soak the porcini in 250ml warm water and set aside for at least 15 minutes to soften. |
| 2. | Drain but reserve the soaking water. |
| 3. | Rub off any dirt from the mushrooms and roughly chop. |
| 4. | In a stock pot, heat the oil and gently fry the mushrooms for 1-2 minutes, add the garlic and oregano and fry for another minute. |
| 5. | Add the broth, reserved porcini soaking water and bring up to a bare simmer and cook for 15 minutes. |
| 6. | Pick through the watercress, discarding the coarser stems. |
| 7. | Break up the strands of pasta into roughly 5-6cm lengths, add to the soup and cook according to the packet directions. |
| 8. | Add the watercress in the last minute of the pasta cooking time. |
| 9. | Check the seasoning and ladle into warm bowls. |
| 10. | VEGETARIAN AND VEGAN: Use a good homemade vegetable stock in place of beef broth. You might like to increase the umami factor by sprinkling with yeast flakes. |
Recipes & food styling Ginny Grant / Photography Aaron McLean / Styling Jessica Hemmings