Fiona Smith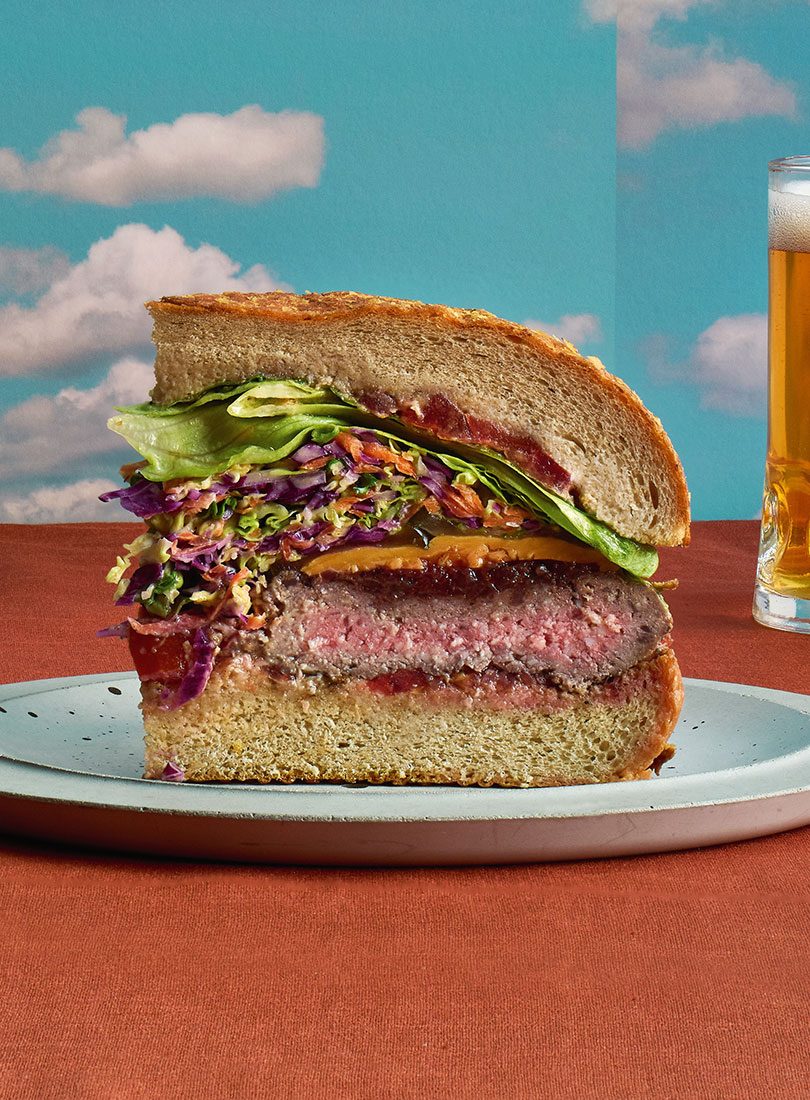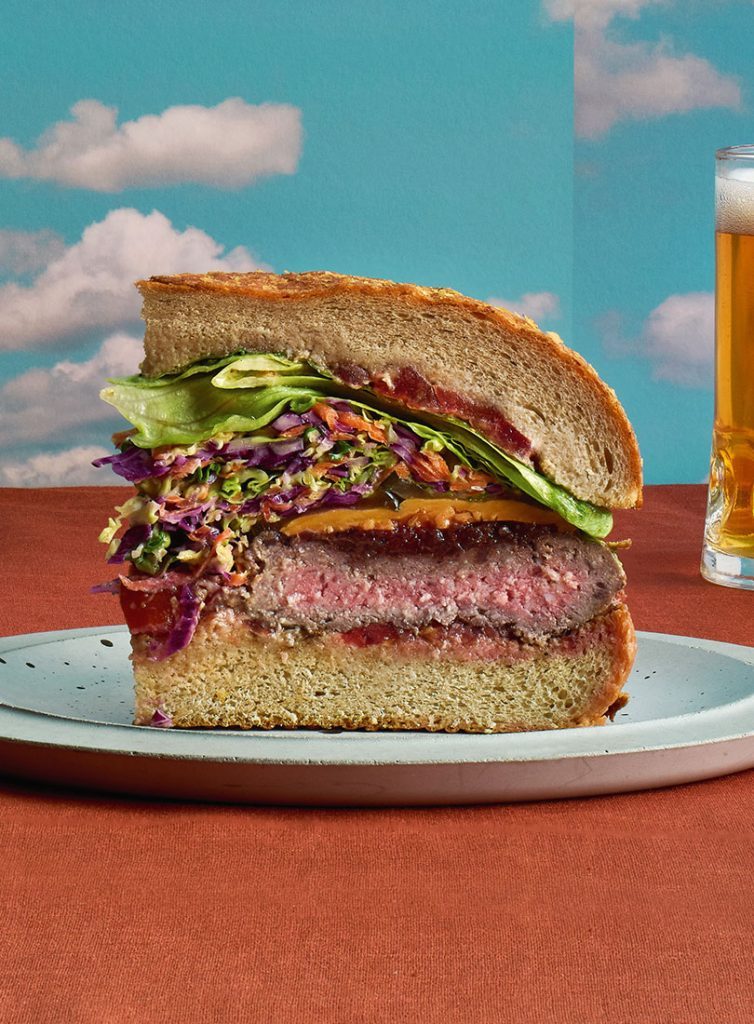 Preparation
20 mins plus overnight chilling
Ingredients
| | |
| --- | --- |
| | 4 Moreish Pure Organic Beef Burger Patties |
| | 1 tablespoon olive oil, plus extra to smear |
| | 4 tablespoons The Gardener Beetroot & Date Chutney, plus extra to spread |
| | 100g cheddar cheese, sliced |
| | 1 round, soft, cob-style loaf |
| | 2 small-medium ripe tomatoes |
| | 2 cups coleslaw mix without dressing |
| | 2 tablespoons mayonnaise, plus extra to spread |
| | ¼ cup sliced pickles, plus 1 tablespoon pickle juice |
| | 3-4 thin slices red onion |
| | 2 large crisp lettuce leaves, iceberg is perfect |
One giant burger, inspired by the 'cold burger' chef's hack and the great picnic sandwiches pan bagnat and muffuletta. Left overnight, the juicy meat and sweet fruity chutney meld with the other ingredients, then you can easily slice it into portions for your picnic.
The beauty of Moreish burgers is their simplicity: quality beef, very little else. This does mean you need to be careful cooking them, as you want them only just done (a little on the pink side is perfect, as there are no additives to disguise any overcooking).
The Gardener Beetroot & Date Chutney is well balanced with earthy, tangy and sweet flavours, making it a versatile chutney that goes just as well with your barbecue as it does your next Indian meal.
For this recipe you need a soft-style round loaf, so a supermarket variety is perfect – you don't want artisan bread with a crunchy crust. I like the burger patty whole, but if you want a sandwich that is easier to get your mouth around, slice each patty in half horizontally before layering over the bread base.
View the recipe collection here
Instructions
| | |
| --- | --- |
| 1. | Heat the grill to hot. |
| 2. | Sprinkle the outside of the burgers with flaky salt and smear with a little oil, pressing down in the centre to form a bit of a dip in the patty (this helps the burger cook more evenly as it shrinks during cooking). |
| 3. | Heat a frying pan over a high heat and cook the burger patties for 2-3 minutes on each side, to your liking. |
| 4. | Put on a baking tray and spread the top of each with a tablespoon of chutney then top with the cheese. |
| 5. | Put under the grill for a minute to melt the cheese then set aside to cool. |
| 6. | Slice the loaf of bread horizontally, one third up from the base. |
| 7. | Put the top and bottom slices on a baking tray, cut side up. |
| 8. | Remove some of the dough from the centre of the top slice, so it is an even thickness throughout (the extra bread can be frozen for breadcrumbs). |
| 9. | Scrape any oil and meaty juices from the frying pan and pour over the bread along with any collected juices from the cooked patties, then toast for a few minutes. Set aside. |
| 10. | Chop the tomatoes finely and combine with 1 tablespoon of olive oil and season with salt and pepper. |
| 11. | In a bowl combine the coleslaw with 2 tablespoons mayonnaise and the pickle juice. |
| 12. | Spread the bottom half of the toasted bread with extra chutney and a little tomato. |
| 13. | Smear the top half with the extra mayonnaise, then spread the remaining tomato evenly. |
| 14. | Arrange the patties over the base, trimming and filling a little if needed. |
| 15. | Top with the pickles, red onion and coleslaw then cover with the lettuce leaves and the top of the bread. |
| 16. | Wrap tightly in foil, pressing the top down to hold everything in. |
| 17. | Put in the fridge and weigh the top down with something flat and weighty, such as a hardback cookbook, for 30 minutes, then remove the weight and refrigerate overnight. |
| 18. | Slice into wedges to serve. |
Recipes & food styling Fiona Smith / Photography Tony Nyberg / Styling Fiona Lascelles