FLASH-FRIED SQUID ON A PUFFED FISH-SKIN CRACKER
Bar Bites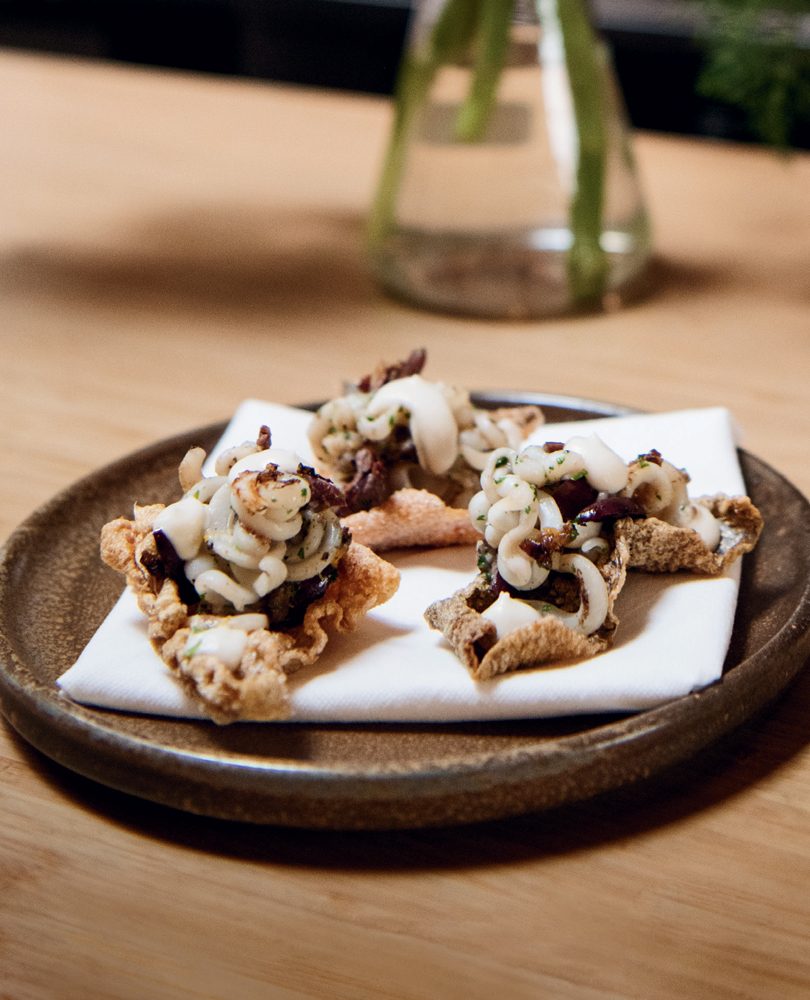 Preparation
25 mins plus overnight drying
Ingredients
| | |
| --- | --- |
| | 400g squid tube |
| | oil, for frying |
| | FOR THE RAISIN TAPENADE |
| | 24 black olives, finely sliced |
| | ¼ cup raisins, chopped |
| | zest of 1 lemon |
| | 1 tablespoon chopped parsley |
| | 2 cloves garlic, crushed |
| | FOR THE CAULIFLOWER PURÉE |
| | ½ cauliflower, chopped into chunks |
| | 1 star anise |
| | ¼ cup butter |
| | FOR THE PUFFED SKIN |
| | 16 pieces fish skin |
| | rice bran or grapeseed oil, for frying |
| | sea salt |
Apart from the squid, all the ingredients for this fun little snack can be prepared up to 3 days in advance. If puffed fish skin isn't your thing, slices of grilled focaccia make a simple, tasty alternative.
Fresh New Zealand arrow squid is one of the unheralded delights of the NZ seafood scene. If your fishmonger is unable to source fresh squid for you, frozen squid will also work very well; just make sure to drain it well before cooking.
Puffed fish skin adds a great texture and flavour to a dish. In a kitchen such as Bistronomy, where we are focussed on as little waste as possible, it is also a way to take a product that is often thrown away and add value. In this recipe I have used salmon skin but most varieties of fish work well. You can prepare the skins in bulk ahead of time as, once dried, they will keep for up to two weeks, in fact their 'puffability' will improve a few days after drying as they re-hydrate slightly.
Serve with Hawke's Martini
Instructions
| | |
| --- | --- |
| 1. | To make the tapenade, combine all the ingredients and set aside. |
| 2. | For the cauliflower purée, cover the cauliflower and star anise with seasoned water and boil until soft. |
| 3. | Drain the cauliflower, remove the star anise and blend with the butter while still warm. Place in a squeezy bottle or piping bag and reserve. |
| 4. | Start the fish skin the day before serving. Scrape the underside of the fish skin with a spoon to remove any excess flesh. |
| 5. | Cut the skin into pieces roughly 4cm x 4cm. Place outer-side up on baking paper or a silicon mat. |
| 6. | Slide onto a tray and dry overnight in the oven at 60°C. |
| 7. | The following day, reserve in an airtight container until you are ready to fry. |
| 8. | To fry the skin, half fill a medium- sized pot with oil. |
| 9. | Bring the oil to just before it starts smoking (about 200°C). |
| 10. | Working very carefully so as not to splash yourself (use a long set of tongs to keep yourself safe) fry the skins one by one in the oil – the skin will puff in 5-10 seconds. |
| 11. | Remove the skin and place on a paper towel to drain. If necessary, you may need to unfurl the skin slightly with the tongs. |
| 12. | Season lightly with sea salt. |
| 13. | Slice the squid as thinly as possible (if using fresh squid put it into the freezer for 30 minutes before slicing; if using frozen, slice before it is fully defrosted). |
| 14. | Place about a teaspoon of oil in a medium-sized pan and heat until the oil is smoking. |
| 15. | Working quickly, but carefully, place the squid into the pan. |
| 16. | Toss and stir with tongs for about 5 seconds. Be careful as the oil may flame. |
| 17. | Add the tapenade and a small pinch of salt (watch the amount of salt you use as the olives will also be salty), toss once and remove from the pan onto a plate to drain. |
| 18. | Arrange the puffed fish skins on a serving dish, divide the squid up between the skins, place 4-5 dots of cauliflower purée on the skins and serve. |

Drinks Andrea Marseglia / Bites James Beck / Photography Florence Charvin