GIN-CURED BEEF, QUINOA & PEA SHOOTS, TURNIP & RADISH CONFIT
Martin Bosley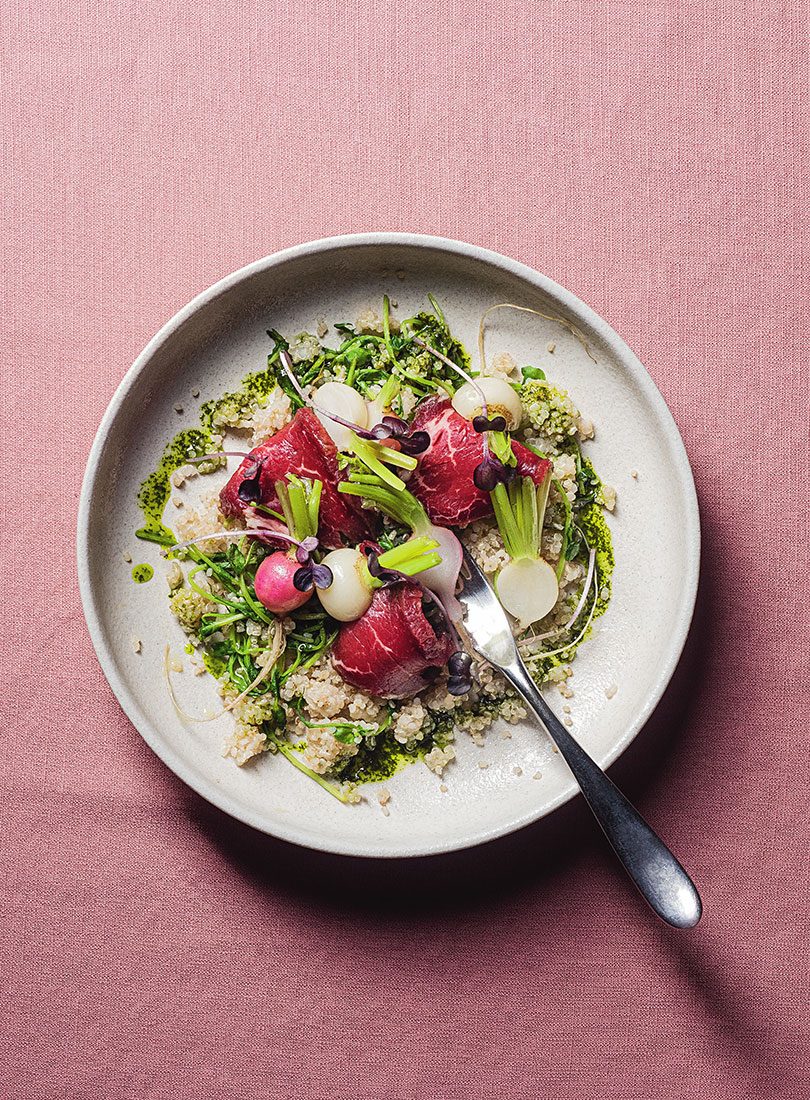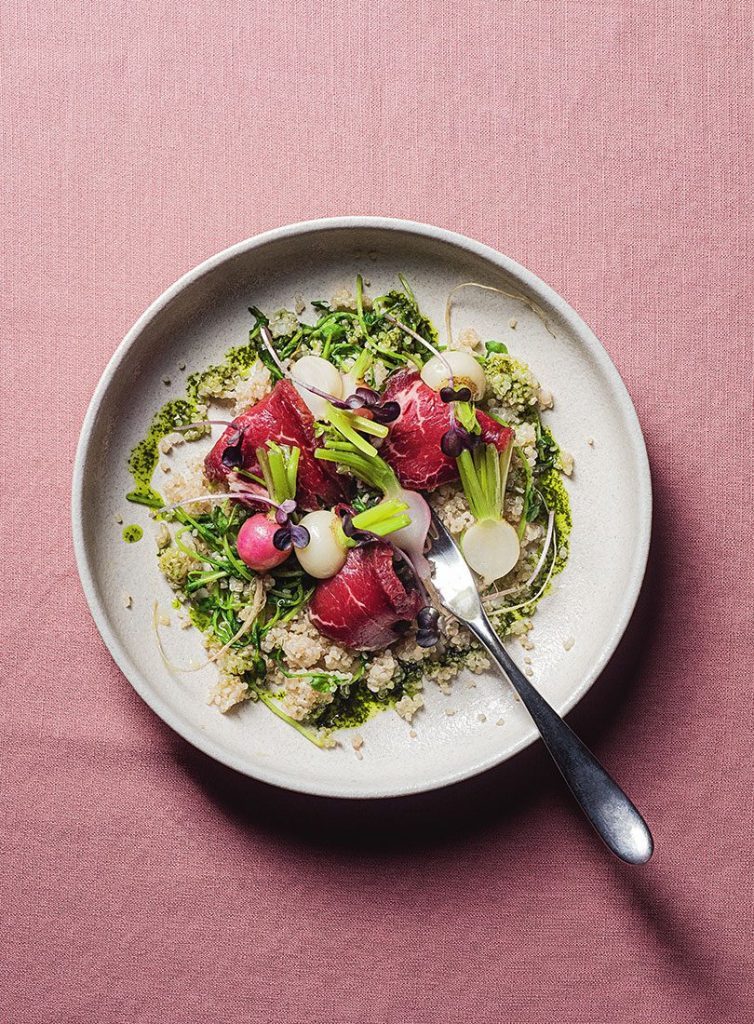 Preparation
30 mins plus 12 hrs marinating
Ingredients
| | |
| --- | --- |
| | 300g beef fillet, trimmed |
| | 100ml Juno Gin |
| | 60g light muscovado sugar |
| | 60g sea salt |
| | 6 juniper berries |
| | 1 teaspoon coriander seeds |
| | 6 black peppercorns |
| | 5 sprigs rosemary |
| | CORIANDER OIL |
| | 50g coriander leaves and stalks |
| | 1 garlic clove, crushed |
| | 30ml olive oil |
| | QUINOA & PEA SHOOTS |
| | 1 cup quinoa |
| | 1 cup pea shoots |
| | TURNIP & RADISH CONFIT |
| | 10 sprigs fresh thyme |
| | 6 garlic cloves, crushed |
| | 2 bay leaves |
| | 250ml virgin olive oil |
| | 300g Tokyo turnips, green tops attached |
| | 300g radishes |
In theory, this recipe is simple enough, but you can see why it is often left to restaurants – once you have bought and cured your expensive piece of beef fillet, it isn't easy to cut into wafer-thin slices without it looking like you took a chainsaw to it. You can avoid this either by briefly freezing the meat, wrapped in cling film, for about 30 minutes before slicing it, or taking it straight from the fridge, cutting slices the thickness of a one-dollar coin and then batting the meat out between two sheets of cling film.
CORIANDER OIL

Coriander is the second most commonly used botanical after juniper in the world of gin, although its contribution is usually nuanced. Try adding a few coriander sprigs along with a chunk of cucumber to your next gin and tonic.
QUINOA & PEA SHOOTS
The secret to great quinoa is to use twice as much water as there is quinoa.
TURNIP & RADISH CONFIT
This isn't strictly a confit, but 'boiled turnips' doesn't sound anywhere near as nice. Tokyo turnips have none of the sharp, bitter bite found in their larger cousins.
Instructions
| | |
| --- | --- |
| 1. | Place the beef into a deep container. |
| 2. | Put the gin, sugar, salt and aromatics into a blender and blitz together. |
| 3. | Cover the beef with the salt and sugar mixture. |
| 4. | Tuck in the rosemary sprigs under the beef, cover the container and refrigerate for 12 hours, turning after 6 hours. |
| 5. | Remove the beef from the container and lightly brush off the curing mix with absorbent kitchen paper. |
| 6. | Place the beef onto a sheet of cling film, roll into a tight sausage and place in the freezer for up to an hour. |
| 7. | Remove and slice, batting any thicker slices between two sheets of cling film using a rolling pin. |
| 8. | Peel off the cling film and place the meat in a single layer on a flat plate. |
| 9. | Cover with cling film and keep in the fridge. |
| 10. | CORIANDER OIL |
| 11. | Place all the ingredients into a blender with a pinch of salt and blitz until the oil has emulsified. |
| 12. | QUINOA & PEA SHOOTS |
| 13. | Place the quinoa in a sieve and rinse under cold running water for 30 seconds or so. Drain well. |
| 14. | Place the quinoa in a saucepan with 2 cups of water. |
| 15. | Bring to a simmer and cook until the quinoa has absorbed all the water, about 20 minutes. |
| 16. | Remove from the heat, cover the pot with its lid and leave to steam for 5 minutes. |
| 17. | Remove the lid, fluff the quinoa with a fork and season with salt. |
| 18. | Stir in the pea shoots while the quinoa is still warm. |
| 19. | TURNIP & RADISH CONFIT |
| 20. | Heat the thyme, garlic, bay leaves and olive oil in a saucepan over a medium heat for 15 minutes. |
| 21. | Add the turnips and radishes, and season with salt and pepper. |
| 22. | Add enough water to barely cover the turnips and radishes, and simmer until they are tender – about 25 minutes. |
| 23. | Remove from the heat and allow to cool. |
| 24. | Halve the turnips if they're large. |
| 25. | To assemble, spoon the quinoa onto the plate, top with the sliced beef, turnips and radishes, and drizzle with some coriander oil. |
Photography Amber-Jayne Bain