KŪMARA, CORN & CHORIZO TAMALES
Fiona Smith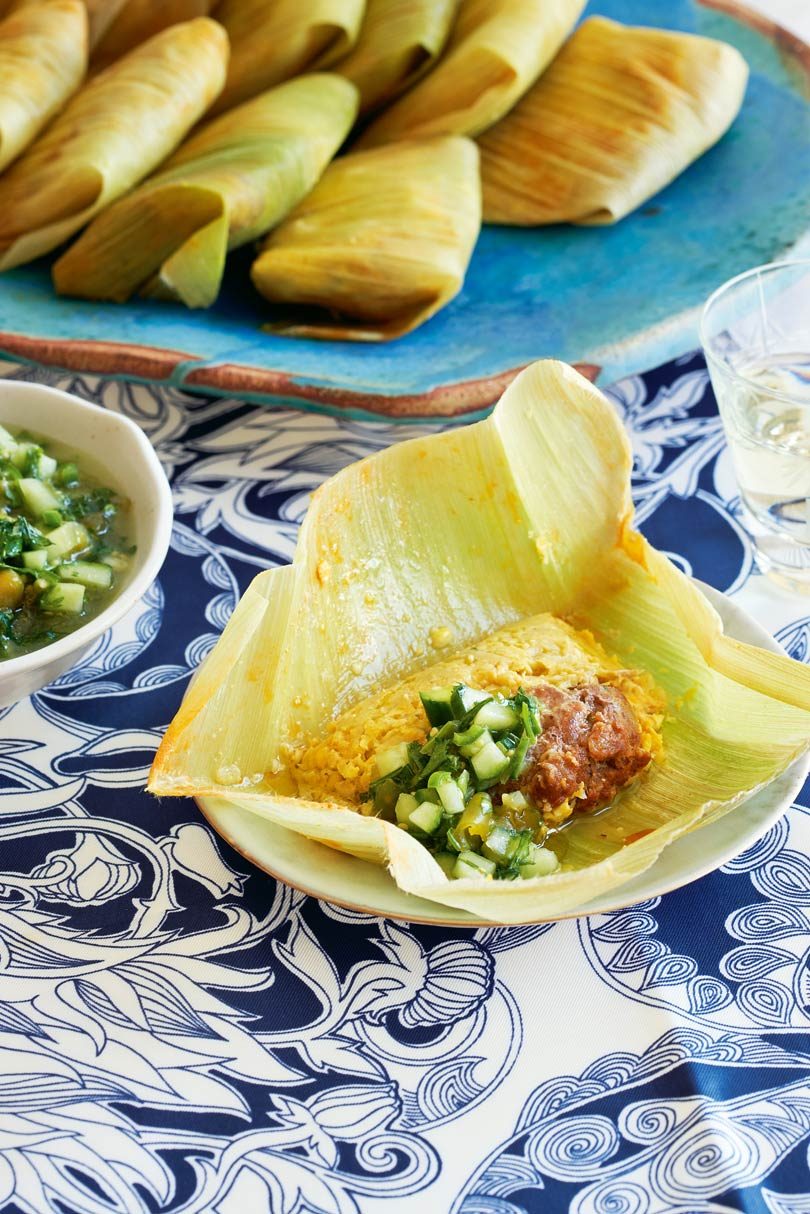 Ingredients
| | |
| --- | --- |
| | FOR THE KŪMARA, CORN & CHORIZO TAMALES |
| | 4 large fresh corn cobs |
| | 2 tablespoons milk |
| | 1 purple kūmara (about 300g), peeled and grated |
| | 50g butter, well softened |
| | ½ cup maize harina or buckwheat flour |
| | ½ teaspoon baking powder |
| | 1 teaspoon salt |
| | 4 fresh chorizo sausages (I use L'Authentique brand) |
| | salsa verde, to serve |
| | FOR THE SALSA VERDE |
| | ¼ small telegraph cucumber |
| | 1 x 380g can tomatillos, drained and chopped (available in the Mexican section of the supermarket) |
| | ½ cup fresh coriander, chopped |
| | 2 tablespoons mint, finely chopped |
| | 2-3 green chillies, preferably jalapeño, finely chopped |
| | juice of 1 lime |
| | 1 teaspoon sugar |
| | ½ teaspoon salt |
| | 3 tablespoons olive oil |
These tamales are based on a fresh corn style and can be eaten as an entrée alone or as an accompaniment to a Mexican or South American meal. I like them simply with barbecued chicken or vegetables. To make them vegetarian, replace the chorizo with kidney beans fried up and lightly mashed with oil, onion and some
spices such as cumin, coriander and smoked paprika.
Masa harina, a fine, yellow corn flour is traditionally used,
but I find buckwheat flour also tastes great, it's just not such
a good colour.
Instructions
| | |
| --- | --- |
| 1. | FOR THE KŪMARA, CORN & CHORIZO TAMALES |
| 2. | Cut both ends from the corn cobs so you can remove the husks easily. |
| 3. | Carefully peel off the husks and place in a large bowl of cold water until needed (discard any really tough outer husks). Remove all the silk and discard. |
| 4. | Carefully cut the corn from the cob and put into a food processor. |
| 5. | Add the milk and process to a fine purée. |
| 6. | Put in a sieve over a bowl for 5 minutes to drain – don't press down, just let the liquid naturally come out. |
| 7. | The liquid can be frozen and added to soups or sauces. |
| 8. | Put the drained corn in a bowl and mix in the kūmara and soft butter. |
| 9. | Sieve over the flour, baking powder and salt and fold through. |
| 10. | Remove and discard the skin/casing from the sausages and cut each into 6 pieces. |
| 11. | Lay a corn husk with the narrower, tougher end towards you. Place a tablespoon of corn mix in the centre along with a piece of chorizo. |
| 12. | Fold the tough end over the mix, then fold in the sides and fold this all over to make a parcel with secure sides. |
| 13. | Place in a steamer bowl, overlapping each tamale as you go to keep them secure. |
| 14. | When all are wrapped, place over simmering water to gently steam for 1 hour. Top the water up as necessary. |
| 15. | Serve with salsa verde. |
| 16. | FOR THE SALSA VERDE |
| 17. | Cut the cucumber in half lengthways, scrape out the seeds and discard. |
| 18. | Chop the cucumber very finely and place in a bowl with the tomatillo, coriander, mint, chilli, lime, sugar and salt and finally stir in the olive oil. |
| 19. | Set aside for a few hours for the flavours to develop. |
Recipes & food styling Fiona Smith / Photography Aaron McLean / Styling Fiona Lascelles