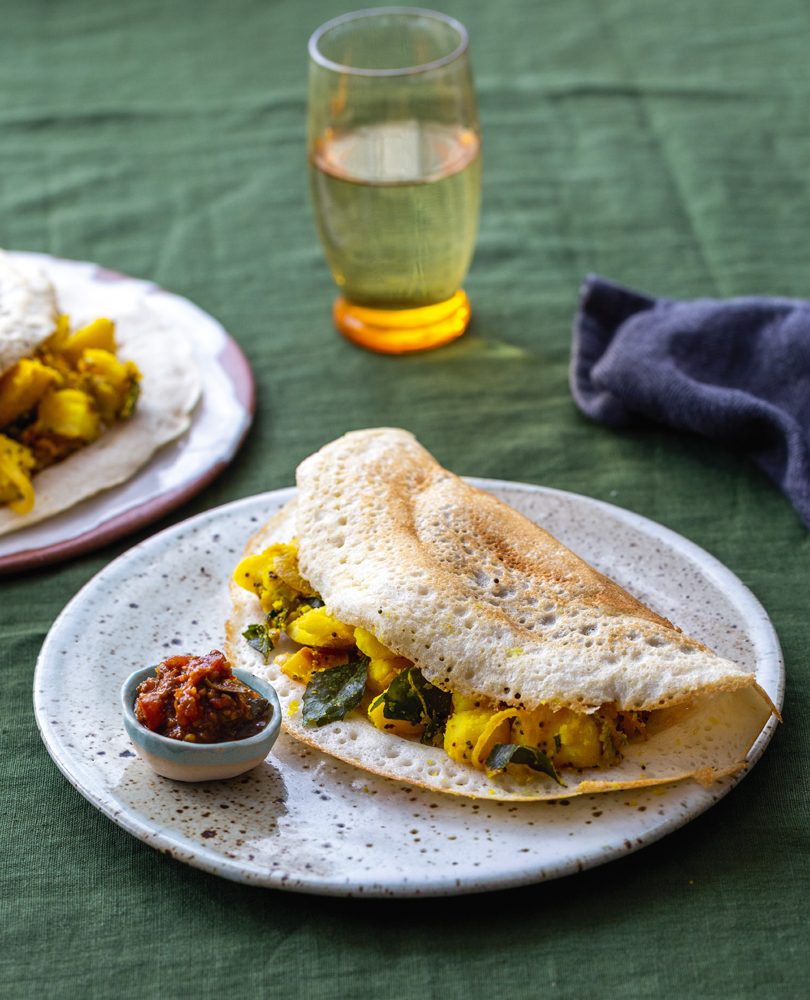 | | |
| --- | --- |
| | 250g (1¼ cups) basmati rice |
| | 100g (½ cup) urad dal |
| | 1 teaspoon fine salt |
| | 300ml warm water |
| | refined (odourless) coconut oil or ghee, to cook |
| | tomato kasundi or mango chutney, to serve (optional) |
| | FOR THE POTATO CURRY |
| | 500g (about 2-3 medium) potatoes, scrubbed |
| | 2 tablespoons refined (odourless) coconut oil or ghee |
| | 1 teaspoon black mustard seeds |
| | 1 sprig curry leaves, stem discarded |
| | 1 onion, finely sliced |
| | 1 long green chilli, deseeded and finely chopped |
| | ½ teaspoon ground turmeric |
I first ate masala dosa (which originate from southern India) in the middle of the night at a roadside bus stop somewhere between Ahmedabad and the island of Diu on the west coast of India. It was the only time during our trip – in which we travelled predominantly throughout the north – that I came across what has since become one of my firm favourites. Dosa are a mainstay in southern Indian cuisine and are also eaten in Sri Lanka and parts of Malaysia, where they're known as thosai or tosai. The dosa you'll find in India are far grander than mine, often folded into rolls half the size of your table or elaborately folded into cone shapes tall enough to touch your nose, but their tangy taste and spongy texture shines through no matter how big or small you make them. You can eat dosa with chutney for a simple snack, or fill with the potato curry below for a more substantial meal. You'll find urad dal at your local Indian food store, and while you're there pick up some fresh curry leaves too. Any extra curry leaves can be frozen for later use. Start this recipe two days before you plan to eat them to allow time for soaking and fermentation.
| | |
| --- | --- |
| 1. | Combine the basmati rice and urad dal in a sieve and rinse well under cold water. |
| 2. | Transfer to a bowl, cover with plenty of cold water, cover and set aside on the bench overnight. |
| 3. | The following day, drain the rice/dal well and transfer to a blender or food processor, add salt and 2 tablespoons of cold water and blend until roughly ground. |
| 4. | With the motor running, slowly pour in the warm water and continue to blend on high until it forms a super-smooth batter (a high-powered blender gives the best results). |
| 5. | Transfer back into the bowl, cover and set aside overnight, or for up to 24 hours. |
| 6. | You will see small bubbles appear in the batter and it will smell slightly sour. |
| 7. | To make the potato curry, cut the potatoes in half and transfer to a saucepan, cover with plenty of cold water, add a good pinch of salt and bring to the boil. |
| 8. | Reduce the heat and simmer for 10 minutes, or until tender. |
| 9. | Drain and set aside until cool enough to handle. |
| 10. | When cool, roughly chop into bite-sized, uneven chunks. |
| 11. | Heat the oil/ghee in a large frying pan over a medium heat, add the mustard seeds and curry leaves and cook until the seeds start to pop. |
| 12. | Add the onion and cook, stirring often, for 4-5 minutes, until tender and golden. |
| 13. | Add the chilli and turmeric and continue to cook for 30 seconds, while stirring. |
| 14. | Add the chopped potatoes and stir well, until heated through. |
| 15. | Season well with fine salt and set aside with a lid to keep warm. |
| 16. | To cook the dosa, heat a large heavy-based frying pan over high heat and add a touch of coconut oil/ghee to lightly coat the base. |
| 17. | Pour in approx ½ cup batter then, using the bottom of a ladle or the back of a large metal spoon, start in the centre of the pan and make circular motions, pressing the batter out as thinly as you can. |
| 18. | Like when making pancakes, the first dosa is often a trial. |
| 19. | The batter should be a little thicker than pouring cream consistency and should spread easily in the pan – if it is too thick add a tablespoon or two of water. |
| 20. | Cook for 1-2 minutes, or until the underside is golden and crispy (the top will be cooked too without the need to flip over). |
| 21. | Remove from the pan, fill with a few spoonfuls of potato curry and serve immediately with chutney alongside. |
| 22. | Repeat with remaining batter, adding the tiniest bit of oil/ ghee between batches to prevent the batter from sticking. |
| 23. | Any leftover batter can be stored in a glass jar in the fridge for up to 3 days. |
| 24. | For best results return the batter to room temperature before using. |
Recipes, food styling and photography Emma Galloway