MOROCCAN-STYLE FISH BASTILLA
Ginny Grant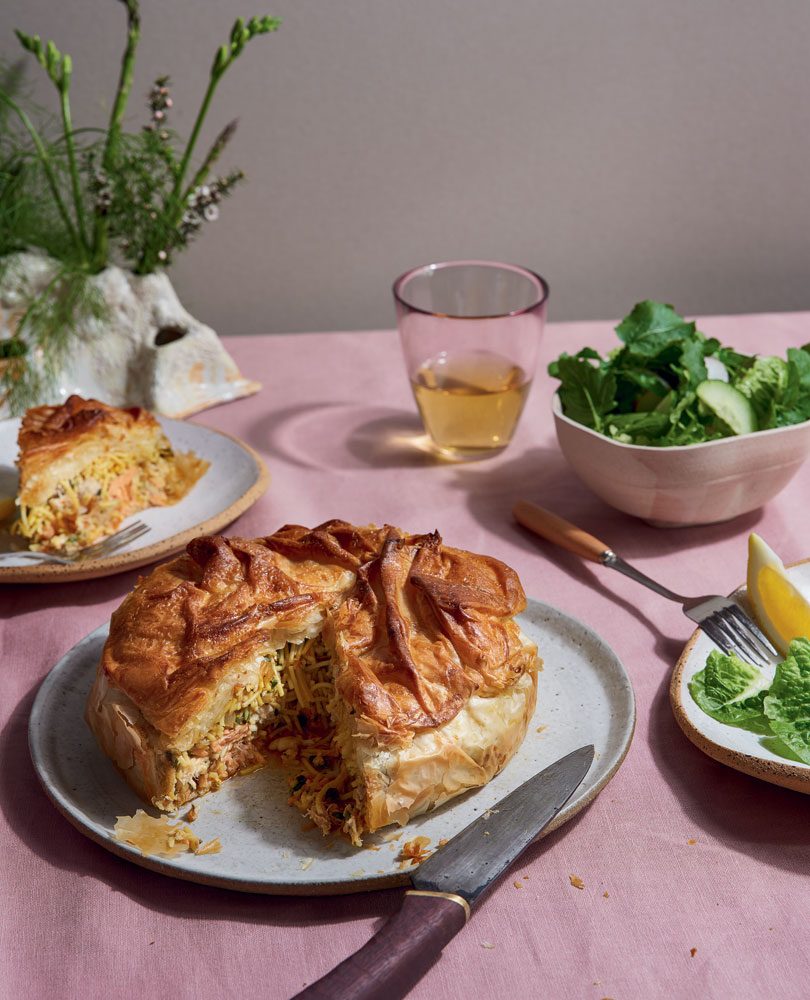 Ingredients
| | |
| --- | --- |
| | 100g angel hair pasta |
| | ¼ cup olive oil |
| | 1 onion, chopped |
| | 2 cloves garlic, finely chopped |
| | ½ bunch coriander |
| | 300g firm white fish such as porae, cut into 3-4cm cubes |
| | 300g salmon, cut into 3-4cm cubes |
| | good pinch of saffron, soaked in ¼ cup hot water |
| | 1 teaspoon ground cumin |
| | 1-2 tablespoons harissa paste (depending on how spicy you like it) |
| | ½ preserved lemon, finely chopped |
| | 25g melted butter |
| | 12 sheets filo pastry |
| | 1 egg yolk |
Morocco is high on my bucket list of places to visit, in a continent to which I've never been. I'm attracted to the culinary influences from a land that sits close to southern Europe but shares the rich heritage of its neighbouring countries. Food writer Paula Wolfert first snared my attention to the region with her many books on the area and her evocative descriptions of the food.
Bastilla or pastilla is a pie made with warka pastry (difficult to come by, even harder to make, so most often you see versions here made with filo pastry). Pigeon or chicken is the most common version, but there are celebratory ones filled with seafood such as fish, shrimp and squid. I've made a simplified version with a mix of salmon and porae. Feel free to adjust as you would like.
Robert Carrier's book A Taste of Morocco provided me with the basic harissa recipe that I tend to make the most at home (you can find a version of it in Cuisine issue 194 or at cuisine.co.nz), but otherwise I really like the local rose harissa paste from Alexandra's. Likewise, I usually make my own preserved lemons but St Andrews Limes in Hawke's Bay makes a very good version. If angel hair pasta is proving elusive, you could use a thin spaghettini, capellini or even rice vermicelli.
Instructions
| | |
| --- | --- |
| 1. | Heat the oven 200°C. |
| 2. | Cook the pasta in boiling, salted water according to the packet directions then plunge into cold water to arrest the cooking. |
| 3. | When cool, drain then roughly chop into 4-5cm lengths and set aside. |
| 4. | Heat 2 tablespoons of olive oil in a frying pan, add the onion, garlic and chopped coriander stems and cook until soft. |
| 5. | Add the white fish and salmon and fry for a minute then add the saffron and its soaking water, the cumin and harissa paste and fry for another minute. |
| 6. | Set aside to cool (the fish doesn't need to be completely cooked through at this point). |
| 7. | Chop the coriander leaves and add to the mix along with the preserved lemon and pasta, adjusting the seasoning to taste and set aside to cool. |
| 8. | Grease a 20cm round, springform or loose-bottomed tin and line the base with baking paper. |
| 9. | Combine the melted butter with the remaining olive oil. |
| 10. | Brush 4 sheets of filo and lay in the tin with some overhang. |
| 11. | Brush another 4 sheets and lay in the pan the opposite way. |
| 12. | Spoon in the filling then pull the overhanging pieces over the filling and brush with butter. |
| 13. | Brush the remaining filo with the butter mix and then some egg yolk. |
| 14. | Lay on top of the pie, slightly tucking in the edges and ruching the top. |
| 15. | Bake for 30-35 minutes until the filo is dark gold in colour. |
| 16. | Sit for 10 minutes before slicing into portions. |
| 17. | Serve with a salad of leafy greens. |

Recipes & food styling Ginny Grant / Photography Aaron McLean / Styling Fiona Lascelles