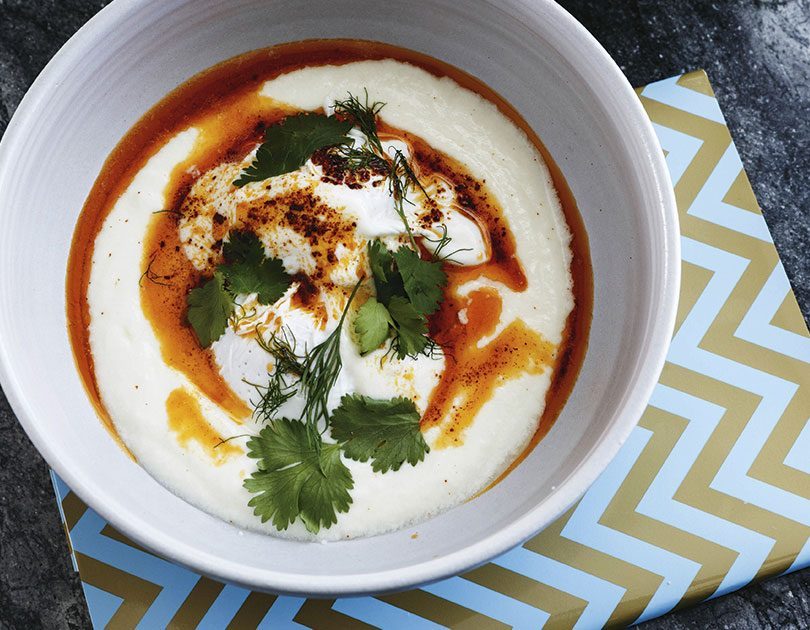 | | |
| --- | --- |
| | 120g thick, plain yoghurt, at room temperature |
| | ½ clove garlic, finely chopped (optional) |
| | ¼ teaspoon flaky salt |
| | 2½ tablespoons extra virgin olive oil |
| | 25g unsalted butter |
| | ½ teaspoon kirmizi biber (Aleppo chilli flakes) or any mild chilli flakes |
| | 100ml white vinegar (this may seem excessive, but it isn't!) |
| | 4 eggs |
| | 1 tablespoon snipped flat parsley and fresh dill toasted bread |
In my mind, comfort food is both the method of making a dish as well as the experience of eating it. It should be fairly simple and stress free, but tasty and filling. In Turkey they add chopped raw garlic to the yoghurt but, even for me, that's not something I always do. I consider my friends Tarik and Savas to be part of my whānau. We're not blood relatives, but we have shared many life-changing events together. They have introduced me to the wonder and joy of Turkey in more than 50 visits to Istanbul and other cities, and we have shared hundreds of meals together. I first tried this dish with them on a gulet (a typical wooden boat) off the coast of Bodrum 18 years ago and it's one of my all-time favourite things to eat.
| | |
| --- | --- |
| 1. | Warm two bowls. |
| 2. | Whisk the yoghurt, garlic (if using) and salt with 1 tablespoon of olive oil for 15 seconds. Put aside. |
| 3. | In a small pan make beurre noisette, by cooking the butter over a medium heat until pale nut-brown in colour, stirring from time to time to lift the brown parts that settle on the bottom. |
| 4. | Add the chilli flakes, stirring gently to allow them to sizzle for a few seconds – the butter may foam up so be careful. |
| 5. | Take off the heat, stir in the remaining olive oil and keep it warm. |
| 6. | Add the vinegar to 1 litre of simmering water in a mediumsized deep saucepan and poach the eggs – runny centres will need 5-6 minutes cooking, depending on the size of the eggs. |
| 7. | To SERVE, divide three-quarters of the yoghurt between the warmed bowls. |
| 8. | Put two drained poached eggs in each bowl, then spoon the remaining yoghurt on top. |
| 9. | Give the chilli butter a good stir and drizzle it on. Scatter with the herbs and serve toasted bread on the side. |
Photography Jason Creaghan