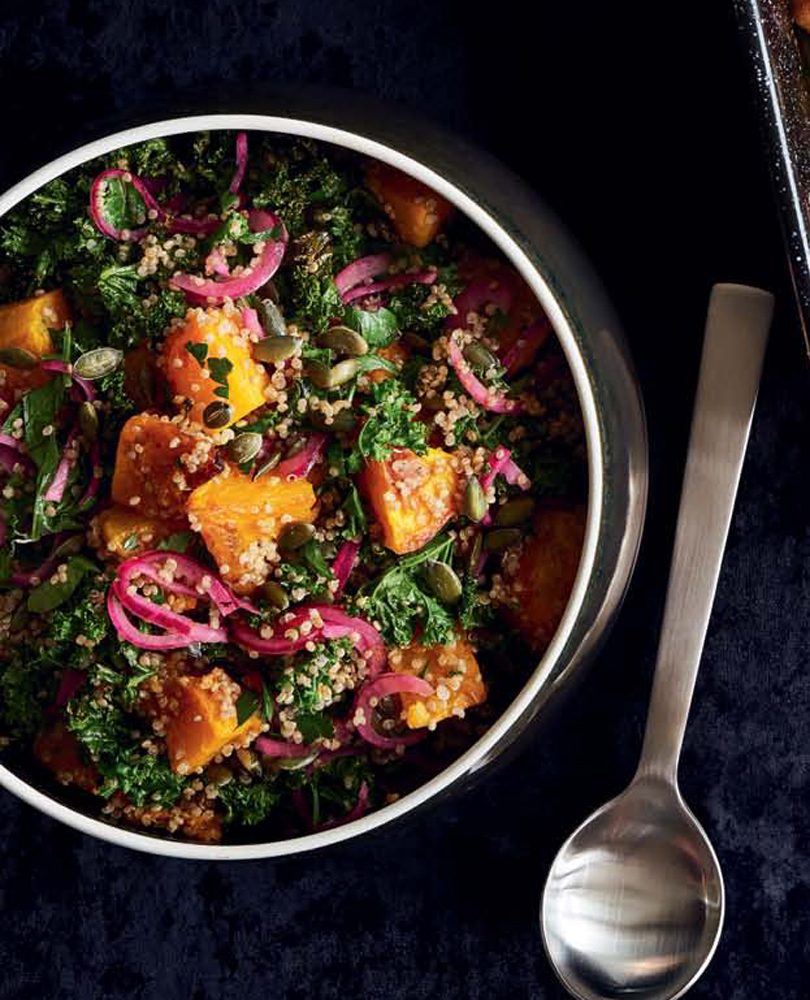 | | |
| --- | --- |
| | 1 cup New Zealand-grown quinoa |
| | ½ medium pumpkin (approx. 1kg once peeled), seeds removed, peeled & cut into bite-sized chunks |
| | 4 tablespoons olive oil |
| | 1 bunch kale, stems removed & composted, leaves roughly chopped |
| | ½ red onion, finely sliced |
| | juice of ½ lemon |
| | ½ teaspoon fine sea salt |
| | ¼ cup pumpkin seeds, lightly toasted |
| | a small handful parsley leaves, roughly chopped |
| | CREAMY HEMP-SEED DRESSING |
| | ½ cup New Zealand hemp-seed hearts |
| | ⅓ cup water |
| | 1 clove garlic |
| | 2 tablespoons lemon juice |
| | 1 tablespoon extra virgin olive oil |
| | ¼ teaspoon fine sea salt |
With growing awareness of the health and environmental benefits of eating a plant-based diet, I see more and more people turning to plants such as quinoa and hemp seeds to meet their protein needs. In the past these had to be imported, so buying them undid a lot of the environmental reasoning behind why one would choose to eat them (other than their deliciousness, of course). Thankfully, more and more NZ farmers are diversifying their crops to include both plants. Hemp is now grown around the country and sold by numerous companies (search NZ-grown hemp online to buy or ask at your local healthfood store). We also have two families now growing quinoa here in NZ; Kiwi Quinoa in Taihape and New Zealand Quinoa in Taranaki, both products available throughout the country and also online. Not only are these two powerhouse plants nutrient dense, they're incredibly versatile and can be eaten whole, ground into flour and, in the case of hemp, can be used to make everything from bioplastics and textiles, to insulation (there's even a Canadian company trialling the world's first airplane made almost entirely from hemp and powered with hemp oil). Hemp may also prove to be one of our best defences against climate change as the plants are able to breathe in four times the carbon dioxide of trees during its quick 12-14 week growing cycle. They truly are the plants of the future.
| | |
| --- | --- |
| 1. | Heat the oven to 190°C. |
| 2. | Bring a medium saucepan of water to the boil. |
| 3. | Place the quinoa into a fine sieve and rinse well under cold water, then drain (New Zealand-grown quinoa requires more rinsing than imported). |
| 4. | When the water comes to the boil, add the quinoa and cook for about 15 minutes, or until the little white tail appears in the grains and the quinoa is tender. |
| 5. | Pour into a sieve and set aside to drain. |
| 6. | Put the pumpkin onto an oven tray, drizzle with half of the olive oil, season with salt and pepper and roast, stirring once or twice, for 20-25 minutes or until golden and tender. |
| 7. | Meanwhile, combine the kale with the remaining olive oil in a bowl, season with salt and pepper and mix well. |
| 8. | Once the pumpkin is tender and golden, add the kale to the oven tray and return to the oven for 5 minutes, to soften and crisp up in places. |
| 9. | Remove from the oven and set aside. |
| 10. | Combine the red onion, lemon juice and salt in a bowl. |
| 11. | Mix well and set aside for at least 5 minutes to soften. |
| 12. | To make the dressing, combine all the ingredients in a small food processor or high-powered blender and blend on high until super smooth. |
| 13. | Adjust the seasoning if needed and add 1 tablespoon of extra water if too thick. |
| 14. | To serve, combine the quinoa, roasted pumpkin and kale in a large bowl and add the red onion mixture with any of the juices. |
| 15. | Add the pumpkin seeds and parsley and mix well. Serve drizzled with creamy hemp-seed dressing. |
| 16. | Any leftovers will store in the fridge for up to 3 days (store salad and dressing separately). |
| 17. | The dressing will thicken in the fridge, so add more water to thin if needed. |
Recipes and food styling Fiona Smith / Photography Aaron McLean / Styling Fiona Lascelles