SICHUAN CHILLI-CHICKEN SALAD
Ginny Grant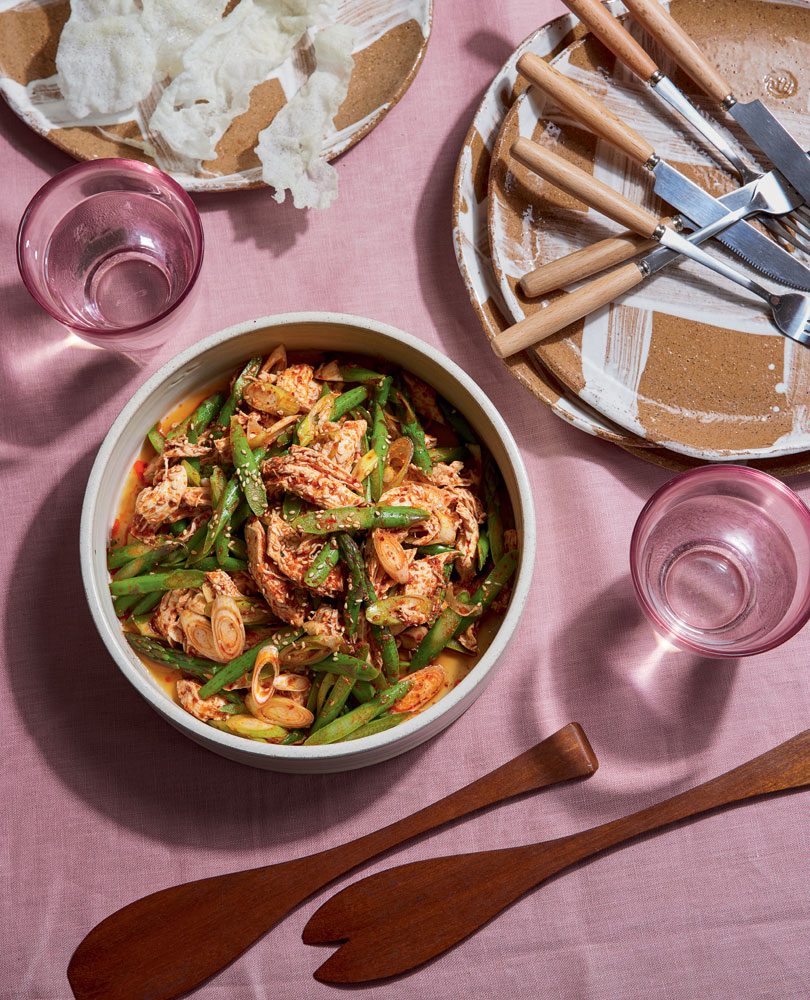 Serves
4 as a part of a meal
Ingredients
| | |
| --- | --- |
| | FOR THE CHICKEN BREASTS |
| | 3 slices ginger |
| | 1 large spring onion, cut into 5cm pieces |
| | 2 tablespoons Shaoxing wine |
| | 2 chicken breasts (I always use Bostock brand) |
| | FOR THE DRESSING |
| | ¾ teaspoon Sichuan peppercorns |
| | 1 tablespoon soy sauce |
| | 1 tablespoon Chinkiang black vinegar |
| | 3-4 tablespoons chilli oil (Good Chow brand) |
| | 1 teaspoon sesame oil |
| | 2-3 tablespoons leftover chicken broth |
| | TO SERVE |
| | 1 bunch asparagus, trimmed and sliced on the diagonal |
| | 2 spring onions, thinly sliced on the diagonal |
| | toasted sesame seeds |
| | rice crackers |
Sad but true, the closest I've been to China is as far as Dominion Road (well, I did once have a stopover in Hong Kong for around 6 hours but I spent most of that wandering in wet markets or in a Muji store). However, the mouth-tingling chilled Sichuan poached chicken is one of my all-time favourite things to eat; in fact, I often make extra just so I can pull this out of the fridge for a quick meal. It's a great thing to make with leftover chicken too. I used locally made chilli oil from Good Chow in Napier. Its sesame-seed version is a delight and it also makes its own blackfoot pāua XO sauce and soy sauce.
This poaching method is a great way to cook chicken so it retains moisture. Here I've used breast, but you could use the same method for cooking a whole bird (tie it with string and plunge it into the boiling stock for a minute. Repeat twice more, allowing the water to come back to the boil each time. Then poach it in the stock for 20 minutes, turn off the heat, cover, and leave for 45 minutes before plunging into icy water).
The salad for the chicken is an unorthodox pairing (normally you might serve it with garlicky smashed cucumber) but the combination of spicy chicken with the just-tender asparagus is fabulous. Of course, it's also fine with a cabbage slaw, salad leaves or green beans. The rice crackers are a bit of frippery, but I like the crisp crunch paired with the cool moist chicken. They keep well in an airtight container for ages until you are ready to fry them.
Instructions
| | |
| --- | --- |
| 1. | FOR THE CHICKEN BREASTS |
| 2. | Put the ginger, spring onion and Shaoxing wine in a saucepan adding enough water that will just cover the chicken once added. |
| 3. | Slowly bring up to boil, then simmer for 10 minutes. |
| 4. | Add the chicken breasts, simmer for 5 minutes, turn off the heat, cover, and leave in the stock for 10 minutes. |
| 5. | Plunge the chicken breasts into icy cold water to arrest the cooking. |
| 6. | Pat dry and set aside in the fridge until ready to use. |
| 7. | Reserve some of the broth for the dressing and keep the rest as the base for a soup. |
| 8. | FOR THE DRESSING |
| 9. | Dry toast the Sichuan peppercorns over a medium heat, cool then grind in mortar and pestle. |
| 10. | Mix with the soy sauce, black vinegar, chilli oil and sesame oil. |
| 11. | Loosen with a tablespoon or two of the stock and adjust the seasonings to taste. |
| 12. | Shred or slice the chicken and mix with the dressing, starting judicially and adjusting as you see fit. |
| 13. | TO SERVE |
| 14. | Blanch the asparagus in boiling, salted water until tender but still crisp. |
| 15. | Drain and refresh. |
| 16. | Toss the dressed chicken with the asparagus and spring onions. |
| 17. | Put into a serving dish and sprinkle over the sesame seeds and serve with the rice crackers alongside (they soften quickly, so if serving on top of the salad, add at the last minute). |

Recipes & food styling Ginny Grant / Photography Aaron McLean / Styling Fiona Lascelles