SILVERBEET DOLMADES WITH LAMB, FENNEL & PINENUTS
Ginny Grant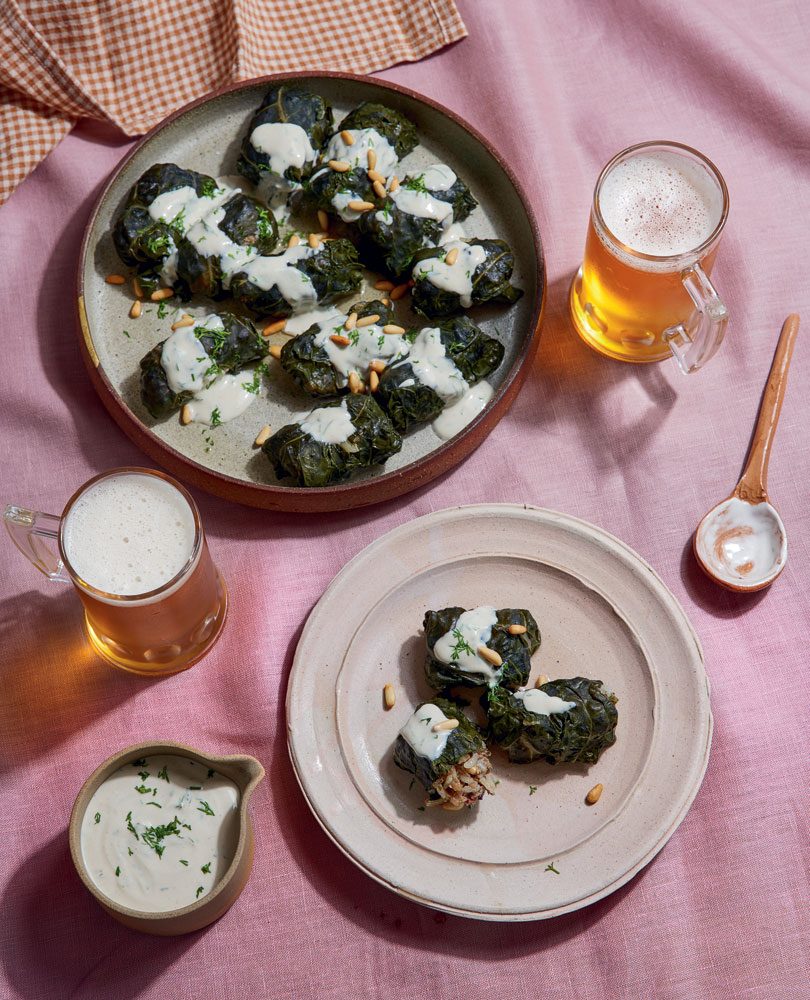 Ingredients
| | |
| --- | --- |
| | FOR THE DOLMADES |
| | ¼ cup olive oil |
| | 1 small onion, finely chopped |
| | 1 fennel bulb, finely chopped, fronds reserved |
| | 1 teaspoon cinnamon |
| | ¼ teaspoon allspice |
| | ¼ teaspoon cloves |
| | 1 teaspoon salt |
| | 1-2 bunches silverbeet |
| | 250g lamb mince |
| | ⅓ cup short grain rice |
| | ¼ cup currants |
| | 2 tablespoons toasted pinenuts (I used Pinoli) |
| | grated zest and juice of 1 lemon |
| | ½ cup mint leaves, chopped |
| | ½ cup flat-leafed parsley or dill, chopped |
| | 1 litre (approx) water or chicken stock |
| | FOR THE YOGHURT-TAHINI SAUCE |
| | 1 cup Greek-style yoghurt |
| | ¼ cup tahini |
| | 3-4 tablespoons reserved cooking liquid, slightly warmed |
| | 2 tablespoons chopped parsley or dill |
| | 2 tablespoons toasted pine nuts, to serve |
Dolmas, dolmades or dolmathes are found throughout Greece, Turkey and the Middle East (dolma is from the Turkish word for 'stuffed'). I spent a few weeks sailing around the Greek islands on a trip I'll never forget: that vast expanse of sea, beautifully desolate islands, the cruise ship that managed to drag up our anchor in Mykonos and nearly take us out with it, or the sound of the waves echoing off our anchorage in Santorini. Coming into a port was always a joy, seeing the local fishing boats and their catches, although I was horrified at how small they were and wondered if they could make a living out it. Fish was expensive and sparse (although I did make sure I got my fair share of sardines and octopus).
But the two things I became obsessed with were the smaller side dishes of gigantes plaki – large white beans in a thick tomato sauce – and dolmades wrapped in grape leaves. Add some ouzo or a rough retsina and I was hooked. I was (and still am) happy to buy dolmades tinned, but there is nothing quite like making them yourself.
It's still a little early in my garden for fresh grape leaves of a reasonable size (and I'm never organised enough to blanch and freeze them), so I tend to use silverbeet leaves for an easy wrapper. Traditionally served warm with an avgolemono sauce of egg yolks, broth and lemon, I prefer the ease of the yoghurt and tahini sauce served here.
Instructions
| | |
| --- | --- |
| 1. | FOR THE DOLMADES |
| 2. | Heat 2 tablespoons of oil in a frying pan and add the onion and fennel bulb. |
| 3. | Cook until soft, add the spices and salt, and cook for a few minutes. Set aside to cool. |
| 4. | Remove the stems from the silverbeet (keep for lining the pan) and blanch the leaves in boiling salted water until tender. |
| 5. | Drain, then plunge into cold water and put on a clean tea towel. |
| 6. | When the onions are cool, add the mince, rice, currants, pinenuts, lemon zest and herbs. Mix well. |
| 7. | Lay out a silverbeet leaf with the less shiny side upwards. |
| 8. | Depending on the size, I usually get three dolmades per leaf, one from the triangle tip, and two from the sides (you can patch any holes with smaller pieces). |
| 9. | Spoon in a couple of tablespoons of the filling, fold over the edges and roll up into a log. |
| 10. | Repeat with the remaining leaves and filling. |
| 11. | Use some of the silverbeet stems to cover the base of a wide saucepan. |
| 12. | Lay the dolmades seam side down, so they fit in the pan snugly, layering up if you have to. |
| 13. | Put an upside down plate on top of the dolmades. |
| 14. | Add the chicken stock or water, lemon juice and remaining olive oil (the dolmades should be just covered with liquid). |
| 15. | Put the lid on the saucepan, bring to the boil, then lower the heat to a gentle simmer and cook for 30 minutes. |
| 16. | Remove from the heat and set aside for 10 minutes. |
| 17. | Carefully remove from the pan and put onto a serving platter. |
| 18. | Reserve some of the leftover liquid for the yoghurt- tahini sauce (I like to strain the remaining lemony broth to use for the base of a soup). |
| 19. | FOR THE YOGHURT-TAHINI SAUCE |
| 20. | Combine the yoghurt, tahini and cooking liquid, adjusting the amount of reserved liquid so that you have a sauce the consistency of slightly thickened cream. |
| 21. | Season to taste and add the herbs. |
| 22. | Pour the sauce over the dolmas and sprinkle with pine nuts. |
| 23. | Serve warm as is or with a smashed cucumber salad with garlic, lemon juice, olive oil and mint and dill. |

Recipes & food styling Ginny Grant / Photography Aaron McLean / Styling Fiona Lascelles