SMOKED FISH MOUSSE, FENNEL & APPLE PICKLE, FENNEL WATER CRACKER
Bar Bites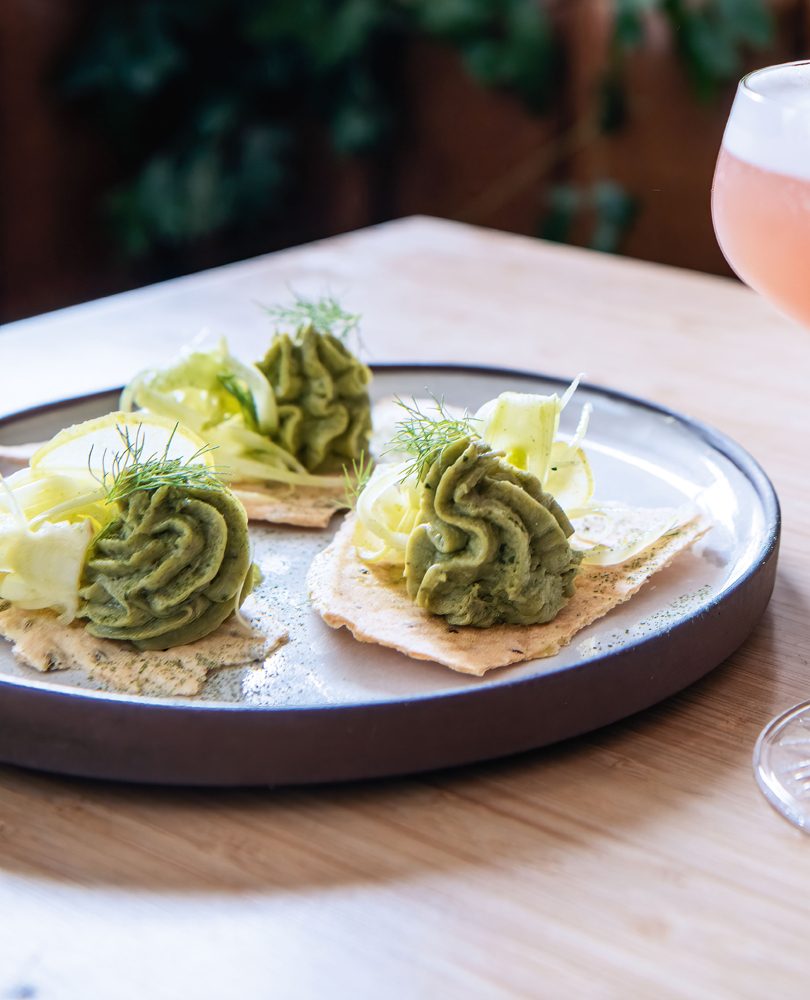 Preparation
45 mins plus overnight drying (optional)
Ingredients
| | |
| --- | --- |
| | FOR THE SMOKED FISH MOUSSE |
| | 450g smoked fish (could be anything from salmon to kahawai) |
| | 35g shallots, finely diced |
| | 50g capers |
| | 5g sea salt |
| | 150ml cream |
| | 25g dill fronds |
| | FOR THE PICKLE |
| | 150g sugar |
| | 150ml white wine vinegar |
| | 300ml filtered water |
| | 1 teaspoon fennel seeds, toasted |
| | 1 teaspoon dill seeds, toasted |
| | 1 teaspoon peppercorns, toasted |
| | 1 teaspoon coriander seeds, toasted |
| | 10g sea salt |
| | 1 bulb Florence fennel, thinly sliced or grated |
| | 1 Granny Smith apple, thinly sliced or grated |
| | FOR THE FENNEL WATER CRACKERS |
| | 440g plain flour |
| | 180g butter |
| | 150ml water |
| | 110ml milk |
| | 1 teaspoon sea salt |
| | 1 tablespoon fennel seeds |
| | extra salt, for sprinkling |
| | TO SERVE |
| | 24 sprigs wild fennel or dill |
This is a lovely fresh bite that is super-easy to make. If you are in a hurry you can skip the fennel water cracker and use any good-quality shop-bought cracker or bread.
Both Andrea and I are avid foragers and fennel is perhaps one of the most identifiable leaves out there. As always, when foraging be aware of where you are picking to ensure there are no possible contaminants like spray or doggie doo. For those slightly less adventurous you can easily substitute the foraged fennel component of these dishes with dill from your local vege store.
I developed this recipe to use up any fish trimmings or excess fish, though it's so good that you could just buy good-quality smoked fish specifically to make it.
We lightly cure our excess fish then smoke it before freezing it with the other ingredients in a Pacojet container. For those that do not have $10k to spend on a fancy ice-cream machine, this recipe works just as well with a good food processor and a sieve!
FENNEL WATER CRACKERS
This recipe makes enough to fill five oven trays. You can either cut the recipe down, or bake all the crackers and keep in an airtight container, or make the dough and keep it in the fridge to bake when required.
Serve with Fennelicious
Instructions
| | |
| --- | --- |
| 1. | SMOKED FISH MOUSSE |
| 2. | Chill all the ingredients, then blend in a high-speed food processor until smooth. |
| 3. | To achieve restaurant-quality smoothness, pass the mixture through a sieve to remove any fibres. |
| 4. | Reserve in a piping bag or container in the fridge. |
| 5. | PICKLE |
| 6. | Bring all the ingredients except the fennel and apple to the boil in a small pot and remove from the heat. |
| 7. | Allow to infuse for at least 30 minutes. |
| 8. | Pour half of the hot liquid over the fennel. |
| 9. | Allow the rest of the liquid to cool then pour over the apple. |
| 10. | Reserve until ready to use – it will keep for up to 1 month. |
| 11. | FENNEL WATER CRACKERS |
| 12. | Place all ingredients in a stand mixer and mix well. |
| 13. | Alternatively mix by hand in a large bowl. |
| 14. | Rest for at least 20 minutes. |
| 15. | Roll small amounts of the dough as thinly as possible between two sheets of baking paper. |
| 16. | Peel off the top layer of paper, sprinkle with sea salt and bake at 120°C until cooked through, approximately 20 minutes, flipping it over after about 15 minutes. Cool. |
| 17. | Break into shards and store in an airtight container. |
| 18. | FENNEL/DILL POWDER (OPTIONAL) |
| 19. | Place fronds of wild fennel or dill on a baking sheet and dry in an oven at the lowest setting overnight. |
| 20. | Blend to a powder and store in an airtight container. |
| 21. | Also use for the Fennelicious cocktail. |
| 22. | TO SERVE |
| 23. | Pipe or spoon about 25g of the fish mousse onto each cracker. |
| 24. | Dress with a couple of pieces of pickled fennel and apple, a fennel or dill sprig and dust with the fennel/dill powder if using. |

Drinks Andrea Marseglia / Bites James Beck / Photography Florence Charvin