ADDRESS:   89 Aro Street, Te Aro, Wellington
CHECK WEBSITE FOR OPENING HOURS
SET MENU:   $85pp three courses
WEBSITE:    rita.co.nz
CONTACT:   04 385 4555
SCORE:   17 / 20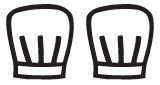 Remember all the best meals you had around the family dinner table? The fun and the sense of togetherness and all those great tastes? This is eating at Rita, where the only disappointment is the fact that you can't spontaneously decide to pop in: it's booked out every night, so plan in advance. The food is simple at this set-menu establishment, with the focus on great flavour balance and perfectly seasonal ingredients. Place your trust with implicit confidence in head chef Kelda Hains' efforts. Our pan-fried snapper was so fresh it nearly fell off the fork. The wine list, while small, is perfectly formed and all wines are available by the glass. The service is excellent, too, with Paul Schrader running the front-of-house team. Located in an old cottage, Rita is cute and quaint. Just like home.
IN BRIEF Comfort food at its finest
---