ADDRESS:   1/5 Eva St, Te Aro, Wellington
CHECK WEBSITE FOR OPENING HOURS
MAINS:   $38 – $42
WEBSITE:    shepherdrestaurant.co.nz
CONTACT:   04 385 7274
SCORE:   17.5 / 20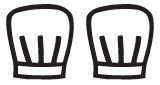 Shepherd sits within the celebrated Hannah's Laneway precinct, where everybody loves good neighbours. Hospitality heroes and co-owners Shepherd Elliott and Sean Golding have been in neighbouring businesses before. Now they flex their collective muscle at Eva St, where they source products and supplies from fellow precinct-ees and beyond: fresh kaimoana from Tora Collective on the Wairarapa Coastline; same-day harvested vegetables from Our Terroir on Wellington Harbour; George's Truffles from Riwaka. There's an emphasis on sustainability, with Shepherd a leader in getting the best from every product and ensuring there's zilch in the way of waste. The drinks list ensures all tastes are accounted for. Shepherd says they want it to be fun, they want it to be interesting. Wrap yourself in the 70s surrounds and see for yourself.
IN BRIEF Fun, fresh, irreverent
---