Summer doesn't come better than gathering together for a relaxed barbecue – Julie & Ilaria Biuso make it easy with recipes from their book, Shared Kitchen.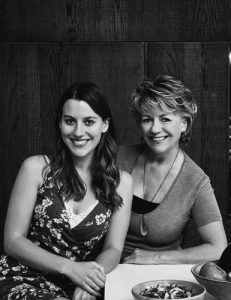 We started Shared Kitchen online about five years ago as a way of sharing recipes and food knowledge that we hoped would encourage people to keep cooking from scratch. That's important to us. We look for ways to inspire, to make the daily grind of cooking more enjoyable and for ways to make food so scrumptious that it can't help but bring a family together.
Ilaria has been involved with Shared Kitchen from the get-go, and sharing it with her has been so much fun. We've put our most-loved recipes in this book. We're big on home-cooked meals, so there is plenty in here for mid-week, but we like an occasion, too. Vegetables shine brightly from the pages and many dishes are so utterly delicious that when we look at the gorgeous photographs we want to eat them all over again.
We hope you fall in love with the recipes, too, and that when shared with your family and friends you will go on to create your own special memories. – JULIE
My first cooking memory… picture this: sitting on the deck steps, I bang the pot raucously with a wooden spoon. I'm on a cooking show you see, talking through a special recipe of water, twigs and leaves. Sort of similar to what Mum was doing at the time, or so six-year-old me thought.
To say cooking and eating are in my blood is an understatement. Mum, my Italian family and tasty tidbits picked up over the years have rolled into a creative inspiration where being in the kitchen has become one of my favourite pastimes. Sharing plates and bites of deliciousness – coming together over food – is an enjoyable means of connecting that literally nourishes the body and soul. I like my food to be colourful, flavourful and to have a big whack of 'no-fuss'. Whipping something up in the kitchen to share with your friends and family shouldn't be an off-putting chore, but instead a bit of an adventure and definitely rewarding.
What you will find in the pages of this book are recipes that celebrate the home cook and what it means to cook from scratch. We've included new takes on classics, fresh ideas with produce and an abundance of mouth-watering home comforts.
We hope you feel inspired to share your creations with your nearest and dearest, so from our kitchen to yours, have fun cooking these recipes! – ILARIA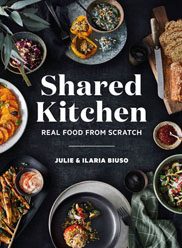 Recipes extracted
from Shared Kitchen
by Julie and Ilaria
Biuso, published by
Bateman Books, RRP
$39.99 Photography
by Manja Wachsmuth.