WE'RE WATCHING… TOWNHOUSE RAMEN / KEVIN NGADISASTRA & LOUISE ING
Matthew Patrick meets a couple hosting sell-out pop-up ramen dinners.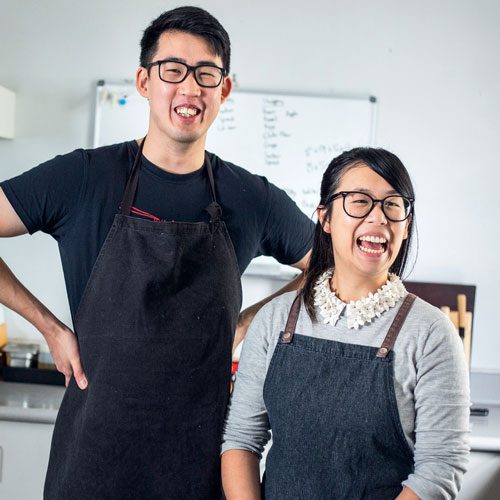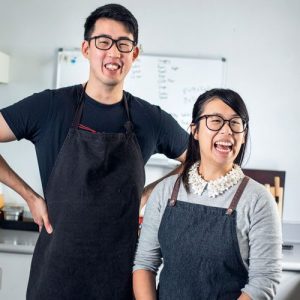 Ramen is to Japan what meat pies are to New Zealand: a regionally variable iconic food you can buy ready-to-heat at home (but you maybe shouldn't) and which even when bad is still pretty good. Its popularity has skyrocketed internationally in recent years, including here in New Zealand where an unlikely duo has elevated the humble noodle soup to first-rate fare. That an accountant and an architectural graduate are responsible for one of Wellington's most in-demand pop-up restaurants is an irony not lost on Kevin Ngadisastra and Louise Ing, who never envisaged careers in hospitality and now moonlight as ramen restaurateurs.
Kevin, an accountant by day, isn't a stranger to the hospitality world. He spent four years working his way up through restaurant kitchens in Auckland and Melbourne after university, as an escape from Excel spreadsheets. Louise, a project manager in the building industry, turned to baking and dessert-making as a creative outlet, and together with partner Kevin came up with a novel idea that would merge her hobby with his love of ramen. "When I was studying in Liverpool it wasn't uncommon for people to host dinners for paying guests in their homes. That kind of sparked the idea of doing an at-home ramen restaurant where Kevin could scratch his hospo itch without the pressure of opening a restaurant or working full-time in the business," she explains.
That idea came to fruition in April 2019 when they launched the aptly named Townhouse Ramen. The concept was simple: one six-person seating per weekend in their central Wellington townhouse, a two-course set menu of ramen and dessert that changed weekly, and a purely Instagram-based marketing strategy. Talk of the new ramen joint spread through the city fast and demand for a spot at Kevin and Louise's table became so huge it was untenable to continue at home. "Around 400 people registered their interest one night. We knew we had a product that was good and our social media following was growing, but we never imagined a response like that," says Kevin. Townhouse Ramen has since morphed into a polished pop-up dinner series hosted by small, owner-operated restaurants and bars throughout Wellington. Kevin, who pores over ramen theory and has noodle composition down to a fine art, works tirelessly to ensure every element of the bowl – from the handmade noodles to the velvet-rich bone broth – is considered and expertly executed. The result is ramen that is innovative, unfussy and showcases New Zealand produce at its best, while somehow retaining that satisfying comfort-food feel we expect.
Paying it forward is as close to Kevin and Louise's hearts as ramen is. Not only do they make a point of supporting small local businesses, the pair regularly host pop-ups in aid of causes they're passionate about and have every intention to keep that up. "We gravitate towards small, independent restaurants and eateries when we're looking to collaborate for an event because as a small business ourself, we appreciate the challenge it can be. Having day jobs, we aren't financially reliant on Townhouse so we're lucky to be able to support small businesses and charities that we believe in," says Louise.
Despite increasingly heavy workloads, Kevin and Louise are committed to taking the pop-ups to new levels and are grateful to be doing what they love. "The freedom to produce work on our own terms is something we don't take for granted. Townhouse is our passion project – we do it for the love of it."
Keep an eye on Instagram to see when Townhouse Ramen will pop-up next. @townhouse_ramen