KELLI BRETT IS IMPRESSED BY PERTH'S DINING SCENE: THINGS AIN'T WHAT THEY USED TO BE.
After three glorious days exploring my old stomping ground I realised the ante has been upped for those in search of a gourmet Perth city experience. I used to go to the beach everyday after school in summer and there is no denying that WA beaches are some of the best in the world. Glorious picnics in Kings Park were also a summer weekend tradition. But back then when it came to the Perth dining scene, apart from the occasional trip into town for the Miss Maud Smorgasbord Buffet or the fancy Beef Wellington at the Parmelia Hilton's Garden Restaurant, for many years our restaurant destinations were mainly in the outer suburbs.
It's exciting to see that a number of inner-city restaurants featured in this article have been created in collaboration with some of Perth's bright new hotels. The New York Times recently included Perth on its list of places to visit in 2019. This recognition comes after a decade of planning and project execution for Western Australia's capital city which has included the opening of some edgy high-profile hotels and restaurants as well as 100+ small bars and the impressive Yagan Square food and shopping hub near the Horseshoe Bridge. As a Cuisine reader, I know you want to ensure that your travel experiences serve up precious food memories for years to come. Although you will need to invest much more time than three days to fully explore the magnificence and uniqueness of WA, if you are only in Perth for a short visit, all of these establishments will deliver to you in spades, right in the heart of Australia's sunniest city.
WILDFLOWER
If you are serious about finding the authentic taste of a destination, this is the one restaurant you must not miss on your Perth visit. MUST-NOT-MISS! Western Australian–born executive chef Jed Gerrard first developed a deep connection to food and where it comes from in Balingup in the south-west of WA. He then lived in New Zealand at The Gerrard's Railway Hotel in Invercargill where he was immersed in hospitality at a very young age. Upon his return to Australia, he went on to work for icons such as Bilson's, Tetsuya and Black by Ezard. Jed has now become a chef to watch. Wildflower (named for Jed's multiple uses of wild flowers on his menu) with its stunning city views and elegant interior design serves thought-provoking contemporary dishes that are influenced by the six seasons of the indigenous Noongar calendar. Plants and animals have a special purpose in the changing of each season and Jed and his team recognise this within a truly inspiring and delicious menu. Don't miss it; the spectacular canapes have to be seen!
I'LL NEVER FORGET… The Shark Bay blue swimmer crab, bonito emulsion, green tomato nectar, young zucchini, frozen avocado and native herbs.
Lunch Tue-Fri, dinner Tue-Sat
COMO The Treasury, Cnr Barrack St & St Georges Tce,
wildflowerperth.com.au
LONG CHIM
I wasn't expecting this style of restaurant to be located in a vaulted cellar underneath the beautifully renovated State Treasury building, but I'm told this is the best Thai food you will find in WA. Renowned Australian chef and author of some of the best Thai cookbooks (in English) in the world, David Thompson has taken his revered Thai food to Perth and it is refreshingly non-Westernised and determined. Be warned, chilli is lurking almost everywhere. Additional interest comes from the grungy decor, punchy music and pops of colour from Thai graffiti artists. Head chef Lucas Fernandes delivers an outstanding menu. Don't leave without trying the dried prawns with ginger and toasted coconut served in betel leaves, or the much-requested Prin's noodles doused in sriracha and oyster sauces. I was on a tight schedule but the Thai-inspired cocktail list overseen by WA 2018 Bartender of the Year, Dean Buchanan, looks like it would be worth the investment of a much longer Long Chim linger.
I'LL NEVER FORGET… That ginger and chilli-cured pork sausage and the vivid courtyard parasols.
Lunch & dinner 7 days
Basement, State Buildings,
Cnr Barrack St & St Georges Tce
longchimperth.com
GARUM
I'm a bit of a fangirl when it comes to Guy Grossi. I wouldn't say he is THE godfather of Australian-Italian cuisine, but he is definitely one of the big daddies. His new baby, Garum, sits stylishly within the heritage-listed Hibernian Hall and is a very clever addition to the Westin Hotel. The menu runs the gamut of talented WA producers with a combination of classical Roman cuisine and ancient Roman techniques. Arkady lamb,
Margaret River rump, local seafood and stunning local produce are all here. Expect some beautifully executed Roman hits such as Amatriciana (bucatini, pancetta, tomato and chilli) and Cacio e pepe (tonnarelli, pecorino, pepper) and also indulge in the more unusual sauces that pepper the menu, inspired by Roman influences. Garum, by the way, is the name of an ancient Roman fish sauce. The gorgeous sourdough is a flashback to ancient Pompeii, the herbed cheese spread that comes with it a special touch of Grossi through Roman eyes. The combination is dangerous.
I'LL NEVER FORGET… Head chef Mario Di Natale's polpo octopus Gaeta-style with olives, tomatoes and capers.
Breakfast, lunch & dinner 7 days
Hibernian Place, 480 Hay Street
garum.com.au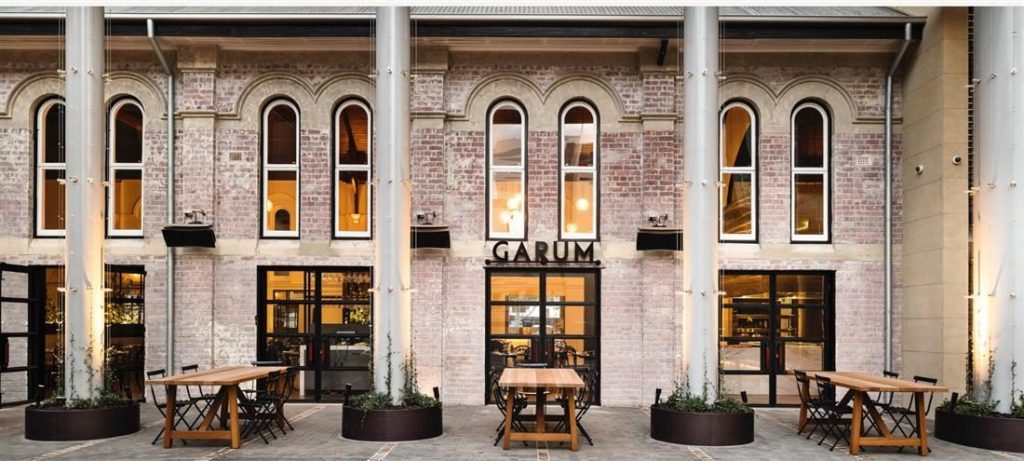 SANTINI QT
I suggest you grab a quick drink at the sexy QT Hotel rooftop bar and then head down to Santini Bar & Grill for a rock-star dinner that has Perth's anyone-who's-anyone's clamoring to get in. The Santini concept was designed by Robert Marchetti (also a bit of a rock star) who has been a creative influence behind a number of heavy hitters in the Sydney culinary bible including North Bondi Italian and Bondi Icebergs. Executive chef Nic Wood has an eye for premium producers and delivers a massive menu, and it's good. From the crisp zucchini blossoms filled with buffalo lemon ricotta, to the snapper carpaccio with bursts of grapefruit and green tomato, to the rough cut Shark Bay crab linguine. Then there are the steaks dry-aged for 45 days, Berkshire black pig pork chops, a house-baked bread selection to die for and a very pretty tre cannoli with raspberry custard, pistachio and sweet ricotta and dark-chocolate zabaglione.
I'LL NEVER FORGET… The squid ink risotto with flash-seared calamari and lemon salad.
Breakfast & dinner 7 days, lunch
Wed-Fri, 133 Murray Street
santinibarandgrill.com.au
THE STANDARD
This is the place to head to for casual tinged with premium. Clever Kiwi entrepreneur John Parker has converted what I remember as a sleazy spot for shady-looking gamblers and gangsters (I'd only ever seen the outside, of course) into a cleverly designed social hot-spot with a rooftop and a garden as well as an indoor bar/restaurant. And it's fun. The drinks list is extensive with all the wines, beers and fizz plus pretty punches, barrel-aged cocktails, dainty classics and an inspiring negroni selection. The menu is so much more than I'd expected… well, to be honest, I didn't know what to expect from the menu, but head chef Chase Weber has managed to create a crossover of very cool bar food and snacks into more substantial plates to share (or not to share) that is both interesting and hard to resist. There is a decidedly Asian feel but definitely no rules here. Think Shark Bay clams, black pepper butter and egg noodles or Gingin beef carpaccio, wasabi cream, soy, baby leaf and crispy garlic.
I'LL NEVER FORGET… The caramelised pork satay dip, puffed rice crackers and cucumber.
Dinner 7 days, lunch Fri-Sun
28 Roe Street, Northbridge
thestandardperth.com.au
SHADOW WINE BAR
I don't know if you've noticed a theme developing across these Perth hot-spots? They all seem to be having a love affair with Shark Bay seafood. It's from a little gem of a place in Denham – Western Australia – that punches way above its weight in the premium seafood stakes. I'm told that Shadow Wine Bar has the best crab spaghettini in Perth and so, of course, that's what I zoom into on the menu, and there it is again – Shark Bay crab! The food here is very good. Head chef Sue Hutchins gives a fabulous throwback to the flashy European-style dining I adored in the '80s (I had mature tastes as a young girl) with oysters mignonette, seriously good veal carpaccio with rocket, parmesan and mustard and a heavenly caramelised pear tarte tatin with tonka-bean ice cream. The wine list is much more than ample and the service is stellar.
I'LL NEVER FORGET… The Shark Bay crab spaghettini with capers, dill and blistered cherry tomatoes (of course).
Lunch & dinner 7 days
214 William St, Northbridge
shadowwinebar.com.au
MUST
Now I don't care that Must is almost, but not quite, in the city centre because you need to know about it (if you don't already). Chef and restaurateur Russell Blaikie has created a little slice of Paris in the Perth suburb of Highgate. Must has been a must-do for Perth's serious food- and wine-lovers since it opened in 2001 and Russell is one of the best in the business. In fact, many of the great young chefs and front of house people you meet in WA were given a healthy start by Russell. Seamless service and seasonally driven food are a constant and you and I both know that a restaurant that has continued to thrive for over 18 years must be delivering something impressive. Cool, casual and with a much-celebrated wine list, you simply mustn't miss out on the legendary Must charcuterie plate or the char-grilled dry-aged Hyden sirloin steak on the bone with Manjimup potato, pumpkin and walnut gratin. Desserts are glorious and the small but oh-so-special Australian and Tasmanian cheese selection made me want to weep. In a good way…
I'LL NEVER FORGET… Those Tedesco Farm cauliflower fritters with green tahini, dill and Aleppo pepper.
Lunch Fri, dinner Tue-Sat
519 Beaufort Street, Highgate
must.com.au
WESTIN HOTEL
The perfect spot to base yourself just steps away from Perth's popular city mall and many of the restaurants featured in this article, including Garum. The magnificent Westin Perth takes the fast-growing wellness hotel category to another level with their Six Pillars of Wellbeing: Sleep Well, Eat Well, Move Well, Feel Well, Work Well and Play Well. You will be pampered on arrival with nuts, berries and dark organic chocolate brimming with antioxidants and energy boosters and you'll be inspired to incorporate a workout into your daily routine and ensure your health is a priority. The Westin has even curated a Superfoods in-room dining menu to help you relax and recharge. This could be exactly what you need after you've worked your way through our list of restaurants. Perhaps once you get through restaurant number four, make a visit to the stunning Bodhi J day spa located within the Westin for the Li'tya Marta Kodo rock massage where ancient stones from the north of WA are integrated into a treatment inspired by traditional Aboriginal techniques to tone and re-align energy flow. You'll be fighting fit for another extreme round of deliciousness in no time! #justanotherdayinwa
480 Hay Street
marriott.com/hotels/travel/perwi-the-westin-perth
bodhij.com.au
IN THE KNOW…
Perth chef Russell Blaikie of Must shares some of his favourite spots.
PANAMA SOCIAL in William St Northbridge is so cool for the younger drink'n'dine market.
STRANGE COMPANY in Freo is still one of my favourite bars… Sunday afternoon jazz and cocktails is a 'must do'. Their food snacks are tasty, too.
ODYSSEA is a sharp operation on my local beach – City Beach. Really good coffee and a deck (that you could see from space) overlooking the ocean.
LOS BRAVOS has opened in Northbridge, a fun joint with great shared food and sharp wine list… Emma and Dan are bringing sherry back in fashion! They also own NO MAFIA, so easy just to 'fall' into when you are walking along William St. Great food and again a brilliant short wine list.
WINES OF WHILE is definitely worth a visit, just don't go when it's cold or raining as the seating is outside on the footpath… great for our summers though!
BILLIE H – my last meal there was sublime.
NEW NORMAL in Subiaco has a fab little upstairs bar which is a treat on warmer nights.
Take a walk along George St, one of the quaintest streets in Fremantle. YOUNG GEORGE is just fabulous and COOK AND MASON are kicking some big goals with great food.

RESTAURANT IN THE SKY
Perth doesn't seem so quite so far away when Qantas has regular daily connections from Auckland, Wellington and Christchurch to Perth via Sydney, Melbourne or Brisbane. When you fly with Qantas, enjoy their all-inclusive service offering a meal, drinks, movies and a generous 30kg baggage allowance all included on every flight.
Food and wine lovers can look forward to a restaurant experience in the sky when flying Qantas international first and business class and domestic business with a menu designed by renowned Australian chef Neil Perry and the Rockpool consulting team, who are leaders in the Australian dining, entertainment and hospitality industry. Qantas' relationship with Rockpool commenced with the development of First Class in 1997 which led to a new way of cooking and serving Qantas passengers. Neil was reluctant to simply create menus which would then be sent to world-wide catering centres, resulting in an end product that was far removed from the dining experience enjoyed by Rockpool restaurant customers. Instead he devised a complete change to the inflight dining experience with Qantas, altering the way they cook on board to use fresh produce, literally cooking and blanching mid-flight – gone are the days of the simple re-heat. The Rockpool team also designs for the Qantas first and business international lounges and business domestic lounges. qantas.com