Would you like fries with that?
WHO CAN RESIST A HOMEMADE BURGER & ALL THE TRIMMINGS? SARAH TUCK SHARES HER FAVOURITES.
Bring on summer – lazy afternoons at the beach or pottering in the garden with the sound of cicadas and the warmth of the sun – I cannot wait! For me, summer entertaining is all about making life easy so that I can get out and make the most of the longer days. To that end I often make up batches of tomato kasundi and beetroot relish to have on hand to give barbecued food a bit of extra life. While the good ol' beef patty with tinned beetroot and possibly a fried egg will always be a firm favourite, it's fun to mix up your repertoire now and again. The Indian-spiced lamb burgers finished off with eggplant, cucumber raita and the kasundi are super-popular, and who can resist roast, crispy-skinned duck slathered in a Peking-style sauce with a crunchy cucumber slaw? Vegetarians don't miss out either with a robust cauliflower patty teamed with hummus, avocado, vibrant beetroot relish and an addictive tahini-and-yoghurt dressing. I can't think of a better way to finish off a day of swimming and sunshine than gathering a few mates for a burger feast.
Preparation: 30 mins plus 2 hours chilling / Beetroot relish – 10 mins
Makes : 6 / Beetroot relish – 3½ cups / Tahini-yoghurt dressing – 1¼ cups
Cook: 25-30 mins / Beetroot relish – 30 mins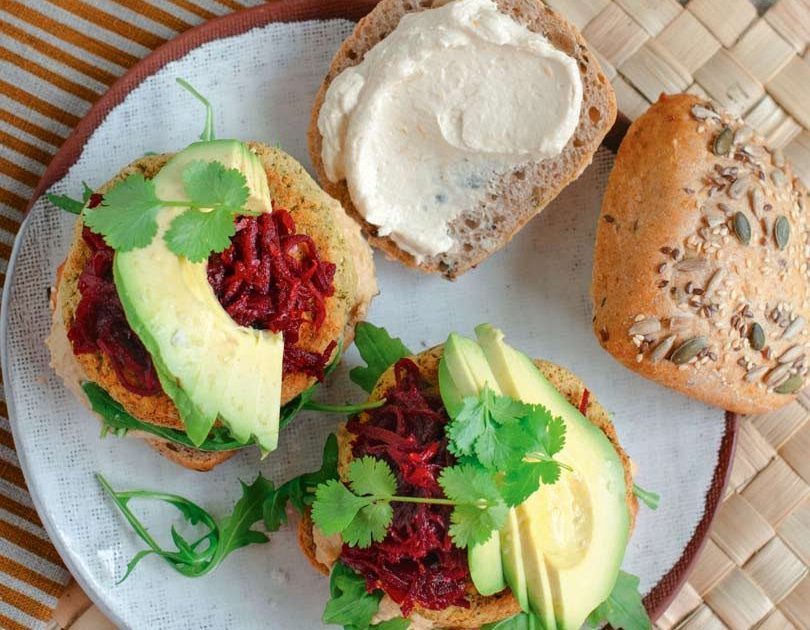 Preparation: 40 mins plus 2 hours chilling / For theTomato Kasundi – 20 mins
Serves: 4 – 6 / Tomato Kasundi – makes 5 & 1/2 cups
Cook : 16 – 20 mins / Tomato Kasundi – 90 mins