Auckland restaurant Clooney offers diners a unique canapé menu that weaves a story of New Zealand's food history, present and future.
Much respected Auckland restaurateur Tony Stewart is a dedicated long-term player at the high end of the NZ dining scene. Yet back in October 2017, Tony shocked the New Zealand hospitality community when he announced that he was closing his beloved Clooney restaurant and was finished with fine dining. Fast forward to 2019 and Clooney has secured 3-hat status yet again in the 2018 Cuisine Good Food Awards (one of only four 3-hatted restaurants in the country) and Tony is the reigning Cuisine Good Food Award De'Longhi Restaurant Personality Of The Year.
A big part of the reason for this turnaround is new Clooney head chef, Nobu Lee (pictured above right with Tony Stewart). With a Japanese father and a Taiwanese mother, Nobu was born in Taipei and grew up in Tokyo. The family emigrated to Christchurch where, upon completing high-school, Nobu worked his way through all kinds of kitchens. In 2003 he set off in search of knowledge and opportunity and worked in international restaurants and hotels in Asia. He was fortunate to be able to work with chef Joël Robuchon and chef Yannick Alléno in Paris, and then assist them as sous chef when opening a restaurant in Asia. He feels that this experience built the foundation for the chef that he is today – constantly striving for excellence, quality and consistency.
Nobu continued to improve his chef pedigree with a stint at Vue de Monde in Melbourne and then became head chef at Marque in Sydney for 2½ years. After the closure of Marque in 2016 he returned to Vue de Monde as head chef. At the beginning of 2018, a text message followed by a few phone calls with Tony Stewart brought Nobu back to the country that gave him the first glimpse of his passion for cooking. Although now incredibly skilled in his profession and at the top of his game, Nobu is very humble and grateful to be able to contribute to the food industry here – thankful to those who taught him how to survive in the hospitality industry when he most needed it.
Together, Tony and Nobu have created a fascinating approach to telling the New Zealand food story; its magnificent products and its innovation. They have created an inspiring canapé menu that tells of Aotearoa's culinary history and the people behind its unique ingredients. The intent of the team at Clooney is to take this intricately woven tale to their customers in the hope that they will spread the story further. Here they share the inspiration behind each dish.
A TRIBUTE TO MĀORI
This is a tribute to Māori for the ingredients they brought with them to New Zealand and for their influence on the generations that have followed. Māori had a dish in which they took mussels and cooked them with pūhā, then allowed them to cool and ferment. This dish takes a bit of creative license but keeps the integrity of the ingredients and the dish. Coromandel mussels are lightly steamed until they just open, then they're pickled. Fennel takes the place of pūhā, and the mussel stock is turned into an emulsion. A simple dough is coloured with squid ink, pressed into the mussel shell and baked, making an edible pastry shell to hold the other ingredients.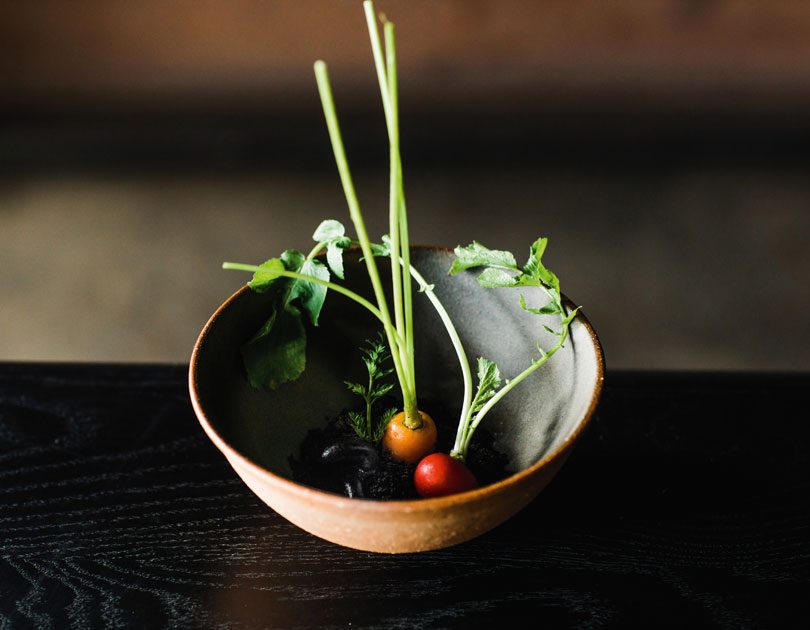 LOST TO OUR PAST
This canapé offers a connection to an aspect of day-to-day life in NZ that was once all-important: the growing of our own vegetables. As our lifestyles have become considerably busier we are growing fewer of our own vegetables. This is concerning for the current generation, but more so for the disconnect to the generations that follow. This dish is a tribute to the Garden to Table trust, a food-education programme currently operating in many schools around NZ. The programme shows primary school children how to grow, harvest, prepare and share fresh, seasonal food. In the canapé the 'garden' has a yam soil and an olive top soil from which sprout a carrot, a radish and a mushroom.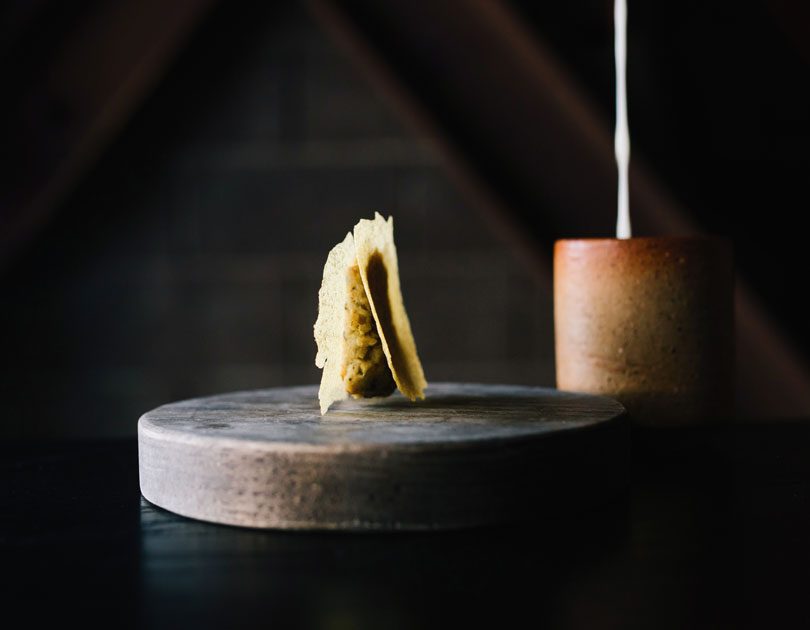 ICONIC NEW ZEALAND
Potatoes are important, especially the role they play in fish and chips. New Zealand's first fish-and-chip shop opened just prior to WWI and soon after there was a fish-and-chip shop in every small town and suburb. This canapé pays tribute to this humble icon. The fish is a short-finned eel sourced from North Canterbury, which is smoked then mixed with garlic, cream and a mustard made from kawakawa, offering a lovely pepperiness. An Agria potato is turned into potato 'paper' to wrap the fish – an interpretation of classic fish and chips. But it is not a trip to the fish-and-chip shop without reaching into the fridge and grabbing a bottle of L&P; instead of the fizzy lemon drink made in Paeroa, the Clooney version is a house-made Myer lemon and Packham pear alternative.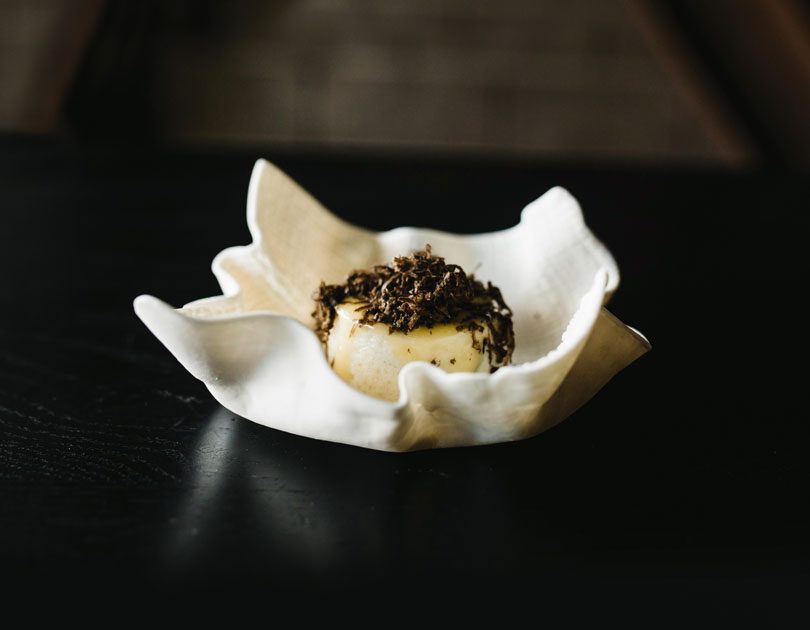 INNOVATION
The next canapé shows the best and worst side of where New Zealand is at ecologically. The worst, sadly, is the pollution and poor management of our waterways and the over-fishing of our whitebait population, resulting in the very real possibility of all five whitebait breeds being extinct by 2034. To support the best, seek out whitebait from Manāki, a company located in Warkworth, 60km north of Auckland. Manāki whitebait are NZ's first and only 100% sustainably produced whitebait, and the company breed not just for commercial whitebait production but also to restock our depleted waterways. Thankfully due to their innovation, all may not be lost for our beloved whitebait. For this dish the Manāki whitebait are added to a Coromandel scallop and egg mousse sauce with a butter emulsion (using sustainably harvested scallops supplied by Kiwi Fish). In season the dish is finished with fresh New Zealand black Périgord truffle from the Bay of Plenty (see full recipe following).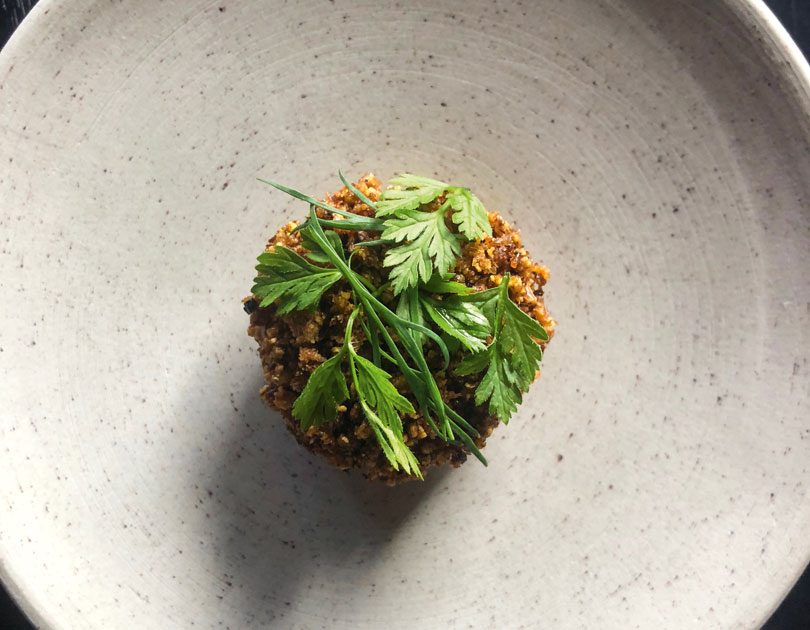 A LOOK TO THE FUTURE
The future of sustainable proteins may be in the farming of insects. This dish uses New Zealand native locusts farmed in Dunedin, which are not only rich in protein, zinc and iron, but also low in fat and cholesterol. Locusts are far better at converting plant biomass into edible meat than our fastest-growing livestock, so addressing the problems of gas emissions and effluent run-off produced by more conventional farmed proteins. While understanding that conventional proteins are very important to New Zealand, we also believe we have a responsibility to look to the future and find ways to integrate alternatives into our diets. The locusts are supplied to Clooney alive, then put into the fridge to euthanise them. They are given a lick of carrot juice and dehydrated. Some locusts are used as a flour in a tart base, some are used as an emulsion with crayfish stock and some add a textural element to the topping.