IN BRIEF
Feed your soul with vivid flavours and a taste of new-wave tapas.
ABOUT THE MENU
It's as stylish and as well designed as the surroundings. Executive chef Jo Pearson has clearly done her research, balancing a menu that includes luxury treats such as razor- thin slivers of buttery jamón from Jabugo in Huelva, or whole New Zealand scampi drizzled with tomato and garlic butter alongside fabulous pork pinchitos, their clever little pear salsa served on a flatbread that is perfectly hand-sized for whipping out the skewer and devouring in a few delicious bites. Perhaps you'd prefer the mussel escabeche with kohlrabi, or if it's tomato season, big fresh beauties in a smoky paprika butter nestled within creamy, tangy sheep's yoghurt will fill you with glee and the whiff of an Andalusian/New Zealand summer.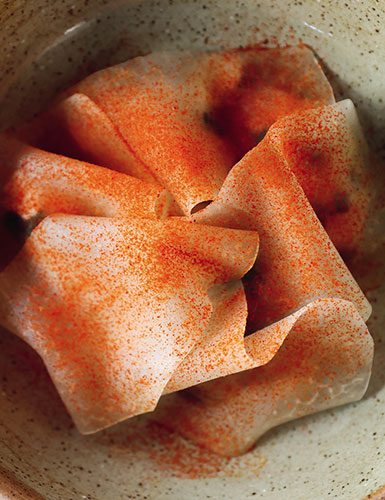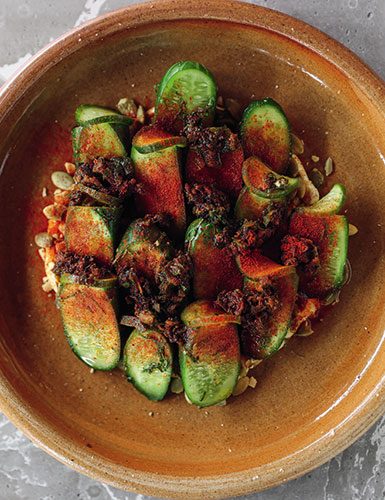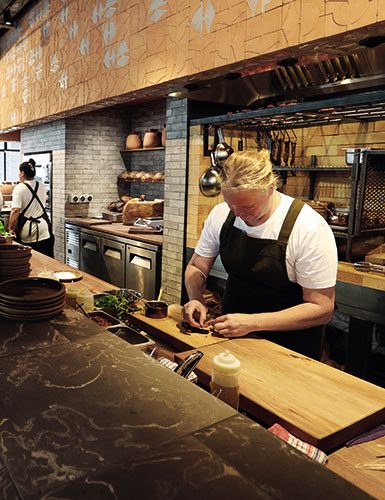 WHY CHOOSE THIS RESTAURANT?
Don't be fooled by the stunning brick and tile work, which gives that first impression of a traditional Andalusian kitchen; this fiery menu delivers a lot more bite and glamour than the usual tapas bar.
ABOUT THE CHEF
As the executive chef of Hipgroup's former cafés and restaurants, Jo Pearson has overseen the design and implementation of menus for Auckland institutions such as Ortolana and Amano. With a fondness for Mediterranean cuisine, at Alma she is influenced by memories of an Andalusian adventure while teaming skilful cooking over an open fire with great knowledge of, and respect for, fresh flavours and provenance. The result is innovative food that can still include a nod to the Spanish classics. A take on patatas bravas appears with kūmara as the vessel for a spicy chilli aioli, while an octopus Russian salad elevates the predictable potatoes, peas and mayo to an earthy, lightly dressed bowl of flame-kissed octopus, with finely diced pickle and potatoes that give just the right amount of bite. This is not your typical ensaladilla rusa.
OF NOTE
The contents of the dazzling tiled bar at Alma are impressive, starting with an extensive list of Spanish varietals alongside our own home-grown tempranillo, verdejo and albariño. Of course, the famous sherries are there, but it is the delicious vermouth selection that deserves your undivided attention. You might also want to linger over their sizeable gin list, because you can't do a good summer in Spain without a decent G&T.
ADDRESS: 130 Quay St, Auckland
Check for opening hours post-COVID-19 lockdowns
MAINS: Sharing plates $12–$90
CONTACT NUMBER: 09 801 6021
WEBSITE: alma.nz