Kelli Brett dines at Asia's best restaurant
Odette
1 St Andrew's Rd
#01-04, National Gallery,
Odetterestaurant.com
Michelin Guide 2019 2 Stars
Number 18 on the World's 50
Best Restaurants list 2019
Number 1 on Asia's 50 Best
Restaurants list 2019
FOR MOST OF YOUR Singapore trip you should, of course, be hitting the incredible array of food on offer from hawkers and on the streets. However, if you want to delve into the higher end of this vibrant food scene you must dine at Odette at the spectacular National Gallery. You must. Odette is now acclaimed as the best restaurant in Asia, having knocked Bangkok's Gaggan from the number one spot on Asia's 50 Best Restaurants list. Gaggan had previously held the title for four consecutive years. Because of this, I was expecting an almost aggressive approach, the sharp edge of a restaurant that has been catapulted into the global spotlight and is determined to hold on for the ride. I couldn't have been more wrong.
Odette is unflinchingly a fresh take on fine dining. Gentle, calm and oh so very pretty with its muted colour tones and a collage collection of beautifully deconstructed images of ingredients by artist Dawn Ng. The food, too, is (almost) too pretty to eat. So pretty that I feel (almost) sad as I devour my first bites. A teeny-tiny tartlet of blanched sugar snap peas on hay-smoked cream. An immaculately formed taco with its Insta-perfect filling of botan ebi, topped with tomato corn salsa and then local, fresh herbs and tiny petals perched on top (like a lacy little fascinator) with such precision and flair that it seems a shame to crush it in just one bite. But then comes the flavour, so perfectly balanced that I snap back to common sense. Bring it on, chef! What follows is an elegantly choreographed menu delivered by a team (including chef Julien Royer) that are relaxed, approachable, engaged and extremely skilled. Wine suggestions are thoughtful, and offer exciting opportunities to discover exquisite pairings.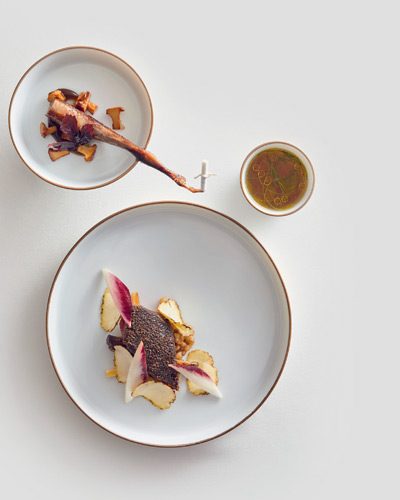 Standouts for me were the delicate combination of Normandy brown crab with nashi pear, avocado and wasabi oil, sweet, cool, a little sour, a little crunch and a little kick, and a stunning yuzu tart infused with shiso and basil. I loved the Kampot pepper-crusted pigeon so much I went out and found my own stash of peppercorns to take home with me. So many stunning examples of hard-earned technique, food memories and cultural inclusion on show, demonstrating a grounding and connection to food that Julien's grandmother, Odette, would have been proud of. "She made me realise how joy and love can be demonstrated through food and showed me how the most remarkable dishes can come from the simplest ingredients."
The story I will remember most was in the 'Promenade à Singapour', a dish of spring leaves, shio kombu and picked tomatoes. Julien tells me that he loves the growing focus on vegetables, being ecological and green, sustainable and healthy. "Even here in Singapore, more consumers and chefs are deep-diving into where produce comes from and how things have been grown. This helps raise the profile of truly great artisans and producers who are usually not in the spotlight. It helps keep their traditional practices and heritage alive." This philosophy is apparent in every dish at Odette, as Julian showcases premium brands from around the globe, but his salad is like a walk through a local artisan garden. More than 20 ingredients, foraged and farmed, from winged beans to lady's fingers, jicama, blue pea and ginger flowers to baby beets, all presented as a deliciously fresh bowl of Singaporean provenance.
Julien describes his journey with food as terroir to table and heart to plate. Heart to plate says it all. An everchanging menu that is French cuisine at its Asian best.