NICOLA EDMONDS VISITS A LESSER-KNOWN CORNER OF THE MEKONG DELTA.
DEEP DOWN SOUTH, in a lush corner of Vietnam's Mekong Delta, the treasures of Trà Vinh go mostly unannounced. Rising from among the town's dust and clamour, are the golden spires of more than one hundred temples. Ethnic Khmer Krom (Cambodians) have lived in the province and attended to these temples since well before this territory was taken under Vietnamese rule during the beginning of the 18th century. These days, they live alongside Vietnamese and small communities of Chinese and Muslim residents in the area. Western travellers are a warmly welcomed oddity.
Tron Thach and his wife, Tran, are Cambodian and were born in Trà Vinh. The couple moved to New Zealand with their two daughters in 1995 and now have a small but prodigious garden north of Otaki, on the Kapiti coast. Trach and his young nephew sell their herbs and vegetables at the Harbourside and Porirua weekend markets in Wellington. The more adventurous of Thach's regular customers look for his neat bunches of Vietnamese and Cambodian herbs, with names that seem to defy English translation. Thach and his family return to their home in Trà Vinh each year to visit their families, to talk and to feast, and they invited me along .
Though a four-hour drive south from Saigon (Ho Chi Minh City), it's not until the last quarter of the ride that the view begins to shift from concrete and commerce into a flat expanse of green. Further south, rice fields give way to the dense swamp forests of palms that border the ribboned waterways of the Mekong Delta. Trà Vinh is situated on one of the Delta's several peninsulas, one hour's drive from the East Vietnam Sea. In the town everywhere is heat and colour: mint green and pastel blue villas draped with potted plants and flowering vines, temple clothes-lines strung with robes in a dozen shades of orange and happily, it's also there to be found in the flavours of the local cuisine.
TRÀ VINH MARKET
(beside Long Binh bridge)
The largest and most extensive of Trà Vinh's daily markets is an avenue of temptation along the pretty promenade of the Long Binh river, the sprawling collection of stalls extending its tentacles into the streets beyond. There is a wet market where vendors ply every kind of tropical fruit and vegetable, together with chickens, geese, fish, frogs snakes and snails – most of which are very much alive. Shoppers throng the large meat hall which flashes with vendors' fearsome knives. From the canopied gloom of the dried goods area glow vast scarlet pyramids of dried shrimp. The shrimp, prized for their rich colour and flavour, are locally caught and used in soups and salads.
KIM SON COFFEE
(138 Tran Phu, Trà Vinh)
My days often begin with a bicycle ride across the river to Kim Son Coffee for an early morning fix. In a town seemingly devoid of Western-style gentrification, Kim Son is a retrothemed anomaly. The regulars, from students to stern-faced soldiers, take their coffee surrounded by an artful array of vintage audio equipment, or outside in a beautiful courtyard garden where trees sprout through the paving stones.
Vietnamese coffee is usually brewed in a phin, a small drip filter that sits on top of the coffee cup or glass. The resulting brew is thick and dark and caramel-toned in flavour. Sweetened condensed milk is a popular addition here in the south where the locals tend to prefer their coffee iced.
BÚN NƯỚC LÈO
(Phường 4, Trà Vinh)
Eponymously named and easy to miss on a quiet side street near the river, this busy restaurant serves just one dish, bún nước lèo, a hearty soup that is a Trà Vinh speciality and blends Vietnamese, Chinese and Khmer cuisines. A cauldron of broth is set to boil early in the morning simmering mushrooms, fermented fish, shrimp, lemongrass and coconut water. Just before serving, ladles full of fresh greens are added: banana flowers, lotus stem, garlic chives and mint. Brimming bowls of soup and noodles arrive alongside plates of crisp spring rolls. Each diner receives a wax paper parcel containing a large slice of roast pork and crackling, which is added as a final succulent garnish to their broth.
Within whistling distance of most main thoroughfares, the pace of life slows to a quiet amble. Many homes have a small barn to shelter the family cows and small garden plots patrolled by roving gangs of chickens and tiny but fearsome dogs. In this southern province, the latter are more likely to be family pets than to be seen on the menu. With vegetarian alternatives in mind I cycle a few kilometres from the town centre, where I've been told there are two restaurants worth a visit.
QUÁN CHAY
(Phường 1)
Ni and Dung Trach, husband and wife proprietors of this humble, but always busy, breakfast stop are determinedly coy about how they achieve such transformations from the bland beginnings of a soy bean. Their bestselling dish, huế tori chay, is a delicate vegetable broth piled high with assorted golden shreds and morsels that are both perfectly chewy and crisp, and delicious enough to have won over many of their otherwise pork-loving clientele.
QUÁN ĂN UỐNG
Just a few hundred metres further down the road, is the maestro of bánh xèo, the addictive savoury crêpes which locals refer to as 'Cambodian pizza'. From a concrete bunker kitchen overlooking the rice fields beyond, the tiny chef mans four large woks simultaneously, deftly dipping and pouring from a giant vat of golden batter made from rice flour, turmeric and coconut milk. The batter is cooked and flipped to basket-weave delicacy with a dollop of shrimp, bean sprouts and fried onions slipped in at just the right moment to be contained and cooked within.
The dinner-plate sized crêpes are accompanied by hot-sour dipping sauce and large bowls filled with an assortment of herbs, lettuce and waxy katuk leaf. The leaf is used to pack shards of crêpe and savoury filling into an irresistible sandwich.
BANH TET
One evening I meet Ba Nom and her elegant husband, selling banh tet from the streetside on Dien Bien Phu, Trà Vinh's equivalent of a fashion high street. These banana leaf-wrapped parcels are traditionally prepared during the lunar New Year celebration of Tet in February, but are now also widely available during the rest of the year. Ba Nom first cooks the glutinous rice for 12 hours, until it has the gelatinous consistency required to enfold the biscuity mung bean paste. The mix is then folded into leaves and tied into small green pyramids.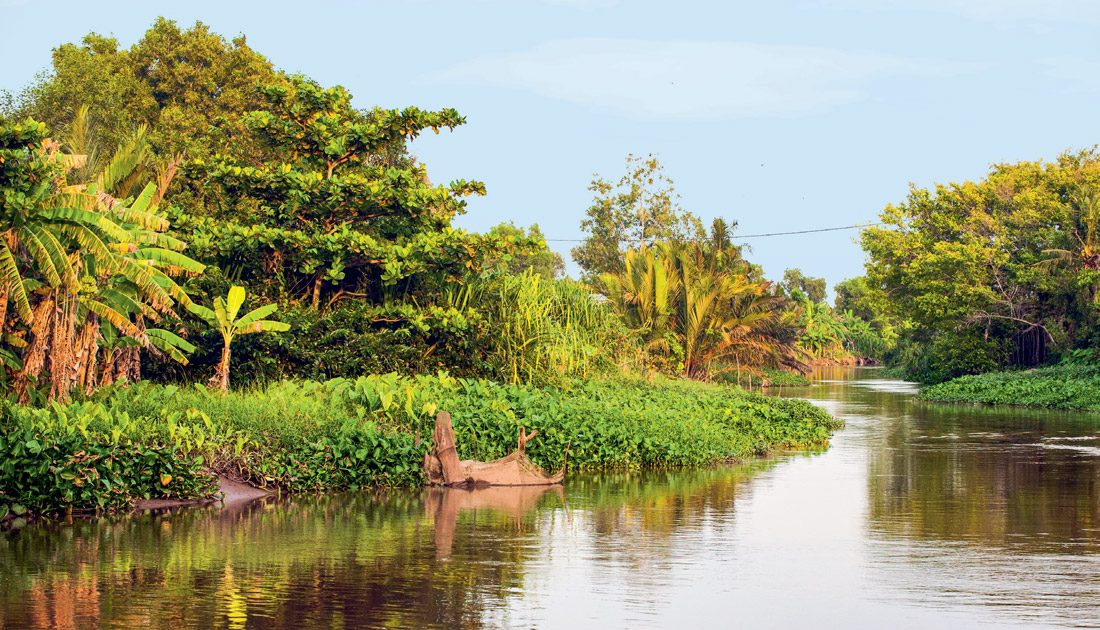 On my last morning I take a motorbike ride along quiet, palm-fringed lanes to visit a small farm in a hamlet near Trà Vinh. In a neatly swept courtyard, framed by coconut palms, papaya and mango trees, Tan Son squats to grill whole snakehead fish over a tiny coal brazier. Prodigiously bony, but worth the effort, their flesh is a delicate and smoky counterpoint to salads of pickled mango, home-grown organic rice, fresh-caught shrimp and the frilly crunch of winged beans.
For dessert we sip glasses of the cool, sweet sugar cane juice, squeezed at the family's front gate booth, and graze from fruit bowls filled with guava, cherimoya and papaya. In the garden, enormous indigo butterflies float by. Son tells me that the Khmer people believe that to see a butterfly brings good fortune and the dainty creatures symbolise new beginnings.
WHERE TO STAY/ WHEN TO GO
Trà Vinh does not have a dedicated tourist information office and finding English-speaking tourism providers can be a challenge. Most accommodation providers are also able to arrange transport and suggest reliable tour company alternatives for the surrounding areas.
Though temperatures can be high throughout most of the year in the Mekong Delta region, from December to February – the beginning of the dry season – is a good time to visit, with warm days and cooler nights.
SUONSIA HOMESTAY
A friendly, knowledgeable and Englishspeaking Khmer couple host guests in a quiet rural setting, in Trà Vinh province. Home-cooked Cambodian meals are a highlight and Sari can arrange local bicycle tours along with airport transfers to and from Ho Chi Min City.
suonsiahomestay.com facebook.com/suonsiahomestay.