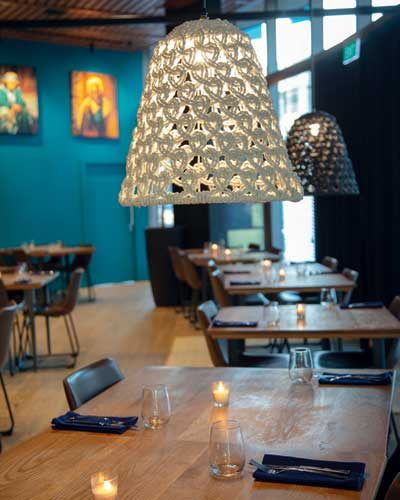 Sitting on the banks of the Avon River, new kid on the block Barberra is a sophisticated addition to the phoenixlike eating scene in the garden city.
Already well known for their awardwinning catering company, Eaton Drink Co, as well as bistro Southside Social (in two locations), owners Toby and Nikki Eaton, have pulled off a remarkable hat trick with Barberra.
Stepping out of a vicious Christchurch southerly, we were warmly greeted by our uber-cool and quietly confident host, Toby, then led through a set of heavy curtains and into this tactile and urbane restaurant. The refit offers a combination of exposed wood, welded steel and dark postmodern seating with pops of vibrant colour.
To say that the kitchen, with its custom-built charcoal grill, is open is an understatement, with every aspect of service laid bare for public viewing – I almost felt like picking up an apron and walking straight in. It's very courageous, but with the low seating and high tables carefully designed to capture the theatre and magic of chef service, the whole effect made my eyes smile.
When it comes to food and wine choices, Toby knows his stuff and with Nikki as head chef my guest and I were eager to get down to the business of eating.
Barberra promises a modern menu with seasonal ingredients and influences of the Pacific Rim. Where possible much of the produce used is either home grown by Eaton Drink Co or via Cultivate, a local social enterprise urban farm that delivers fresh organic produce weekly to restaurants in and around the city.
A leather-bound wine list boasts plenty of options, with a large selection of cocktails, bubbles, beer and spirits. We decided on two glasses of the Black Estate Damsteep pinot noir, by a local boutique vineyard in Waipara, North Canterbury.
A couple of shared plates to begin brought us venison tataki with plum ponzu, garlic chips and pickled daikon, along with a bowl of ceviche in coconut cream, fresh herbs, chilli, lime, powdered seaweed and leaves. Generously, Toby suggested my guest try a glass of Pegasus Bay riesling with the venison, an eyebrow-raising and provocative match; however, in tasting, it was bang on.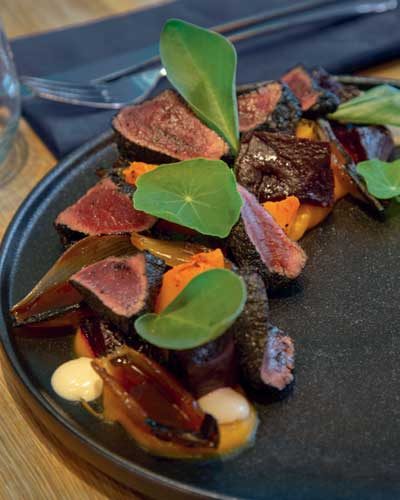 Having full access to the kitchen was like watching an opera, as Nikki curated the ingredients from the wide-open space. To see dishes plated, pass hands without the formal ding of 'service' and glide over to our table: to me, this is what dining is all about.
Now, my mother makes a superb Jamaican ceviche with snapper, coconut flesh, coriander root, spring onions, a shave of garlic, fresh ginger and full of love. However, the plate created by Nikki totally blew my childhood dish out of the water. The layers of flavour created in one bowl were incredible. The creaminess of the coconut deftly crept up on the palate against the raw saltiness of the seaweed, juicy line-caught groper cleaned up with the sharp bite of citrus. An exquisite mouthwatering experience.
In direct contrast, the meaty succulence of the venison, the punch of sweet sauce and crunch of garlic made both choices a fabulous way to kick off our evening.
Our mains arrived with a flourish: for him, spiced lamb with mapleglazed carrots, barley, pistachios and smoked labneh; for me, horopito ashrubbed venison, horseradish, roasted beets, pumpkin, shallots and orange reduction. Looking like stylised modern art, the dark flat textural plates were brightened with nasturtium leaves and vibrant orange pumpkin. Deep within and cooked to perfection, the blushpink venison against the peaty ash rub was stunning – enchanting to the eye and divine to the last sticky forkful.
For a magical sweet finish, try the chocolate sphere. I won't say too much about it, other than that Nikki hits the mark again with a cheeky combination of lip-smacking texture and dark molten extravagance.
JAX HAMILTON
ADDRESS: 151 Cambridge Terrace, Christchurch
LUNCH: Tue-Fri,
DINNER: Tue-Sat
MAINS: $27-$34
WEBSITE: barberra.co.nz 03 365 2888
SCORE: 14.5 / 20