Plabita Florence of Forest presents an inventive menu that celebrates the glory of veges.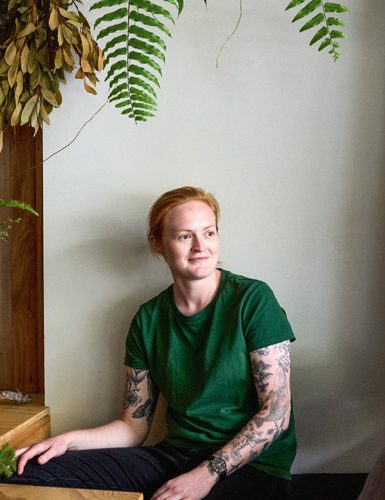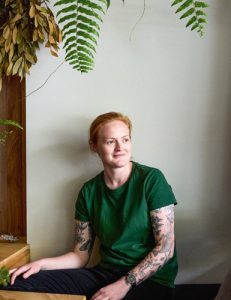 Plabita Florence has made it her business to elevate vegetables, especially the friendless ones and those peelings, leaves and pits that we often throw away without a second thought. To Plabita, owner and head chef at Auckland vegetarian restaurant Forest, these are just as valuable as the show-stealers, though she admits that some, such as turnips, are more challenging to love than others. But she insists, "There's a real power in thinking, 'This is gross. Let's make it not so.'"
We're chatting just as she has wrapped up a four-night, sell-out, pop-up dinner series held at Auckland's Kelmarna Gardens, an organic community farm for which Plabita has an obvious affection. "The dinners are pretty rustic; diners sit out in the open at wooden trestles surrounded by flowers. When we cook in the gardens it evokes a certain feeling. It feels important that the produce is recognisable and honoured in its best way. If you just buy something in a shop and take it away it loses its connection and you just treat it as a product. But cooking at the gardens affects my mindset when the food is served just metres away from the tree it was picked from and the guy that grew it is right there."
The alliance with Kelmarna Gardens began early on when Plabita launched Forest as a pop-up dinner concept that quickly became the most talked-about ticket in town. Then in 2019 she took the leap into a permanent restaurant, also named Forest, on Auckland's Symonds Street.
The inspiration behind Forest came from Plabita's early experience working in kitchens where she witnessed massive wastage of food and a disconnect with where the food came from. With neither culinary training nor a background in business she did, however, know what was important to her: seasonality; knowing where your food was grown; vegetables as the heroes; and no- or low-waste.
Critical acclaim arrived quietly but steadily with descriptions such as 'creative', 'clever', 'thoughtful' and 'exciting'. She does, however, acknowledge that it's not an easy sell. Some people are put off merely because it's a vegetarian restaurant, others baulk at the set-menu format, and others are fazed by having no menu at all to choose from. What is on offer depends entirely on what is available locally and at its absolute best right then.
"My lack of training actually helps me. I'm in a constant state of playing with things, but never having the limits of 'This is how you have to make this'. If I taste it and it works, why not?"
To introduce unusual ingredients or treatments and make them feel more accessible, she may hook into something that feels very nostalgic and familiar. For example, by dehydrating potato skins into a sour powder, then mixing with citric acid, baking soda and sugar, Plabita produces an expectations-busting potato-skin sherbet – somehow reminiscent of the lollies you used to buy from the dairy – with a pop on the palate of sweet salt and vinegar chips. "I think delivering a weird dish in a seemingly simple and familiar way can make something that might otherwise feel complicated or pretentious become more fun, light-hearted and maybe somehow safer."
Creativity and excitement is all very well, but Plabita is solid on what's important. "Food is a practical thing. It has to fill you up and taste good and that comes down to trust. Trusting someone you don't know and giving them your money is not a small deal. So as a chef I have to hit all the buttons: I need to ask, 'Did you leave the table full and satisfied, was the dinner intriguing.' And yes, I think I have to try harder and keep pushing more than, say, a steakhouse." TRACY WHITMEY