COME TO SRI LANKA FOR ITS BEACHES, CULTURE, TEMPLES, HILL TOWNS AND TEA PLANTATIONS, BUT DON'T OVERLOOK ITS FASCINATING CAPITAL, SAYS EMMA GALLOWAY.
One cannot talk about Sri Lanka without acknowledging the civil war which ripped apart this island nation for over 25 years. I feel one must also acknowledge the 30,000+ people who lost their lives in the tsunami which battered coastal areas back in 2004. If anything, I start with these sombre reminders to give some indication of how far Sri Lanka has come. With Sri Lanka named the best country to visit in 2019 by Lonely Planet and Sri Lankan cuisine named as the top food trend for 2019 by BBC Good Food, the world is flocking to its shores to find out for themselves what all the fuss is about.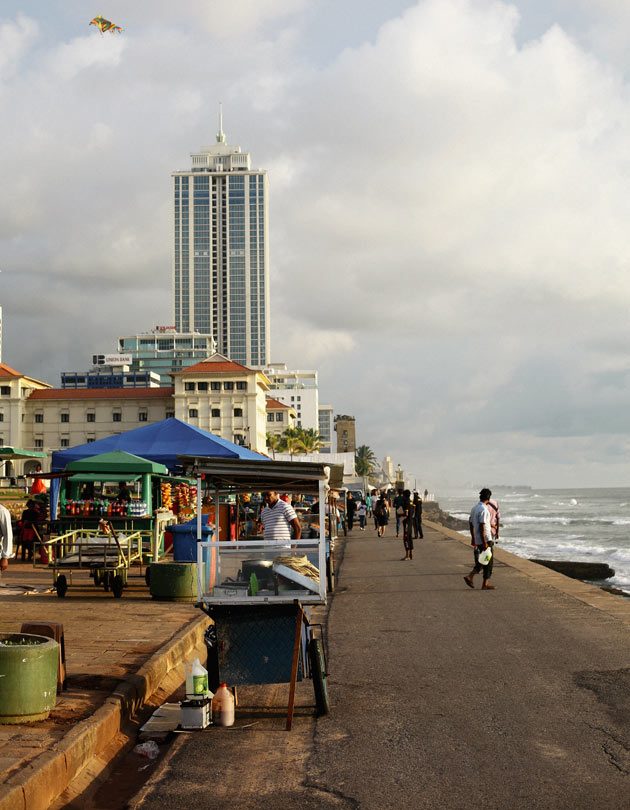 From the beautiful palm-lined beaches, ancient temples and wildlife parks, to the world-renowned tea plantations and not one, but eight UNESCO World Heritage sites, there is so much to discover and so, so much great food to be devoured! Like many capital cities, Colombo is usually seen as a mere means to an end. With the international airport located 32km north of Colombo city, people fly in and most are in a hurry to leave, as the beaches or tea plantations call to them. But should you have a day or two to pause, there are some real treats to be had in this bustling, ever-changing city. The rate of development in the two years since I first visited was monumental: the juxtaposition between 200-year-old temples with a backdrop of the 350m high Lotus Tower or the Altair Building (which comprises one vertical 68-floor tower with another 63-floor tower leaning, yes leaning, onto it!) is something to see. I've rounded up a few of my favourite places to eat and sights to see below to give you a small taster of what this city has to offer.
NUGA GAMA
Set beneath a majestic 210-year-old banyan tree within the grounds of Cinnamon Grand Hotel, this restaurant is not to be missed. Sri Lankans love a good buffet and Nuga Gama offers a high-end version with over 30 local dishes served daily. There's also an appa (hopper) stand where you can watch the skilled chefs in action. Dinner is served daily 7-10.30pm, while lunch is also available over the weekends 12-2.30pm.
77 Galle Rd, Colombo 3
RAJA BOJUN
It's worth getting in early as this longtime local favourite packs out daily. The array of buffet dishes presented more than makes up for the cheap and cheerful décor. Everything is made on site using locally grown produce and no additives, and the on-site chefs whipping up appa (hoppers) and roti are mesmerizing to watch. Don't miss their garlic curry. Open daily for lunch 12-4pm and dinner 7-10pm.
Liberty Arcade, 282 R.A. De Mel Mawatha, Colombo 3
UPALI'S BY NAWALOKA
During my visit I was lucky enough to bump into David Cruse, manager of both Upali's Colombo and their Australian outpost Upali's Melbourne, who was proud to tell me they are one of the very few restaurants in Colombo to serve à la carte. This came as welcome relief after a few days of dining at buffets three times a day! I loved being able to read a little about each dish (something lacking at buffets) and I highly recommend the kaju sudata uyala (raw cashews tempered with onions, garlic and spices cooked in a rich coconut gravy) and the gotu kola sambolaya (pennywort salad). Open daily from 11.30am-10.30pm (11.30pm on weekends).
65 C.W.W. Kannangara Mawatha, Colombo 07
CARNIVAL ICE CREAM PARLOUR
Open since 1983 this place is a mecca for ice-cream lovers and a long-time local favourite that seems to have bypassed the radar of most tourists. Serving homemade ice-cream cones and sundaes with flavours you'll be hard-pushed to find here in New Zealand. Durian ice cream anyone? Open daily 10am-midnight.
263 Galle Main Rd, Colombo 3
GALLE FACE GREEN
From 5pm onwards the promenade along Galle Face Green – the largest open space in Colombo – comes alive with street vendors, children flying kites and young lovers walking hand in hand. Located next to the wellknown Galle Face Hotel and looking out over the vast Indian Ocean, this is one of my favourite spots to grab some green mango, sold conveniently sliced with salt, chilli and pepper to dip or a vadai (fried savoury lentildoughnut served with slaw and a tangy lime sauce) and just sit and take it all in.
Galle Main Rd, Colombo 3
GANGARAMAYA TEMPLE
Gangaramaya is one of Colombo's oldest and most important Buddhist temples, started by the famous scholar monk Hikkaduwe Sri Sumangala Nayaka Thera in the late 19th century. You could easily spend half a day walking around this vast temple, from the Viharaya (image house) with its brightly coloured floorto- ceiling Buddhas and intricately painted ceilings, to the Bo-tree under which it is claimed Buddha attained enlightenment, to the Borobudur Replica where hundreds of Buddha statues are stacked and reach high into the sky.
61 Sri Jinarathana Rd, Colombo 2
TEMPLE OF SRI KAILAWASANATHAN SWAMI DEVASTHANAM KOVIL
One of Colombo's oldest Hindu temples and a great spot to watch locals going about their daily prayers. This small temple won't take long to look around, but the details in the carvings both inside and out are incredible.
Sri Murugan St, Colombo 2
JAMI UL-ALFAR MOSQUE
I have never before seen anything quite like this candy-cane-coloured mosque located among the hustle and bustle of Pettah Markets. Tourists are sometimes allowed inside, but even standing outside and looking up is an amazing experience.
Second Cross St, Colombo 11
PETTAH MARKETS
If busy, bustling local markets are your thing then make sure you visit Pettah Markets. Here you'll find streets lined with spices, tea, dried fish, fruits and vegetables as well as clothes and jewellery. It covers a number of blocks and can be quite hard to navigate, so I recommend you hire a local guide to show you around.
Keyzer St, Colombo 11
There were a few other places which came highly recommended but sadly I didn't have time to visit:
KAEMA SUTRA
Recently relocated to Shangri-la Hotel, this Sri Lankan fine-dining restaurant is owned by highprofile chef Dharshan Munidasa (co-owner of Ministry of Crab) and international actress Jacqueline Fernandez.
4th Floor, Shangri-La Hotel, #01, Galle Face, Colombo 2
MINISTRY OF CRAB
Some see this place as a tourist trap, but the happy hordes of crab lovers queuing up for plate-sized crabs really says something.
Old Dutch Hospital Complex, 04 Hospital St, Colombo 1
CULTURE COLOMBO
Newly opened restaurant serving authentic Sri Lankan cuisine.
25 Kensington Gardens, Colombo 4