Comp showcases New Zealand's new deery product
Think luxury foods, think caviar, champagne, foie gras, crayfish, deer milk… Yes, though still relatively new to restaurant menus, diners at more than 20 top restaurants have been given a chance to try the deliciousness of deer milk for themselves, as chefs compete to create imaginative desserts showcasing the distinctive qualities of this unique product.
The Pāmu & Cuisine Deer Milk Ice-Cream Competition, launched in January 2020, challenged chefs at some of New Zealand's best restaurants in Auckland, Wellington and Queenstown to create an ice-cream dish made out of deer milk. Not just a plain old scoop of ice cream though, but a truly innovative dish that nails the essence of this luxurious ingredient: rich and creamy, yet light and fresh.


You can't talk about ice cream in NZ without thinking of Auckland ice-cream legend, Giapo. So, it's fitting to have Giapo himself as a prestigious judge for the competition. Not only will he be one of the judges, but the winner will collaborate with Giapo to create the destination dessert for 2020 to star on their restaurant menu. 
"Deer milk is a sophisticated ingredient that offers a delicious, smooth, silky feel to the ice cream, with a taste second to none – it's a true blessing," says Giapo. "I am interested to see how much the chefs will be pushing their fears away to show us something that we haven't seen yet."
So, for weeks now chefs have been whisking, tasting, freezing, dehydrating, baking, infusing and fermenting to refine their entries, with dishes pushing the limits from luxurious ice cream through all things frozen including parfait, sorbet, gelato, kulfi and semifreddo, paired with deer-milk foams, wafers, custards, curds, dulce de leche and even kefir mousse.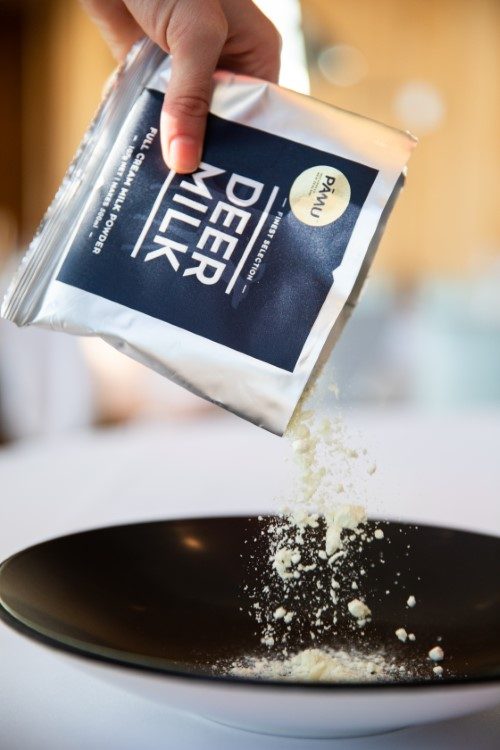 With inspiration ranging from 'boiled egg and soldiers', a decadent mid-winter feast (yes, ice cream is not just for summer) and an evocation of the deer farm on a spring morning, even preconceived ideas of 'dessert' have been challenged with flavours appearing such as bay leaf, buckwheat noodles, enoki mushrooms, porcini powder, salt-fermented rice, red beans, pine jelly, leek ash and Ossetra caviar.
Geoff Scott, executive chef and former owner of Vinnies, has been touring New Zealand tasting all of the entry dishes and selecting the finalists for the competition. "Tired of ice cream? No way!" he says. "There's always room for another scoop."
Dishes are judged on five elements: presentation, taste, creativity, how they showcase Pāmu Deer Milk as the star of the dish and also the chef's effort to promote the dish to prospective diners.
"Overall, I've experienced the most extraordinary range of dishes," says Geoff, "The quality is excellent. What is great about New Zealand chefs is that everyone has worked in their own inspiration: their childhood memories, cultural influences, aspects from their restaurant."
Geoff says that the competition has created a lot of buzz, chat and discussion with restaurants involving the whole team, from head chef, junior staff, wait staff and customers, too, who are fascinated by the chance to try not only a brand-new dish, but to taste a unique ingredient for the first time.
At the finale on 16 March, three finalists will take part in a cook-off where the winning dish will be chosen by judges Giapo and Kelli Brett, editor of Cuisine. 
Kelli says, "I've been intrigued by Pāmu deer milk since it picked up the Novel Food Award at the 2018 NZ Food Awards. It's really quite groundbreaking in the way that it champions a new way of farming and processing and provides an interesting addition to the New Zealand food story. A unique ingredient such as this, used in the right way, can create a dish (in this case ice cream ) that can become a destination in itself and that's what we are looking for in our winning deer milk ice cream creation."    
The winner will also visit Benio Farm near Gore to see where Pāmu Deer Milk comes from. Here they'll meet, the McIntyres (Pete and Chris McIntyre, and Pete's wife Sharon) who farm the herd of red deer. Together with Pāmu they have had to develop a whole different way of farming, engineer new milking systems and come up with ingenious ways of processing the delicate deer milk. So not only is deer milk exciting chefs and diners throughout New Zealand, but it's an example of innovation opening up complementary pathways as we seek a way forward for farming in the future.
As Giapo says, "Win or lose, competitions always make you better. The spirit and the feel of being part of something helps everyone involved. We all learn. There is so much knowledge being shared around that makes anyone – and I mean anyone, chefs, judges and readers – a winner."
Participating restaurants are:
Auckland
Cocoro
Ostro
The Grove Restaurant
SO/ Auckland
The Sugar Club
Lillius
Cassia 
Sid at The French Cafe 
ParisButter
Giraffe
Wellington
One80 (Copthorne)
Charley Noble
Artisan
Jano Bistro
Hippo QT
Field and Green
Chameleon
Noble Rot
Portlander
Atlas
Queenstown
Botswana Butchery
The Rees
No 5 Church Lane
Millhouse
Click here to change this text