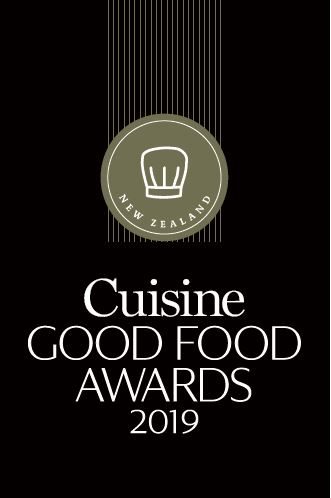 ADDRESS:  86 Clifton Rd, Te Awanga
LUNCH:  Wed – Sun
DINNER:  Thu – Sat
MAINS:  $36 – $43
WEBSITE: elephanthill.co.nz
CONTACT: 06 872 6060
SCORE:  18 / 20 In this picture-perfect coastal setting, you can almost touch the ocean and can most certainly smell the fresh, salty sea air. Juxtaposed into this scene is a monumental modernist building in glass and concrete, still pristine some years after it was opened. Rather than being a distraction, the expansive view over rows of vines complements the complex, interesting menu crafted by chef Ashley Jones. Jones' food is a mélange of elegantly presented colour and texture. Generous portions of fresh tuna are covered with a quilt of cucumber, coriander, wasabi, toasted sesame and foraged sea spinach. Hawke's Bay-grown lamb frolics on the plate with anchovy and garlic, silverbeet pie and parsnip cream. In the hands of less-accomplished chefs, this could be too much, but Jones achieves beautiful blends. The wine list is predominantly Elephant Hill as you'd expect from a vineyard restaurant of this quality; the service expertise equals the standard in the kitchen.
IN BRIEF A coastal treasure in Hawke's Bay