Pack your togs and a good appetite as Lauraine Jacobs takes us on a foodie road trip around New Zealand's stunning north.
One of the first things that always strikes me when I visit the northerly parts of New Zealand is the almost golden-green hue of the countryside, a vibrant and unique colour that glows from the grassy slopes of the farmland. With unique tropical crops such as bananas, pineapples, citrus fruit, kūmara and coffee thriving in this almost year-round warmer climate, it is reminiscent of the colours and foliage seen in subtropical regions around the world.
The north is an area where the history of our relatively young country reveals itself in myriad ways. The Bay of Islands sits firmly in the centre where quaint remnants of the earliest colonial settlements near Kerikeri, dating back to the 1820s, are juxtaposed with the magnificence of the historical Waitangi Treaty House and its surrounding grounds alongside sparkling waters, showcasing that most important document signed there in 1840.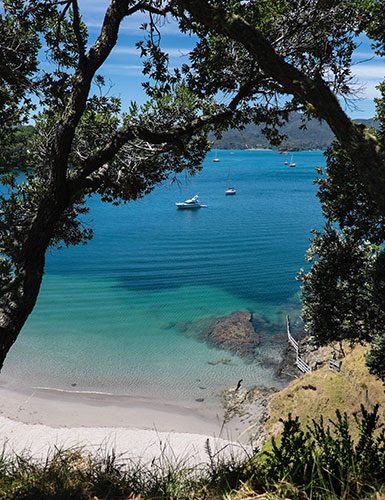 Start from Mangawhai and Wellsford to the east, Kaipara to the west and follow gently winding roads that stretch almost 350km to the northern tip, Cape Reinga. This is more than just a simple one- or two-day trip. There are countless not-to-be-missed landmarks, history to absorb, relaxation and swimming opportunities at numerous beautiful, pristine beaches, and wonderful casual and sophisticated flavours to taste everywhere in this abundant region.
We've asked three locals from the area's leading restaurants to share some of their favourite foodie recommendations, as we know that chefs know best…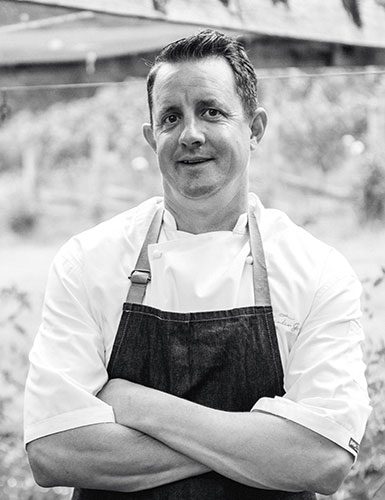 DANIEL FRASER is head chef of Sage Restaurant at the Paroa Bay Winery overlooking the Bay of Islands, and is a champion of Northland food. He focusses on a moana-to- whenua approach, with his beautifully presented cuisine marrying the abundant ocean bounty to the produce he sources from local farms, orchards and gardens. More than 80% of the ingredients he uses are from the region, and he is proudly 'super ethical' when purchasing food for his stunning menu.
MARCUS BERNDT is owner/chef of Terra on the waterfront at Paihia in the Bay of Islands. He and partner Sarah Connor and their family often travel about to soak up the holiday atmosphere of the region, exploring and finding local treats and specialities from farms and markets to use on the ever-changing brilliant-value tasting menu at their tiny restaurant overlooking the beach. Passionate about their restaurant and passionate about Northland food, they have favourite cafés almost everywhere from Hokianga in the west to Doubtless Bay in the north.
MING POON (chef) and Diane Langman (front of house) own Māha, an intimate and comfortable restaurant set in tranquil and subtropical Wharepuke Gardens near Kerikeri. They offer an exciting and eclectic menu composed of plenty of local and seasonal food, including their signature sashimi plate and a large, tasty Māha Platter. They're experts at feasting on casual fare right around the north, as they frequently take road trips to their favourite spots.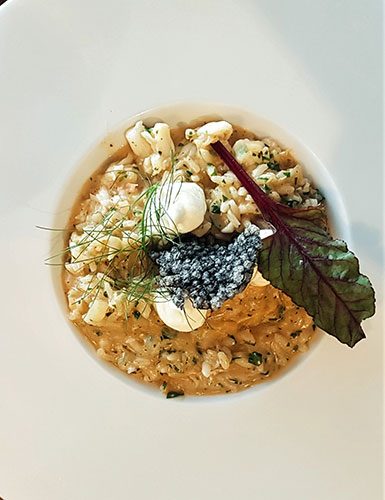 MANGAWHAI, WAIPU TO WHANGĀREI
It's an easy day's drive along the superb coastal route past many white, sandy beaches and through bushy glades to explore this most southern part of the north. Bennetts of Mangawhai (bom.co.nz) have been making superb chocolates for years and have an excellent café. Further on, near the main Mangawhai beach, Brewed As Collective (brewedas.com) is a don't- miss stop for your daily brew of coffee (Kaipara Mayor Jason Smith drives 45 minutes from his farm for his fix) and fancy vegan slices and other fare. At Waipu, the Farmshop at Durham Farms (durhamfarms.co.nz) in Durham Rd is stocked with organically produced eggs, milk, beef, herbs, salads and preserves – well worth any detour as it's their milk, eggs and beef constantly on the Sage menu. Stop at McLeods Brewery (mcleodsbrewery.co.nz) for finest Northland-brewed beer – sip on the Paradise Pale Ale while munching on one of their terrific pizzas. Around the Whangārei Town Basin there are many little cafés and restaurants, including The Quay (thequaykitchen.co.nz) to dine well and Sabio (sabiocoffee.co.nz) for freshly roasted coffee. Don't miss a chance to visit the Hundertwasser Art Centre opening later this summer.For superb local cheese, Grinning Gecko (grinninggecko.co.nz) is worth a stop, behind Bakers Crust in the city centre. Heading further on the coastal route, go to Tutukaka for a fresh, fishy Pacific-style meal at Schnappa Rock (schnapparock. co.nz) and order the steamed mussels.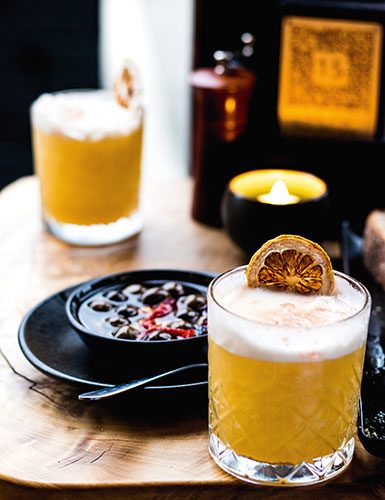 BAY OF ISLANDS & KERIKERI
There's loads of accommodation on the Paihia waterfront or stay at the historic and popular Duke of Marlborough (theduke.co.nz), a ferry ride away in historic Russell. This area from the Bay through to Kerikeri is a garden for foodies and the markets are essential visiting to discover local artisan and fresh foods. Driving into Paihia, stop at Beaver Farms on the Te Haumi straits for fresh farm-grown produce including summer strawberries, blueberries and watermelon. Heading north, grab coffee and a famous cinnamon scroll at Third Wheel Coffee Co. (facebook.com/thirdwheelcoffeeco) before calling into Mahoe Cheese (mahoecheese.co.nz) to follow all our chefs' recommendations to taste and stock up on its award-winning cheese, including the extraordinary Montbéliarde (if you're lucky) and the superb aged gouda and edam.
On the road to Kerikeri, look for Kaipatiki Eco Hive to pick up some honey from Honey Paihia (facebook. com/honeypaihia) and taste its mānuka varieties and an excellent G&T honey made with wild ginger. Northland Bagels (facebook.com/bakedtoday) on the Kerikeri Rd will keep everyone happy and look out for numerous roadside stalls stocked with berries, which grow in the enormous shelter belts all summer long, and fresh citrus almost year round. Keri Berries Farm Store (facebook.com/keriberries) is well recommended and it also stocks Durham Farms produce.
Vineyards were first established in this part of the world by British Resident James Busby in the 1830s, and his legacy lives on with wineries and winegrowing areas scattered through this part of the north. A visit to Marsden Estate (marsdenestate.co.nz) is on everyone's list, but also look for 144 Islands (144islands.co.nz) and The Landing (thelandingnz.com) to truly taste the terroir.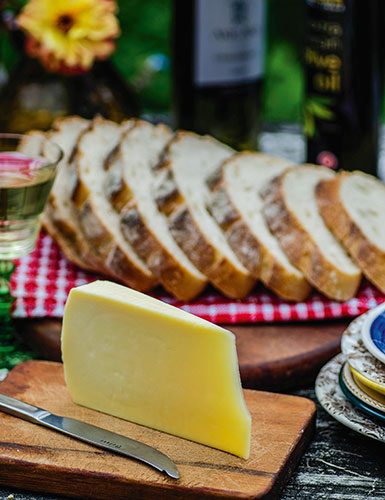 THE FAR NORTH
It wouldn't be a true Northland experience without swimming at the crystal-clear beaches. Head to Doubtless Bay, but first plan to take a revitalising soak in the newly renovated Ngawha Springs Hot Pools (ngawha.nz) followed by a double beef burger and mussel fritters at Kiwi Kai in Ōkaihau. It's a scenic route to beautiful beaches at Matauri Bay, Te Ngaere and Tauranga Bay and you can stop at Blue River Orchards (facebook.com/BlueRiverOrchard) for coffee and blueberry ice creams.
In Mangōnui, the restaurants to seek are The Waterfront Café & Bar (facebook.com/thewaterfront cafeandbar) and The Thai (thethai mangonui.co.nz) and at Coopers Beach you will find coffee and ice creams at The Beachbox (facebook.com/BeachBoxCoopersBeach), at Cable Bay Store (facebook.com/cablebaystore) and at The Bush Fairy Dairy (facebook. com/bushfairydairy). One of the gems of the area is Apatu Aqua (apatuaqua. co.nz) at Coopers Beach. Fresh wet fish and all sorts of amazing seafood is offered at its smokehouse and this is another top recommendation from our chefs.
The Karikari Peninsula to the east of Kaitaia has stunning twin beaches at Matai Bay, and Carrington Estate (carrington.co.nz) is a touch of luxe with villas, a hotel, golf course and an excellent winery with casual meals. Near Pukenui and Houhora, stop for avocados on roadside stalls and marvel at the vast acreage planted with this nutritious, creamy fruit. Finally there's the loop to Cape Reinga and guided tours will take you to New Zealand's northernmost point and for a drive along the famous Ninety Mile Beach, tide permitting. Finish at Ahipara for fresh snapper and chips to eat on the beach.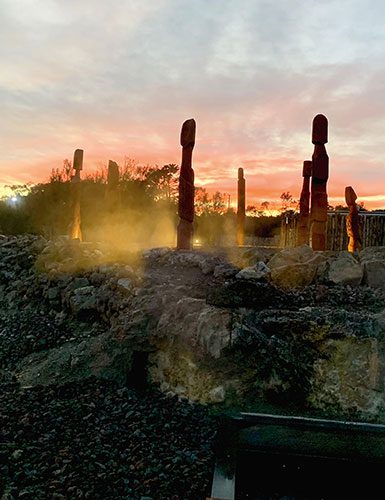 KAIPARA AND HOKIANGA
While the eastern coast is well known for boating, beaches and lush growth, it's worth taking a different path by leaving SH1 at the foot of the Brynderwyns and heading west to northern Kaipara. The Thirsty Tui at the Paparoa Hotel (paparoahotel.nz) has stylish accommodation and on the dining menu the baked flounder from the Kaipara Harbour is not to be missed. The Crispy Grind (facebook.com/thecrispygrind), a kai cart at Tinopai, has great snapper burgers and coffee.
Head on, passing the kūmara fields alongside the Northern Wairoa where you will find roadside farm stalls, through sleepy Dargaville and, if you have time, visit one of the wild and wonderful beaches to the west of that township. Journeying on, take a walk in the shady Waipoua Forest and on to the stunning and almost forgotten Hokianga Harbour. At Omapere, book into The Heads (theheadshokianga.co.nz), crossing the harbour to go horse riding or sliding down spectacular sandhills. Learn the intertwined stories of Kupe and the Hokianga Harbour on the 75-minute tour of recently opened Manea – Footprints of Kupe (maneafootprints.co.nz) and don't miss the excellent fish and chips in Rawene at Hokianga Takeways (hokiangatakeaways.com). Life moves at a different pace here and it's one of the best hidden gems of the north.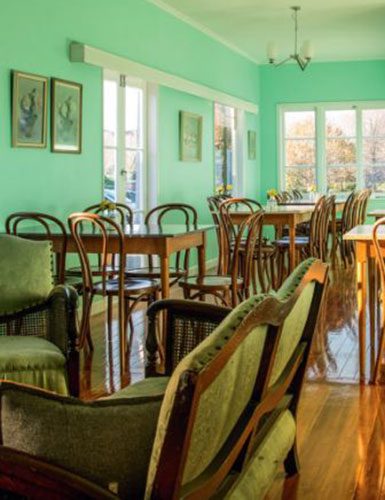 MARKETS OF THE NORTH
LIKE ANYWHERE in the world, to understand the food of the region, head to the farmers' markets to see what's seasonal, what's cheap, what's truly special in the area, and to meet and engage with locals. Look there for some of the special producers on our pages.
MANGAWHAI TAVERN MARKET Saturdays 8.30am to 1pm. Local produce and products including olive oil and honey, food trucks and a holiday atmosphere. mangawhaitavernmarket.co.nz
WAIPU SUNDAY BOUTIQUE MARKET Second Sunday of each month in the Coronation Hall with 50 stalls of locally grown produce, preserves, baked goods and local arts and crafts. waipumarket.co.nz
WHANGAREI GROWERS MARKET Every Saturday morning 6am to 10am. Strictly only growers and their fresh produce including value- added preserves, sauces, flowers, seafood and local meats. Go early for the best picks. facebook.com/thewhangareigrowersmarket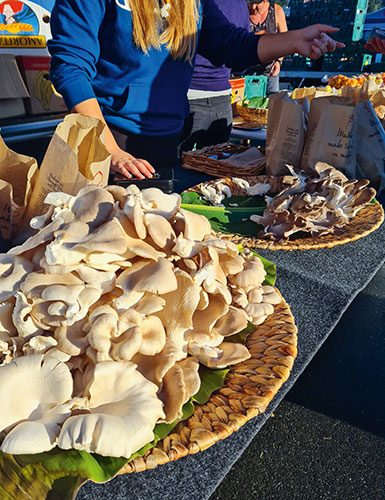 PAPAROA MARKET Saturday mornings, for sparkling fresh local Kaipara Harbour fish and seafood, olive oils, delicious homebaked patisserie and more. facebook.com/Paparoafarmersmarket
BAY OF ISLANDS FARMERS MARKETS Thursdays on the Paihia Village Green 12.30pm to 3.30pm and Sunday mornings at the post office carpark in Kerikeri. A wide variety of luscious local fruits, eggs, orange juice, vegetables and coffee. bayofislandsfarmersmarket.co.nz
OLD PACKHOUSE MARKET This purpose-built market is held on Saturdays 8am to 1.30pm and is a focal point for food artisans and Northland produce with a fair sprinkling of local arts and crafts. The Packhouse Store and café on site is open 7 days. theoldpackhousemarket.co.nz
KAITAIA SATURDAY MARKET 7.30am to 12 noon. A real taste of the far north including exotic herbs and vegetables, local produce and food trucks and craft stalls.