GOCHUJANG BEEF SOUP

Slice an onion and fry for a few minutes, add 1 litre beef stock along with wedges of daikon and cubes of potato and 1-2 tablespoons (or more) gochujang paste. Simmer for 15 minutes or until the vegetables are cooked through. Add some oyster mushrooms (and some kimchi if you like it), and add thin slices of raw steak to poach in the soup for a few minutes (alternatively add some previously slowcooked beef). Garnish with chopped spring onions.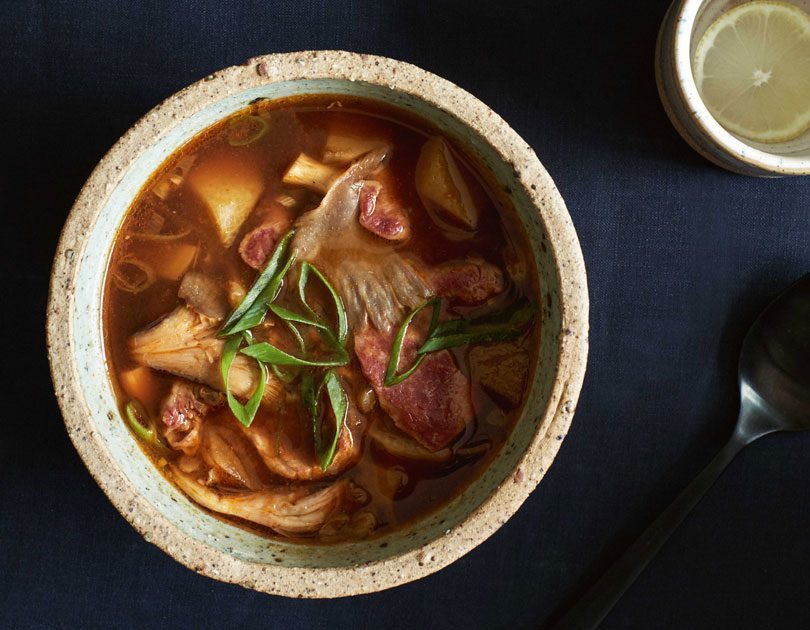 This sweet and spicy paste is traditionally made from fermented soy beans, glutinous rice, chilli, salt and malt powder, sometimes with sweeteners. Some versions are wheat free. Usually found in Asian grocers and increasingly in supermarkets, it makes a handy staple for the fridge. It packs a power punch of heat and umami, making it one of the more useful additions to your toolkit – and also a slightly addictive one.
Kimchi fried rice with fried egg Fry spring onions, garlic and ginger in a wok or heavy frying pan. Add finely chopped kimchi with a couple of tablespoons of gochujang and fry for a few minutes. Add rice and stir to coat and cook until heated through. Garnish with a fried egg for each plate, chopped spring onions and sesame oil.
Gochujang mayo Combine mayonnaise with 1-2 teaspoons of gochujang paste and a squeeze of lemon juice if required. Use to dress an autumnal slaw of cabbage, fennel, radish and celery.
Spiced chicken Marinate chicken drums overnight in sesame oil, gochujang paste, ginger, garlic, sugar and soy sauce. Bake until cooked through, garnish with toasted sesame seeds and spring onions, and serve with rice and stir fried vegetables.
Pork meatballs Combine pork mince, cooked rice or breadcrumbs, an egg, minced garlic and ginger, soy sauce and a tablespoon or two of gochujang paste. Blend well, roll into balls and cook. Serve with rice and a dipping sauce made by boiling equal parts honey or rice syrup, gochujang paste and rice vinegar until slightly thickened then add soy sauce and sesame oil to taste. Drizzle over the meatballs. Garnish with sesame seeds and chopped spring onions.