OH, HOW I LOVE THESE. Somehow meaty, salty, fishy and simply delicious. I rave about these all the time because they can turn something quite ordinary into something sublime. I've been known to gift large tins of the anchovies to fellow lovers of the umami-rich, salted and cured fish. Yes, they are pricey, but most of the time you only use small quantities – unless of course you are making bagna cauda, the Piedmontese hot anchovy dip, in which case you'll want to throw all caution to the wind. Of course, the simplest way to eat them is on a slice of good bread with lashings of unsalted butter.
Silverbeet anchovy gratin Blanch silverbeet leaves in salted boiling water. Add vinegar to the water and cook the stems, then slice. Fry garlic with butter, add chilli flakes and a few anchovies and cook until the anchovies have melted. Add the stems, sprinkle with flour and add some of the vinegared water. Simmer for 10 minutes, add the silverbeet leaves, put into a gratin dish and cover with breadcrumbs and parmesan. Bake until bubbling.
Bagna cauda Take 6 cloves of peeled garlic and put into a small saucepan with just enough olive oil to cover. Cook gently until very soft but uncoloured. Add 12 fillets of anchovies and whisk to melt the anchovies and mash the garlic. Add chilled cubes of butter and whisk until emulsified. Keep warm and serve as a dip for raw vegetables such as celery, radish, carrot, fennel or cooked ones such as potatoes and silverbeet.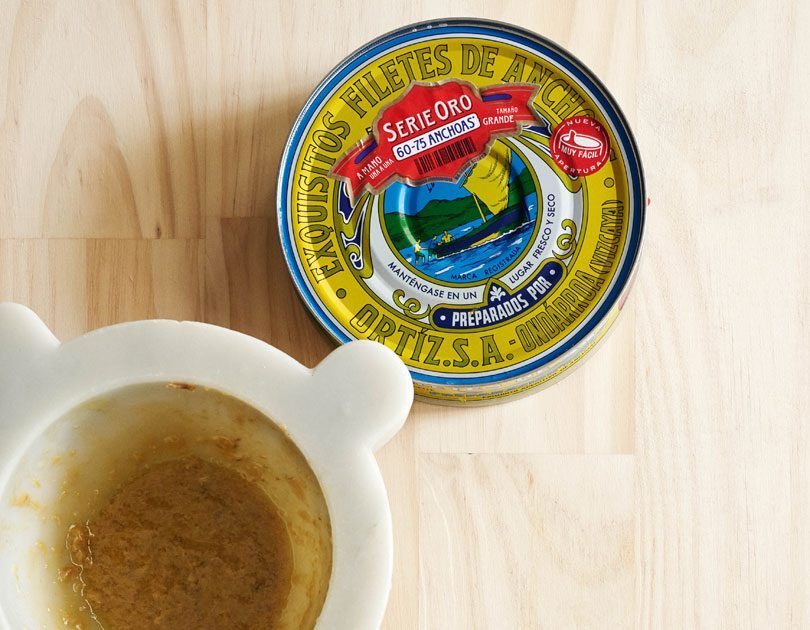 ANCHOVY SAUCE FOR LAMB WITH PEARL BARLEY & SPINACH SALAD

Pound a small clove of garlic and 4 anchovy fillets to a paste, add grated lemon zest, the juice of a lemon and 3 tablespoons of olive oil, thinning with a little water if necessary. Cook ½ cup pearl barley for 20-25 minutes until just tender, add 150g spinach leaves to the pot to just wilt, then drain well and mix with the zest of 1 lemon, the juice of half a lemon and 3 tablespoons extra virgin olive oil. Serve with slices of roasted lamb rump.