KIWI CHEFS REVEAL THE ESSENCE OF NEW ZEALAND CUISINE.
The question "What is New Zealand food?" is often asked and it's tricky to answer. New Zealand's food culture has evolved dramatically, but perhaps we will never have a 'New Zealand cuisine' as such. We are not bound by the time-honoured culinary traditions that bind so many other countries, leaving us free to create our own food identity. And our proximity to an incredible array of premium produce and exciting Kiwi products allows us to punch way above our weight when it comes to delivering New Zealand flavour. As the Cuisine team travelled the country assessing restaurants for the Cuisine Good Food Guide's Top 100, we felt a definite shift towards telling the New Zealand food story by using local ingredients in creative and mindful ways. So we thought we'd search for the best representations of New Zealand on a plate, the dish that you might offer to visiting food lovers in search of a taste of New Zealand, the dish they simply must not miss out on.
We asked some of our leading chefs and restaurateurs to identify a dish they have created that delivers pure New Zealand flavour. What emerged were many extraordinary stories of food memories, cultural heritage, individuality and pride. You can see from the eclectic menu below that these chefs are building a relationship between the ingredients and their surroundings to create food that becomes uniquely New Zealand.
SIMON WRIGHT, FORMERLY OF THE FRENCH CAFÉ
"For me, the one dish that I have created that really tells a New Zealand food story is my take on the whitebait sandwich. As a chef there is nothing more  interesting and creative than trying to reinvent a national classic into something you can call your own. My story starts at a farmers' market one morning when I was having a day trip with my family. There was a guy making whitebait fritters on a hot plate, putting them between buttered slices of white bread and serving them with tomato sauce. They were basic but delicious. The challenge for me was how to make this into a restaurant dish, so I changed the cooking process by making the filling a bit more like a savoury custard and cooking them gently in the oven like a crème brulée. I then sandwich the whitebait custard between two slices of thin white bread and pan fry them to give the sandwich some texture. Definitely the most talked-about dish I have ever done."
ED & LAURA VERNER, PASTURE
"For us to be able to tell our diners the story of our muttonbirds, where they are found, how they are harvested and their preparation is an exciting experience. When we go to the table and tell people that they can have a muttonbird cooked for them over the fire, it results in a lot of discussion. Many New Zealanders have negative memories and strong feelings about them. The adventurous will give them a try with us, and it's often a profoundly different experience for them because our birds are not frozen or salted and we serve them rare. We age the birds and then cook them over the manuka wood fire. It is a real feat of cooking to prepare half a small bird over flame and then carve them, serving the breast, leg and frame. We want it to be a 'raw' experience and eating without cutlery is really important with this dish – nothing on the plate but the bird itself. Each part of the bird tastes different so it is a journey of flavour and texture as diners explore the bird. We know it's confronting, we know it's controversial. This is a dish that surprises/alienates/ confuses/resonates/captivates… it is anything but safe."
MAKOTO TOKUYAMA, COCORO
"Our signature sashimi platter defines and highlights NZ flavour for me in the form of 25-30 different varieties of sashimi from Japanese cuisine. It is also the result of my 15+ years of work in New Zealand. There is so much great seafood that is still not well known by New Zealanders, for example alfonsino and blue mackerel. New Zealand is an island country surrounded by beautiful ocean and seafood resources. I still remember when I first came to NZ expecting some amazing seafood, but I was rather disappointed. Varieties were limited and quality was not so great, especially when we are talking about sashimi quality. I found out that all the best-quality seafood went to export. Therefore since the early days I have dedicated much of my career working with New Zealand suppliers to source the best-quality seafood to my restaurant. It was hard work as we have never had large-scale buying power. I am proud to say that I believe I have helped make some of this seafood available commercially to the public and to chefs in New Zealand."
SID SAHRAWAT, CASSIA, SIDART AND SID AT THE FRENCH CAFÉ
"Paua cooked gently and sliced thinly, with sea lettuce which we dehydrate. We add a sweetcorn custard and unripe peach and we finish the dish with fig leaf oil made from the fig tree our neighbours have downstairs. For me this dish was about evolving as a chef, and also reflected the development of my identity through food. I think my identity has evolved from being an immigrant chef who came to Aotearoa in 2000 and was the "Indian chef cooking Kiwi food" to a chef who now calls Aotearoa home and is showcasing NZ produce and its globally influenced food culture. My identity now is a Kiwi chef cooking the kai of Aotearoa. I think it was the natural progression in my own journey and identity that dictated the time of the change and commitment to NZ-only produce at Sidart, over any global trends in food."
JEREMY RAMEKA, PACIFICA
"Our indigenous foods haven't been taken seriously due to their simplicity and (I would guess) their acceptance in society. I feel there has to be a combination between innate indigenous and worldly know-how to truly make them our own. The dish I have chosen is smoked warehou and shiitake mushroom congee with softly steamed mussels. The congee itself is sago-based instead of using rice which gives it a more transparent look; the mussels have been previously shucked so they can be gently steamed. You can only get those certain flavours with warehou and green-lipped mussels, both of which are prominent and abundant ingredients from NZ – it's also a more affordable way of eating. Price for the average person is always a concern for me and a need to use sustainable ingredients that are plentiful."
GIULIO STURLA, ROOTS
"It's a good question that you have asked, and it is not hard for us to find the answer. We feel our paua, cauliflower and pork broth represents all New Zealand flavours. It reflects the ocean with paua that were the main source of food for the first inhabitants of the islands. It also represents the trade of pork by the first voyagers with the natives of New Zealand, to create boil-up dishes, and the cauliflower points to the farming and agriculture that has created an economy based on what the land produces. This dish has had many forms on our menu over the years but those three main ingredients are the perfect representation of New Zealand flavours."
TONY STEWART, CLOONEY
"We have created a beautifully intricate canapé selection to help our diners see and eat ingredients that have played and are playing an important role in New Zealand's food culture. The selection includes a contemporary approach to  a traditional Māori dish, using green- lipped mussels and highlighting Māori  influence on today's dining; vegetables grown in a remarkable edible soil that pays tribute to The Garden to Table Trust; head chef Nobu Lee's take on that quintessential Kiwi favourite, fish and chips, complete with smoked eel, agria potato paper wrap and a Clooney twist on L&P; a paua mousse with butter emulsion, using paua rated as New Zealand's most sustainable source of seafood, highlighting how innovation plays an important role with ingredients; a tart featuring farmed Dunedin locusts in a tribute to what the future of sustainable protein production might look like. Finally, we have created three petit fours using inga beans, tamarilloes and lady finger bananas from a special organic permaculture farm in Matapouri, where they transform clay soil into deep topsoil with ever-increasing fertility on community trust land. This is our way of giving pure NZ ingredients profile."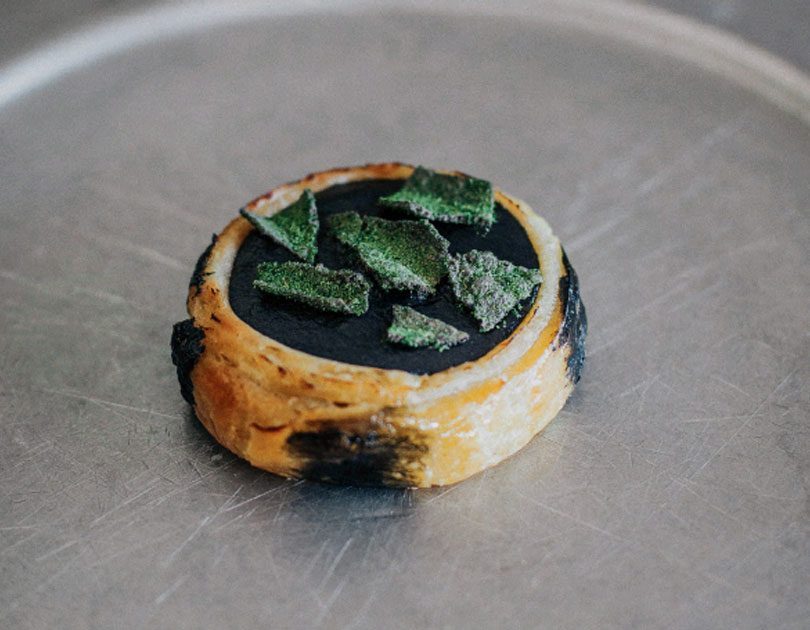 BEST NZ DISH 2018
There are so many pockets of brilliance around the country where chefs are creating incredible plates of NZ flavour. The chef that has caught our eye this year, and the winner of our Best NZ Dish category, is Vaughan Mabee from Amisfield Bistro with his dish, The Paua Pie. It's inspired by memories of a childhood favourite, the smoked kahawai and potato pie that was a much-loved family meal.
Amisfield diners have been treated to this unique taste of New Zealand for some time now.
"The paua pie is one of our hero dishes. We have used wild paua from Bluff and Stewart Island. Recently Aaron Parker invested in a paua aqua farm in Bluff. We are following his guidance for the sustainable future of this amazing product. Although southern paua is one of the best managed quotas in New Zealand, we need to look ahead for our oceans' wellbeing." Mabee says when he was a young boy foraging up in the far north, an iconic Kiwi pie was often at their family table. "Either white fish  pie with pastry or a smoked mullet and potato pie – these flavours remind me of my youth and remind me of the amazing upbringing we had with the ocean."
As we went to print, Mabee and his team were working on a new paua pie, still using the same flavour profiles with classic brisee pastry, textures of paua crackling made from the offcuts, manuka-smoked potato, live paua shaved and cooked lightly in butter and garlic, aerated paua and Amisfield wine espuma. Bluff ocean flavours are added using ice plant and beach spinach. At Amisfield, Mabee only uses NZ products, as he feels that doing this excites his Kiwi guests with food memories and also gives his international guests flavours they haven't had before. "By cooking up ideas from what's growing around us each season, our guests get a sense of where they are and the time they are here."
At the end of this exercise, we have learned that there are many clever chefs creating incredible plates of New Zealand flavour around the country, many that we could not get to this year. For the Cuisine Good Food Awards 2019 we will work on taking an even broader view of the country. We believe the Best NZ Dish category offers great potential for taking the New Zealand food story to the world.