Our top NZ makers for 2018
THESE ARE A FEW OF OUR FAVOURITE THINGS FROM NZ MAKERS.
1 / WHAT: Home-grown-willow table trivet
WHO: Mike Lilian, basketmaker
Mike Lilian grows his own willow to weave into baskets and other covetable pieces for every need, such as this practical yet beautiful willow trivet.  He crafts baskets for picnics, baskets made to measure for your kitchen or laundry, hampers to store bedding and linens, to pile high with logs or the perfect produce-gathering basket for a trip to the farmers' market.  There are woven willow chairs, garden sculptures, occasional tables, and even cradles and babies' rattles, too – all part of Mike's desire to make items that are beautiful, useful and traditional. windwillowbasketry.com  and available from instagram.com/  frances_nation_shop/ 
2 / WHAT: Handmade candles
WHO: Hohepa Hawke's Bay
These lovely handmade candles are sourced from Hohepa, a proud artisanal community that is part of a wider group of intellectually disabled residents living under the holistic care of the Hohepa organization. The Candles Workshop is just one of several work centres where people learn and master crafts such as woodworking, candle making, weaving and cheese making. The ancient craft of candle making connects a sense of aesthetics and beauty with a highly developed set of skills which suits the workers well – mostly adults with an intellectual disability. An environment of warmth and colour is coupled with a measured working pace which engages and supports people in their physical, emotional and spiritual wellbeing. Hohepa's mission is to bring a bright light into everybody's life, both the candle makers and their customers and the end goal is always  to abide by the mantra: 'Every life  fully lived.' hohepahawkesbay.com
3 / WHAT: Potato masher
wHO: Derick and Jenny Foss
From their 10sqm garden shed in suburban Christchurch, husband and wife duo Derick and Jenny Foss run a busy little enterprise specializing in unique kitchen tools that work well and should last a lifetime. Reminiscent of the kitchen tools that your granny might have had, this traditional-style potato masher is handcrafted with a quality-grade stainless-steel body and a hand turned New Zealand rimu handle; it will not rust, bend or break and is guaranteed to work brilliantly. Available from instagram.com/frances_nation_shop/ 
4 / WHAT: Pink ceramic candlesticks
WHO: Kirsten Dryburgh Ceramics
Kirsten Dryburgh is a studio potter with a background in floristry, illustration and fine arts. Having run a pottery studio in Herne Bay in the 90s, she was lured back into the pottery world four years ago, working from a studio/ shop in Grey Lynn from where she supplies local stores such as Widdess, The Poi  Room and Precinct 35. These cute candlesticks were inspired by classic forms and then given a contemporary twist. They are hand thrown using local white stoneware clay blended with ceramic pigment and ground volcanic rock, then coated in a clear glaze. @dryburghpottery 
5 / WHAT: Tulip bowl stand
WHO: Walk in the Park
Husband and wife team Sam Choi and Jiho Yun believe in a simple, honest approach to design where aesthetics and utility are intrinsic. Originally from Korea, Sam studied furniture design and Jiho film-making. Nowadays woodturning is Sam's passion, and from a Titirangi studio surrounded by bush, he makes bowls, cups, trays, cake stands and funnels from sustainably sourced New Zealand wood, the likes of rimu, kauri, pūriri, kahikatea and rewarewa. The elegant tulip bowl stand featured is made from New Zealand native totara and swamp kauri.  The name Walk in the Park comes from the idea of taking things slowly and noticing the details – thinking about the journey, not the destination.  walkinthepark.bigcartel.com 
6 / WHAT: Pottery tea bowl
WHO: Elena Renker Ceramics
For Elena Renker a tea bowl is the most fascinating and intriguing thing to make, an object of contemplation combining functional and sculptural elements. It has to be well made and well balanced, not too heavy, not too light and to feel good in the hand. It has to be pleasant to touch and to use. But one of the most important aspects of a tea bowl is the foot of the bowl.  Not only should it match the style of the bowl but it is also a reflection of the character of the potter, almost like a signature. And a tea bowl has to provide interest for the eye, to show the clay body it is made of, the touch of the potter's hand, the glaze and the effects of the firing process. Elena's aim is not perfection, on the contrary, her belief is that imperfections make the bowls come alive, make them easier to relate to, make them more human. Available from Te Uru Waitakere Contemporary Gallery. teuru.org.nz 
7 / WHAT: Gift lessons in  flax-weaving techniques
WHO: Jude Hoani-Te Uruti (Auckland)  and Rekindle (Christchurch) offer  courses, but it's easy to find one near  you with a quick Google search
Learning a new craft can be immensely satisfying and a short workshop can be the ideal way to start. Not only do gifted teachers coach you in a new skill but at the end of the day, you have a unique self-crafted item to take home or to give as a gift. In Christchurch Rekindle run basket- weaving sessions using tī kōuka (cabbage-tree leaves) at the Arts Centre in Ōtautahi. It's just one of the many skills they offer – including wooden-  spoon carving, string and rope making and greenwood-furniture making –  aligned with Rekindle's aim to teach people to make what they need from what they have locally, including undervalued materials such as cabbage-  tree leaves, flax leaves or green wood.
In Auckland Jude Hoani-Te Uruti introduces beginners to the art of weaving kōrari (flax) into baskets and paaro (food bowls). Working with natural materials not only teaches a skill, but also an appreciation of nature and of using materials in new ways. And as Jude says "To weave kōrari you have to be in the moment. It's the best  mindfulness training anyone could  have." rekindle.org.nz or @jh.weaver
8 / WHAT: Stone dinnerware
WHO: Homeground
We defy you not to reach out to cradle  one of Amie Redpath's creations in your  hands, to test the heft of the pestle and  enjoy the perfect tactile combination of  form and function. She made her first pestle and mortar eight years ago when she was living on Great Mercury Island in the Coromandel. Her existing one was frustratingly small, and it wasn't like she could just pop out to the nearest homeware store to buy a new one. So, she went down to the beach, picked up a few nice rocks and made herself a thick, weighty mortar and a nice long pestle with rounded ends. Now, as well as gorgeously chunky pestles and mortars, she makes salt and pepper bowls (such as the ones pictured), soup bowls and platters. She works with what's available, mainly andesite, basalt, granodiorite and granite, as well as some greywacke and schist. These are rocks that are crying out to be picked up and used in your home. homeground.nz
9 / WHAT: Clean & Dry hand- embroidered linen tea towel
WHO: Companion CoDesign
Made by migrant and former  refugee women now living in New  Zealand, this 100% linen tea towel is  embroidered with Arabic and Amharic  text, illustrating the beauty of diverse  societies. Will and Kareen Durbin of Companion CoDesign understand that meaningful employment is a crucial component for migrants to integrate successfully, so they create opportunities for people to connect through crafting furniture and textile items. Building on the skills carried here by migrants they explore the outcomes of collaborations between different traditions. Much of what they make is unique – showing the very marks of the artisans' hands and minds.  companioncodesign.com
10 / WHAT: Wooden spoon
WHO: Tom Muir, woodworker
Sculptor-chef Tom Muir is passionate about creating practical items of lasting beauty with a strong connection to Aotearoa. Described as heritage cookware, kitchen items such as this wooden spoon are made to be used and to be passed on, like treasured possessions. All the implements and boards are made from sustainably sourced New Zealand native timbers.  Most of the knife blades and spoon heads are fashioned from black maire, one of New Zealand's hardest timbers, used by the early Māori for cultivation tools and weaponry. The spoons, spatulas and servers are all individually made so there is variation in the style and types of wood used    for the handles. The aim is to produce one that feels just right for you, so left handers are catered for too.
He also make a diverse range of boards – from small to large and from solid rustic to fine elegance – featuring rare and beautiful native timbers.  Available from kuragallery.co.nz
11 / WHAT: Forged soup spoon
WHO: Nate Savill (Nate the Blacksmith)
Nate 'discovered'blacksmithing while hitchhiking through the  South Island in 2010, where he met  'Greeny' a blacksmith in Westport.  Subsequently, he moved there to complete a one-year course in blacksmithing, followed by a three- year visual arts degree in Auckland.
Today he makes such wideranging items as bottle openers, fire pokers, door handles and candle holders to contemporary sculpture, chandeliers and gates. Fascinated by blacksmithing as the antithesis of modern mass production, each piece of Nate's work, such as this wonderfully quirky soup spoon, has its own unique qualities, and it is these small imperfections that make his work stand out.  He forges primarily in steel but has also forged in copper and silver.  Available from Te Uru Waitakere Contemporary Gallery. teuru.org.nz
12 / WHAT: Ikebana pot
WHO: Fiona Mackay
Fiona Mackay started taking classes in ceramics just under two years ago, and she immediately fell in love with the whole process of throwing on the wheel and transforming the raw product of clay into a finished and functional piece.  With a background in furniture design, she is drawn to and loves products with very simple, clean and well-proportioned lines. This is evident in this elegant ikebana pot, inspired by Fiona's growing collection of foraged twigs and interesting pods that she has collected while out walking. Perfect for those who love the simplicity of just a singular flower or two or just those of us frustrated by their inability to arrange flowers in a vase properly.  The little ikebana pots work well with either one simple foraged flower or a  collection of interesting pieces of foliage  – not that we're advocating that you go out and steal your neighboUr's prized blooms for your table centerpiece.  fionamackayceramics.co.nz
Read More…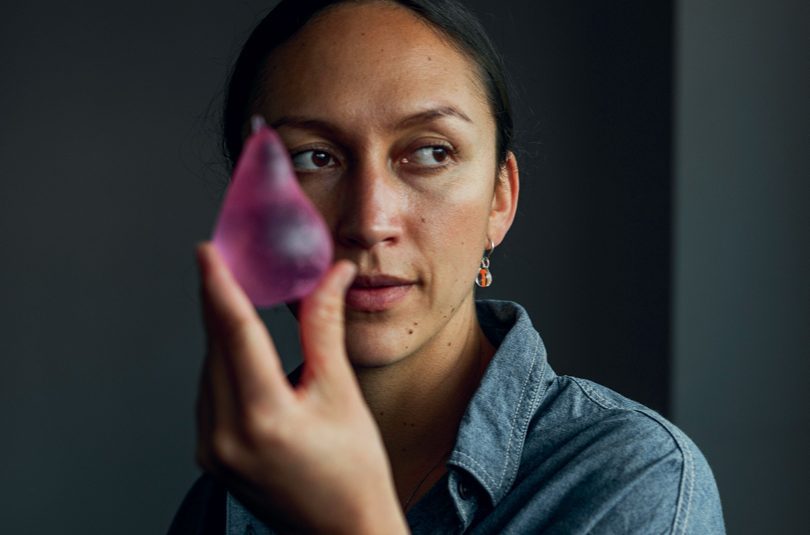 I'm bemused by my visceral reaction to Devyn Ormsby's glass fruit.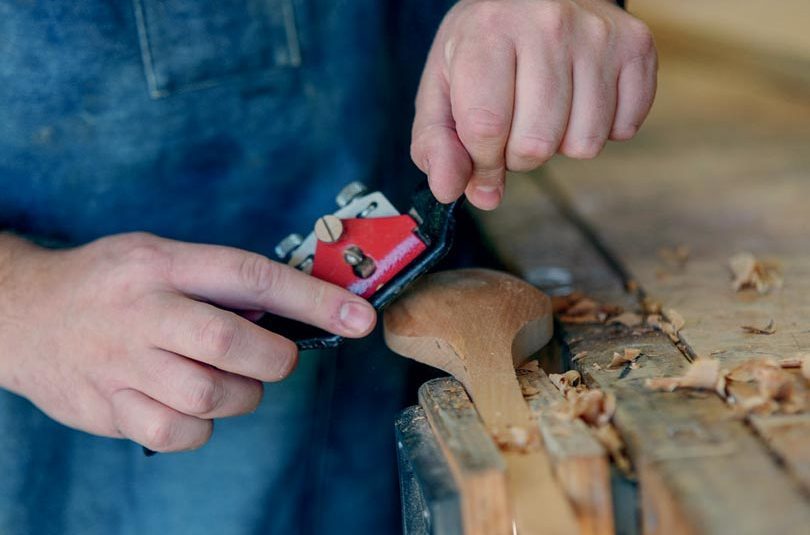 IN THIS WORLD there are talkers and then there are doers.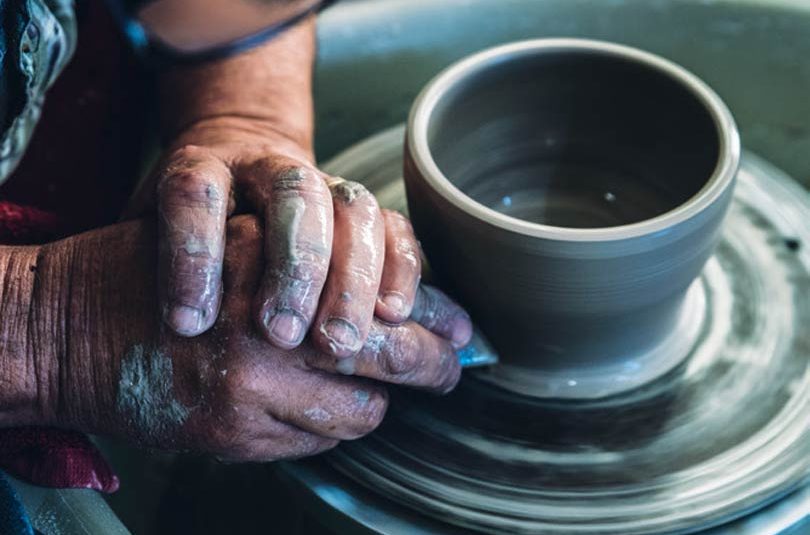 When Kate O'Sullivan put out a call to the members of her club to ' bring a plate' it wasn't a batch of sausage rolls or a tray of chicken wings that she had in mind.