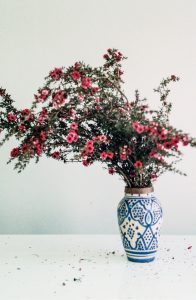 Random acts of kindness sometimes require a bit more structure and that's what Kind Arrangements delivers both figuratively and literally. Every week someone will receive a bouquet of flowers – a burst of design on their doorstep – the result of a chain of thought and action by two young Aucklanders who are behind the idea. The couple, who operate via an anonymous Instagram account, started this project because they consider flowers 'the language of love'. "My boyfriend and I often made arrangements for each other and we thought, 'Why not do this for others?'"
Both work in the creative industries of photography and graphic design, so although neither are trained florists, they have an effortless way with form and an eye for colour. Finding the blooms to use, however, takes a little more legwork. "We forage for wild flowers in the area where we live or, if we drive past a place that has a nice garden, we'll leave a note in the letterbox and ask if we can come back and pick a few stems." Thus the kindness net is spread.
Once they've put a bouquet together, they'll post it on Instagram and ask their followers to suggest a recipient and why they deserve it – no tags, of course, to keep the source and sequence of events secret. "We've had so many amazing stories, and some are heartbreaking, but the ones I like the most are about friendship." A note with a message from the nominator accompanies the unexpected floral find often left at the front door or posted into a letterbox, then the couple (who drive all around Auckland hand delivering the bouquets) take a quick snapshot of the deed for a follow-up Insta post, and Kind Arrangements work is done. Until next week.
These freestyle flowers – perhaps a spring spray of daffodils and white lilies or a native gathering of mānuka, Queen Anne's Lace or common yarrow from the roadside – are finding favour. Fashion boutique Ruby and jeweller Jasmin Sparrow have donated bouquets in the past and sometimes florists take part in this gesture of goodness.
Ultimately the couple hope that others outside of Auckland will take up the cause. "If we were to dream on a ridiculous scale, we wouldn't do it all ourselves – we'd find people around the country, either businesses or individuals, to do the same thing."
Meanwhile their once-a-week gesture (Free flowers. For them, from you, with help from us) continues. "When I was in my early 20s, I never did anything for anyone for nothing but now I like to give time and thought. Ultimately our lives are richer by doing for other people so we benefit in terms of wellbeing too."
instagram.com/kind_arrangements/
CLAIRE MCCALL