ADDRESS:   8A London St, Lyttelton
CHECK WEBSITE FOR OPENING HOURS
TASTING MENU:   $200pp
WEBSITE:    mapu.co.nz
CONTACT: For private dinners email hello@giuliosturla.com
SCORE:   18 / 20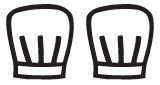 By its own description, Mapu is a 'no opening hours, no menu, no complications' kind of place. It's also not a restaurant; it's an 'experimental kitchen' that seats a maximum of six. Fear not. To enter into Mapu is to behold the insouciant bravado of owner/chef/ sommelier Giulio Sturla (ex- Roots, a Cuisine three-hatter). This is as much a dining encounter as it is a storybook occasion: Sturla cooks under your nose, talking about the provenance of each dish as he serves it up. Settle in for some delightful surprises. Clams with blackcurrant syrup kickstart the occasion, the dry-aged moki has pinenut milk made from scratch and the porcini gelato with kelp cream is a dessert, not a starter. You want wine with this? Sturla provides the perfect match. You want non-alcoholic? He'll hand-craft that, too.
IN BRIEF A magical mystery tour of amazing innovation
---