IN BRIEF
Excellent and appealing menu with creative twists on some of the classics, made with fine ingredients treated with respect, and a tasty selection of breakfast cocktails.
WHY CHOOSE THIS RESTAURANT?
Not only does Miro seriously deliver hands down as one of Christchurch's very best brunch and lunch restaurants, but it also fires on all other domains, offering location, ambience, large windows, cosy fires, attentive staff, and tasty beverages, including cocktails, wine and health- focussed smoothies. A recent addition is the opulent top floor for private events, which boasts a large, elegant dining room with a bar and several lush, intimate interconnecting rooms.
ABOUT THE MENU
Every component in each dish has purpose and consideration, and head chef Liam Summers' regularly changing menu reflects his abundance of creativity, such as cold smoked warehou with fried artichokes, sunflower seeds, spinach, lemon and parsley dressing. House-made rosemary focaccia, avocado, whipped labneh, tomato chilli jam, jalapeño salsa, zaatar and poached eggs were offered with an extremely generous shaving of North Canterbury black truffle. Smoked Hereford brisket, potato and leek cake, poached eggs, hollandaise and rocket is an absolute hero of a dish, and a side of salt and vinegar potatoes is always a must. It was necessary to leave with several house-made cinnamon brioche in a bag for later.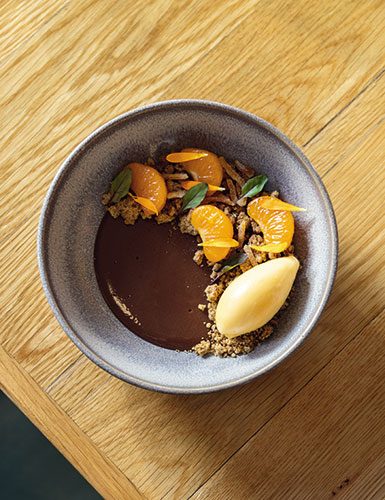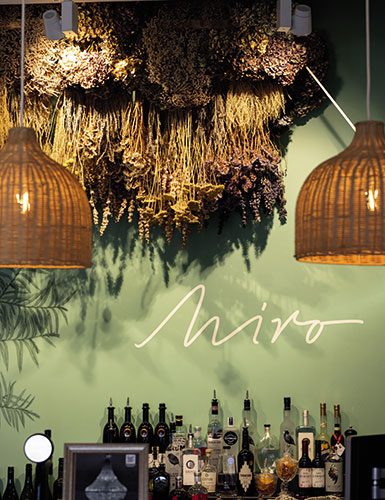 ABOUT THE CHEF
Head chef Liam Summers is committed to using sustainable, quality-focussed ingredients, making everything carefully from scratch in his kitchen. He is known for his exceptional work ethic and loyalty, and is often spotted foraging in the bush around the city on his day off. Liam was sous chef at Pegasus Bay Winery for five years and it is exciting to see him excelling in a well-deserved head chef role.
ABOUT THE TEAM
Owner Francesca Voza is a real hospitality professional who has been involved in a number of highly successful venues. She is onto a real winner here with her team and location. Manager Ana-Maria Didenco is warm and welcoming, and committed to making you feel at home; she leads an attentive and knowledgeable front-of-house team. Cameron Woodhouse, ex sous-chef at Inati, has joined the team as the baker and is providing house-made pastries and bread, including chocolate éclairs, focaccia and sourdough.
OF NOTE
Miro is housed is one of the last heritage art deco buildings that survived the 2011 Christchurch quake. It has hospitality in its bones as it was previously home to Café Romas, a Christchurch institution. Situated on the Avon River, this building is unique and special, and the fixtures, walls, see-through elevator and bathrooms are worthy of a visit just to admire.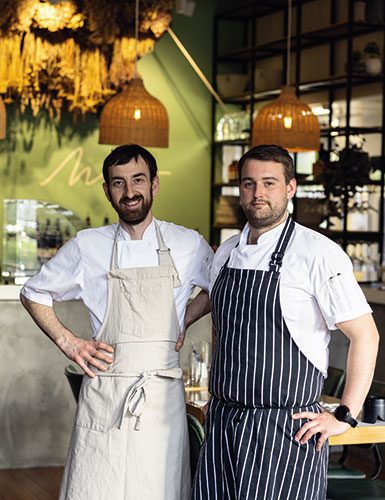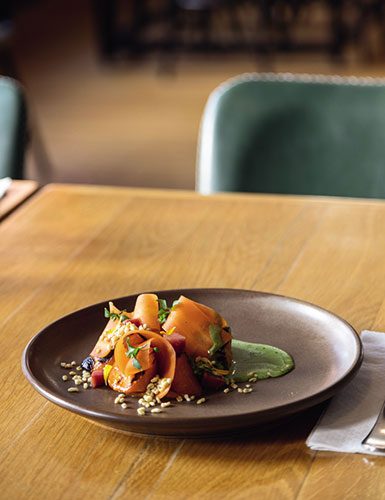 ADDRESS: 176 Oxford Terrace, Christchurch
Check for opening hours post- COVID-19 lockdowns
MAINS: $19–35, brunch $75pp
CONTACT NUMBER: 03 925 9909
WEBSITE: miro.nz