KELLI BRETT TRAVELLED TO NEW YORK CITY IN SEARCH OF THE BEST.
As we surge towards our Cuisine Good Food Awards for 2019 and the allocation of our hats for the very best of the best dining experiences in New Zealand, I had the opportunity to visit New York, and I made a beeline for the four restaurants that made the World's 50 Best Restaurants list for 2018. As I write, the 2019 World's 50 Best awards are approaching, and who knows which NYC restaurants might turn up on the new list. There are many hot new openers that are turning heads and gaining traction. But with only four New York restaurants making the cut in 2018, I was sure any establishment judged to be in the top 50 in the world, would surely be at the top of its game and deliver an unforgettable experience.
It is interesting that two of these restaurants have earned three Michelin stars in the 2019 Michelin Guide and two have not earned any stars at all. It was a great privilege to dine at all four restaurants and it was, unfortunately, painfully evident that New Zealand cannot yet consistently compete with the service standards at this level. We have pockets of brilliance, but we are not there yet. But that's another story.
Blue Hill at Stone Barns
630 Bedford Rd, Tarrytown,
Pocantico Hills
bluehillfarm.com
Number 12 on the World's 50
Best Restaurants list 2018
$278 per person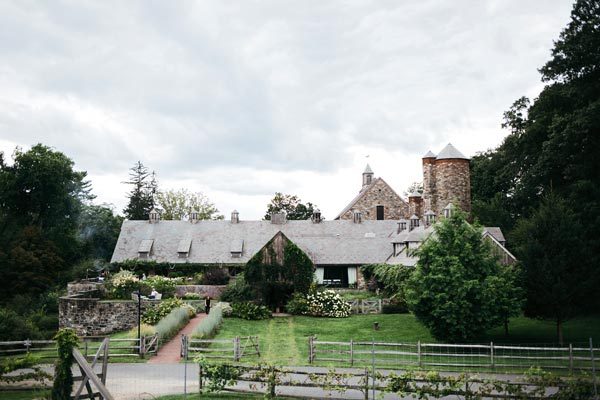 Thirty-five minutes or so out of Manhattan by express train you reach Tarrytown, Pocantico Hills, and then a short cab ride will deliver you to the non-profit Stone Barns Center for Food & Agriculture. Blue Hill at Stone Barns is the one restaurant that should be on your ultimate New York dining destination list for so many reasons. Let me explain…
A tour of the grounds and the spectacular greenhouse gave me just a glimpse of the incredible work being put in at Stone Barns Center, with their extensive and diverse farming operations, pasture-fed livestock, development of grains and field crops, fruit, flowers and compost in a four-season agro-ecological system. This allows chef and co-owner of Blue Hill at Stone Barns Dan Barber and his team to think about a recipe from the ground up. FROM-THE-GROUND-UP.
How many restaurants do you know that truly demonstrate that? There is no menu, although they do have a cocktails map cleverly devised using ingredients from each area of the farm. My first taste was delivered. 'Vegetables from the farm' was a showcase of just-picked baby radish, bok choy, greens and lettuce, suspended on fine metal prongs emerging from a wooden centrepiece, and totally naked except for a lick of lemon vinaigrette. I ate with my fingers and I have never had a radish that tasted like that: bursting with flavour. I surrendered to the luxury of not knowing what was to come next, secure in the fact that everything (a mixture of bite-sized and small portions) would be more considered than any other meal I have ever eaten. No two tables receive the same menu, as the farm-to-table process means there might not be enough of any one thing to serve the entire room.
The food came at me hard and fast, dropped at the table each time by a different member of the team from within all layers of the business – some really chatty, some not so confident, all refreshingly non-jaded and totally engaged in the core philosophy that flavour can be our guide to reshaping our diets and our landscapes, from the ground up. FROM-THE-GROUND-UP.
After about taste number 15 I'm asked, "Are you ready for a field trip?" I'm allowed to take my wine into a kitchen that holds a buzzing but calm beehive of workers, including Dan and his chef de cuisine Bastien Guillochon, who deliver small tastes – a Badger Flame beet he has worked on to eliminate that beetroot taste that polarises people, a monkfish liver toast, some experimental oats, so humble, so intense. I ask him how we will ever get the average person to really value food. His answer: "Flavour, FLAVOUR, FLAVOUR, FLAVOUR." I'm having a serious fangirl moment.
I return to my table to find a leather wallet containing cutlery. I realise I have been eating with my fingers all night. It's confronting to return to the constraints of a utensil. At the end of my meal of over 34 tastes and combinations I'm given what appears to be a docket. It shows the frantic and intense nature of the kitchen, splattered with oil and possibly jus – it's the food process for my table. Stapled to it is the itemised menu, which I have itemised here. It is glorious. Do go to Blue Hill at Stone Barns, but don't go looking for this exact experience. Dan says there is a different flavour for everyone.
Le Bernardin
155 West 51st St
le-bernardin.com
Michelin Guide 3 Stars
Number 26 on the World's 50
Best Restaurants list 2018
Chef's tasting menu $US225 per person / $370 with wine pairing
The original Le Bernardin was opened in Paris over 50 years ago by Gilbert and Maguy Le Coze. The special thing about Le Bernardin was that it only served fish, perfectly sourced and prepared. After receiving its first Michelin star in 1976 and two more in 1980, the brother/ sister team opened a second version of Le Bernardin in New York in 1986. Chef Eric Ripert has been at the helm of this elegant fine diner as executive chef since 1994 and in 1996 he became part-owner. He has evolved both the menu and his kitchen philosophy as he has grown to be one of New York's most celebrated chefs. In 1999, Eric and Maguy formed Ripert Consulting and now help develop premium restaurants in Florida, California and New York City. They also partnered with the Ritz-Carlton to open restaurants in Washington DC, Philadelphia and the Caribbean.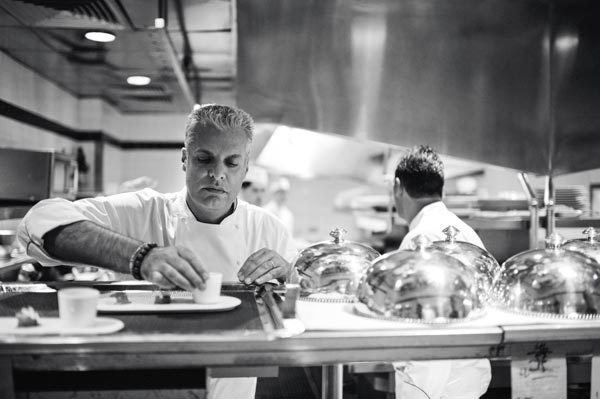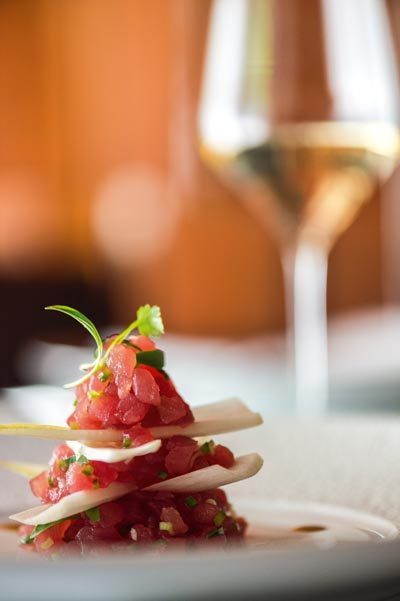 When the Michelin Guide made its New York debut in 2005, Le Bernardin received three stars and has retained them. This level of consistency is not achieved without attention to absolutely every detail. With a number of tasting menus and a classic 3-4 courses that feature "almost raw", "barely touched"' and "lightly cooked" options, the style is, of course, French, but with global influences heavily leaning towards Asian. Eric's mastery of technique shines within every sauce, infused bouillon, emulsion and vinaigrette, although the seafood remains the star, super-sophisticated in presentation, highly respected and true to the spirit of the Paris original. The Hamachi-Osetra caviar tartare, sea lettuce and dashi gelée was an exceptionally delicate and yet deliciously briny start to what was an outstanding chef's tasting menu. The ultra-rare smoked sea trout, pickled red onion and citrus-miso emulsion was a delightful plate of complex simplicity.
For a non-dessert-lover, my emotional reaction to the burnt orange crémeux and clementine-yoghurt sorbet with olive oil-citrus sauce was difficult to rein in and I am ever-grateful to the team for their ability to look the other way.
Cosme
35 East 21st St
cosmenyc.com
Number 25 on the World's 50
Best Restaurants list 2018
$24-36 per dish
Located in the Flatiron District and serving contemporary Mexicaninspired cuisine from chefs Enrique Olvera and Daniela Soto-Innes, Cosme is touted by World's 50 Best as one of the hippest places to eat in New York City. Daniela, who won the 2016 James Beard Rising Star Award at age 25, heads up a kitchen that's proud of its 50/50 male female mix of diverse nationalities. The drinks list is superb, focusing on artisanal spirits, with a mezcal for every occasion, in perfect harmony with a menu that lets highquality ingredients shine. This is not a restaurant for dining alone, with almost all dishes designed for sharing.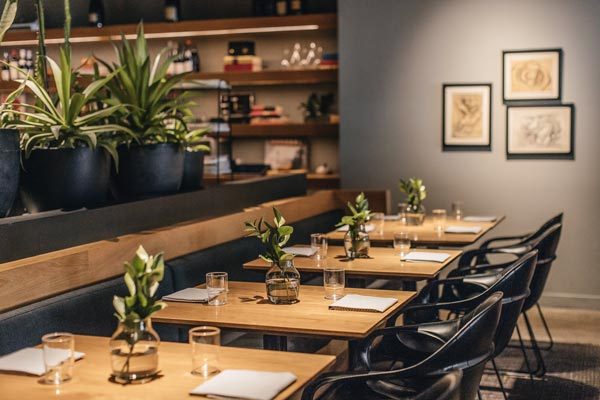 Stand-outs are Daniela's signature duck carnitas and the must-try corn husk meringue dessert, however my favourite was the butternut tamal (tamale) ha'sikil p'ak, (a traditional Mayan pumpkin seed pasta made with tomatoes, tomatillos, pepitas, thai chillies and guajillos) finished with shavings of castelrosso, a whole milk cheese from Piedmont. Don't order the guacamole as the staff will almost certainly roll their eyes. Mexican-inspired is definitely the right terminology here. But there is not a sombrero in sight.
chef Daniela Soto-Innes

Infladita

Tetela

Churros
Eleven Madison Park
11 Madison Ave
elevenmadisonpark.com
Michelin Guide 3 stars
Number 4 on the the World's 50
Best Restaurants list 2018
8-10 courses $375, Bar tasting menu $175
Once named the best restaurant in the world by placing number one on the World's 50 Best list in 2017, Eleven Madison Park delivers an exceptional New York twist on modern European. Co-owners restaurateur Will Guidara and chef Daniel Humm and their team deliver a faultless experience in what is indeed a temple of gastronomy, however I couldn't help feeling at times that the front-of-house team felt as if they were in the movie Groundhog Day.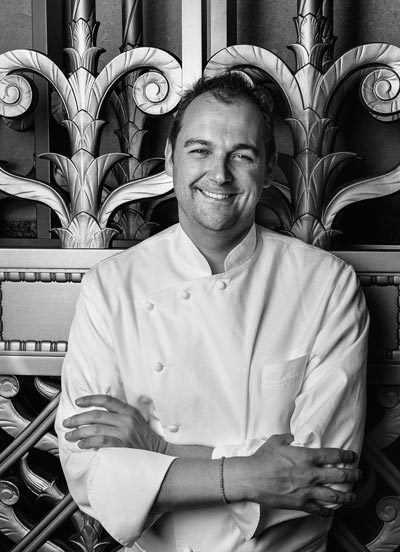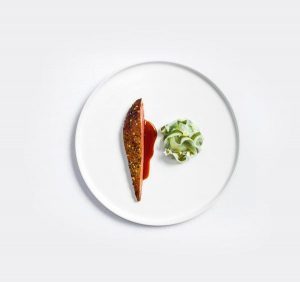 They seemed to be relentlessly circling that spectacular central display table in search of a wayward crumb or an almost empty glass (mine was removed several times just as I was about to savour that last sip of what was an exquisite wine pairing from start to finish). Having said that, the menu was magnificent and Daniel's world-famous honey-and-lavender glazed duck (mine was served with Napa cabbage and pear) deserves its revered status as the only dish on the menu that hasn't changed since 2006. If you are not up for the full eight to 10 courses in the main dining room, you can opt for a more abbreviated tasting menu at the bar.
BLUE HILL AT STONE BARNS, menu April 2019
Vegetables from the farm
Flower delivery
Chufa milk and sassafras
Kohlrabi, nasturtium and pickled plum
Fennel salami
Needles in a haystack
Face bacon
Sweet potato and fermented leaves
Eight row flint corn masa
Bresaola and lettuce
Wintermelon that wanted to be a watermelon
Lion's mane nuggets and honey mustard
Cabbage sushi
Liver and chocolate
Last year's preserves
Fighter spinach and fermented cucumber
Quahog clam, pickled husk cherries and Jerusalem artichoke shoots
Cider lees sweet potato, Blue Hill Farm yogurt and apple
Experimental oats
Nixtamalized barber wheat
Beefy Bean
Badger flame beet
Monkfish liver toast
Upstate Abundance potato, oat sausage, tsa tsai and habanada pepper
Kohlrabi burrito and habanada "not" sauce
Whole barber wheat levain with Billie and Alice's single udder butter
Noble jade marrow and trout roe
Rotational grains, legumes and smoked cheese
Stone Barns grass-fed beef and broccoli rabe
Dry aged parsnip and carrot steak with Blue Hill Farm beef
Bread and jelly
The stages of maple sap reduction
100% whole wheat chocolate cherry bread and milk jam
Stone Barns honeycomb and preserved summer fruit

COSME, menu April 2019
Razor clam tostada, salsa macha, peanuts
Fluke tostada, blue corn aioli
Arctic char, sea buckthorn aguachile, turmeric
Pasilla mixe aguachile, celery root, ginger, leeks
Scallops, mandarin kosho, magnolia
Crab infladita, morita, avocado
Cobia al pastor, pineapple puree, cilantro
Bok choy, green mole, morita vinegar
Sweet corn tlayuda, black trumpet, cured NY cheddar (to share)
Butter nut tamal, ha'sikil p'ak, castelrosso
Endive, ayocote beans, avocado, wild pine nuts
Beet tetela, goat feta, chickpeas, hazelnut butter
Mole negro
Grey sole, macadamian mole, sake
Lamb belly tacos, chayote, tamarindo
Duck carnitas, onions, radishes, cilantro (to share)
Berkshire pork chop, maple, chicatanas (to share)
LE BERNADIN CHEF'S TASTING MENU, April 2019
Caviar Tartare
Hamachi-Osetra Caviar Tartare; Sea Lettuce, Dashi Gelée
Sake, Manzairaku, Junmai Ginjo, Hakusan City, Japan NV
Langoustine
Seared Langoustine; Foie Gras Crouton, Balsamic-Truffle Vinaigrette
Reisling, Cuvée Frédéric Emile, F.E. Trimbach, Alsace, France 2008
Sea Trout
Ultra-Rare Smoked Sea Trout; Pickled Red Onion, Citrus-Miso Emulsion
"Os Pasas," Luis Anxo Rodriguez Vazquez, Ribeiro, Spain 2016
Black Bass
Steamed Black Bass; Baby Shrimp, Calamari, Lemongrass-Infused Bouillon
Chardonnay, Sandhi, Santa Barbara County, California 2016
Dover Sole
Sautéed Dover Sole; Almond-Matsutake Salad, Parsnip Mousseline, Soy-Lime Emulsion
Krug, "Grande Cuvée 167ème Edition," Reims, France NV
Lobster
Baked Lobster; Creamy White Corn Polenta, Red Wine-Gumbo Sauce
La Dame de Montrose. Saint-Estèphe, Bordeaux, France 2011
Ginger
Candied Ginger Parfait, Roasted Pineapple Sorbet
Clos Uroulat, Juraçon, Southwest France 2015
Citrus
Burnt Orange Crémeux, Clementine-Yogurt Sorbet, Olive Oil-Citrus Sauce
Carmes de Rieussec, Sauternes, Bordeaux, France 2010
ELEVEN MADISON PARK, menu April 2019
Black Truffle Tea Dosa with Black Truffle and Parmesan
Potato Salad with Black Truffle
Caviar Soufflé with Clam, Leek and Potato
Scallop Cured with Kohlrabi, Sea Urchin and Apple
Lobster Butter-poached with a Celery Root and Apple Tart
Golden Oyster Mushroom Roasted with Pine and Coriander
Duck Honey and Lavender Glazed with Napa Cabbage and Pear, Leeks with Cheddar and Parsley, Winter Squash with Brown Butter and Thyme
Harbison Washed Rind Cheese Fondue with Mustard and Pear
Apple Donut with Cinnamon Ice Cream
Chocolate Covered Pretzel